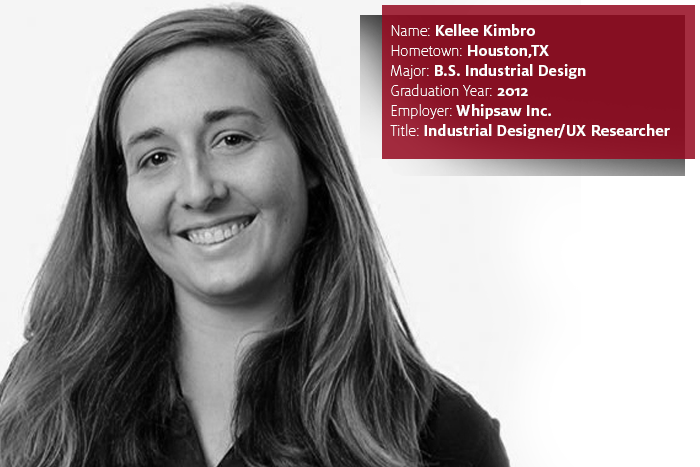 Why did you choose the Hines College of Architecture and Design?
I was born and raised in Houston and I knew I wanted to go somewhere close to home. I studied sculpture the first year, but always found myself making furniture or functional art pieces. Halfway through the year, I knew sculpture wasn't for me. I decided to research, "How to be a Furniture Designer" and discovered that UH had an Industrial Design program.

What was one of your favorite memories from your time on campus?
My senior year we were tasked to raise funds for the IDSA and my class helped create the "Push It" brand. We designed and sold these colorful sunglasses and t-shirts. Dean Mashburn bought a pair of blue glasses. I remember seeing him wearing the sunglasses as he was driving around Houston in his convertible.
What has been your career path since graduation? Where are you currently working and in what capacity?
After I graduated in May 2012, I worked on watches and lifestyle products in New York City at a company called NOOKA. Soon after, I moved to San Francisco to work for a company called Whipsaw. In the span of 4 years, I have worked on consumer electronics, networking devices, medical devices and even slot machines. I've designed for corporations like Google, Samsung, Netgear, Intel and countless startups. At first, I was doing sketching, CAD, CMF, concept development and user research. In the last year, I've pivoted into more of a UX role.  At Whipsaw we specialize in the more physical UX. We learn how to design experiences in the digital world.
What is one accomplishment of your career that you are particularly proud of? How do you feel that the college prepared you for this?
I think my personal accomplishment would be that I have never given up and never settled on something because of money or convenience.  In the 6 years I have been out of school, I've moved twice across the country, worked on projects I hated, and even got fired from a job. I have tried everything once and been able to learn and grow as a designer. I believe design school helped me understand creative problem solving.
 What is a piece of advice you would give to current Architecture and Design students?
Stop living in a bubble! Take periodic breaks, sleep on it, be social, and find some hobbies. Design students spend too much time inside and need to experience more of what they are designing. If you are designing a surfboard learn to surf, if you are designing a toilet seat install one, if you are designing an office space go to an office and observe how people use that space.