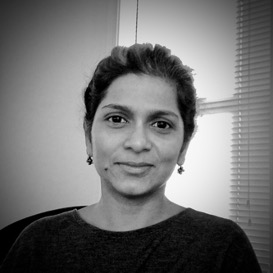 The University of Houston Gerald D. Hines College of Architecture and Design welcomes Deepa Ramaswamy this fall as its new tenure-track historian and Tania Gutiérrez-Monroy as the College's second Emerging Scholar Fellow. Both Ramaswamy's and Gutiérrez-Monroy's arrival continues growing the College's history, theory, and criticism (HTC) curriculum. 

The HTC program is a key component in developing students' capacities for critically understanding and intervening in the built environment. Emerging scholars and faculty have been and continue to be an essential part of furthering this mission.

"It's a huge step forward to have Tania and Deepa join in the expansion of our program. Their presence will expand the topics and issues discussed in our course offerings and bring new voices and perspectives that better represent the interests and experiences of our students," said Michael Kubo, HTC Program Coordinator at the Hines College. "Their presence is a first step in growing the HTC program into a larger department in which we can create connections across different courses and increase the kinds of materials we offer to better develop new and relevant research."
 
Ramaswamy was recently awarded a $16,000 grant from the Global Architecture History Teaching Collaborative (GAHTC) to conduct a workshop with invited architectural historians discussing the architecture history survey course and its future. The "Beyond the Survey" workshop sessions will be held virtually in January 2022. They will produce teaching materials for new introductory architecture history courses drawing on GAHTC content and Ramaswamy's ongoing work expanding the architecture history survey sequence at the Hines College. 
 
"By revamping the survey course as the history of the design environment and also focusing on the issues and histories to be discussed in the course, I hope there will be much more of a dialogue between the history and theory courses and studio," shared Ramaswamy. "The idea of the expansion of the HTC program is to have history and theory to be an active part of the department and to find ways to incite useful connections and conversations between the HTC and studio faculty." 
 
"I'm excited about the work that Deepa will be doing to transform the core of our required curriculum," shared Kubo. "Deepa's work will better address calls for the survey to be more global and encompass a broader series of perspectives across geographies, cultures, and times.
 
As the College's new Emerging Scholar Fellow, Gutiérrez-Monroy will teach history and theory courses at the undergraduate and graduate levels while also pursuing her own research. She is currently exploring the urban forms and dynamics of Indigenous rebel communities in Chiapas, Mexico, focusing on the pathways of women who inhabit and spatially produce these cultural landscapes. 
"I hope to contribute to the HTC program by drawing attention to aspects that remain unexplored in the traditional form of history and theory classes and invite students in a co-construction of knowledge to explore these topics," said Gutiérrez-Monroy. "I am excited to work with such a diverse body of students and to learn more about the work my colleagues have developed." 
 
Gutiérrez-Monroy will teach Intersectionality and the Built Environment in the Fall and a second elective in the Spring. Starting this year, the Emerging Scholar Fellow will also participate in a third course or collaborative initiative at the College each year based on the content of their research, in addition to their own teaching.
 
"I am looking forward to having Tania's contemporary ongoing research present in our courses, dialogue, and our program," shared Kubo. "The Emerging Scholar Fellowship has been successful at bringing new ongoing historical research into the course content of our program. Having Tania here at the College will give us access to a new series of topics, discussions, cultures, and geographies that students will see reflected in our courses and that faculty can start building more conversations around in their own work."  
 
The Hines College is thrilled to welcome Ramaswamy and Gutiérrez-Monroy this month and see their new perspectives and research agendas grow the HTC program at the College.


---
Tania Gutiérrez-Monroy
Emerging Scholar Fellow | History, Theory, and Criticism of Architecture and Design
McGill University | Ph.D. Candidate (Architecture)
McGill University | Master of Architecture
Universidad Nacional Autónoma de México | Bachelor of Architecture (Honors)
Tania Gutiérrez-Monroy is an architectural historian who is completing a PhD in architecture at McGill University (defense expected September 2021). Her research interests include spatial negotiations of identity, intersectionality in architecture, ephemeral architectures during conflict, and landscapes of Indigenous resistance. Tania's dissertation, "Domestic Landscapes at War: Women Transforming Space during the Mexican Revolution, 1910-1917," examines how women of diverse social strata inscribed their active roles in the Mexican Revolution in the overlap between domestic and war spheres. The research project she will develop at the University of Houston Gerald D. Hines College of Architecture and Design will explore the urban forms and dynamics of rebel Indigenous communities in Chiapas, Mexico, with a focus on the pathways of the women who inhabit and spatially produce these cultural landscapes. Tania received an Honors Bachelor of Architecture from Universidad Nacional Autónoma de México and a post-professional Master from McGill. She has practiced as an architect in Mexico and has taught architectural history, theory, design, and research methods at the University of British Columbia, Louisiana State University, and Université Laval.
Deepa Ramaswamy
Assistant Professor | History, Theory, and Criticism of Architecture and Design
Massachusetts Institute of Technology | Ph.D., History Theory and Criticism of Architecture and Art
Architectural Association School of Architecture, UK | MA, Master of Arts in Histories and Theories
Virginia Tech, College of Architecture and Urban Studies | M-Arch, Master of Architecture
BVP College of Architecture, India | B-Arch, Bachelor of Architectures
Deepa is an architect and urban historian with a Ph.D. from the Massachusetts Institute of Technology. Ramaswamy's research centers on land, legality, and territoriality in postwar United States and India with a focus on organizational and institutional histories. Her ongoing book project, "Transactional Terrains" builds on her doctoral dissertation that traced the architectural and urban history of the privatization of the public realm in postwar New York City. She is currently also working on the history of land reclamation and predatory urban and infrastructural development in Mumbai. Deepa has previously taught at Cooper Union and CEPT University, India, and was Postdoctoral Researcher at the Knowlton School of Architecture, OSU.
Ramaswamy's research has been supported by the Rockefeller Archive Center, Getty Research Institute, and the Canadian Center of Architecture. She received the Presidential, Schlossman, MISTI, and Hyzen fellowships at MIT. Her works have been published in Spéciale Z Journal (École Spéciale d'Architecture), Neoliberalism on the Ground, CLOG magazine, Arris (forthcoming), among others. Before her doctoral studies, Deepa was a practicing architect in Chicago and Mumbai where she worked on architecture and urban projects in the Middle East, United States and India.