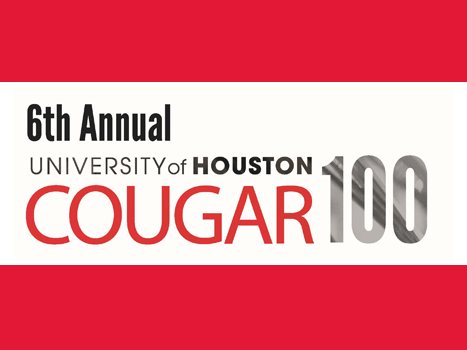 This October, the University of Houston and University of Houston Alumni Association welcomed outstanding UH alumni owned and operated business to the 6th annual Cougar 100 Luncheon, hosted at the Bayou City Event Center. Each year companies are ranked by the percentage of compound annual growth in sales or revenue across a three-year period with gross revenues above $250,000, and in business for five years or more. 
The Cougar 100 awards seek to recognize growing and successful Cougar-run businesses, and connect alumni with fellow business owners supporting that "Cougars should be doing business with Cougars."  This year's winners included several alumni from the Gerald D. Hines College of Architecture and Design. 
For a complete listing of the Cougar 100 recipients, visit the University of Houston Alumni Association.  Hines College alumni recipients are highlighted below. 
---
2019 Cougar 100
UH Hines College Alumni Recipients
#9 Aria Signs
Shaya Attaei ('13, M.ARCH '15)
Aria Signs is one of the fastest-growing signage companies in the city of Houston. The company designs, fabricates, and installs interior and exterior signage for major leading companies such as retail stores, restaurants, hospitals, shopping centers, and stadiums. This is the second year Aria Signs has been honored as part of the Cougar 100. 
#13 Method Architecture
Jake Donaldson (M.ARCH '06)
Method Architecture is an ego-free architecture and interior design firm focused on industrial, retail, office, public, and brewery/distillery projects. Method Architecture is a certified HUB and MBE with offices in Houston, August, and Dallas.  This is the fourth year Method Architecture has been honored as part of the Cougar 100.
#30 J. Tyler
Gary Longbotham ('73)
J.Tyler is a leading award-winning supplier of workplace furnishings. The company specializes in consulting with and assisting organizations in producing efficient workspaces, providing the appropriate furnishings and services that enable clients to operate more profitably.  This is the 6th year J.Tyler has been honored as part of the Cougar 100.  Gary Longbotham is an "adopted" alumnus of the Hines College.  He currently serves on the dean's Leadership Council, a group of industry leaders in Houston specializing in architecture, interior architecture, real estate, and construction.
#48 GreeNexus Consulting, LLC
Amanda Tullos ('03)
GreeNexus removes barriers to creating a built environment maximizing the triple bottom line of economic value, social responsibility, and environmental impact. By offering a wide range of services for developers, property owners, designers, and general contractors, the company provides equitable sustainability goals and solutions. This is the third year GreeNexus has been honored as part of the Cougar 100.
#79 Element Architects, LLC
Michael Graham ('99)
Element Architects brings our clients visions to reality from concept to completion. The firm specializes in education, multi-family, senior living, and commercial retail/office mixed-use developments with offices is twelve states. This is the sixth year Element Architects has been honored as part of the Cougar 100.
#91 PhiloWilke Partnership
Steven Schultz ('80)
PhiloWilke is an architectural firm specializing in creating healing environments that promote advancements in health through purposeful design. Dedicated to healthcare and health science, their designs are responsive to client's needs and are adaptable to their future vision. This is the sixth year PhiloWilke has been honored as part of the Cougar 100.
#93 H4 Architects and Engineers
Allan Hensley, Jr. ('03, M.ARCH '04)
Sherie Hensley ('98)
H4 Architects and Engineers provides full-service architecture and MEP engineering. They strive to exceed client expectations and develop long-lasting relationships.  This is the fifth year H4 has been honored as part of the Cougar 100.  Allan and Sherie have a son currently studying at the Hines College.