Staff Council Sock & Blanket Drive October 28 - December 2, 2019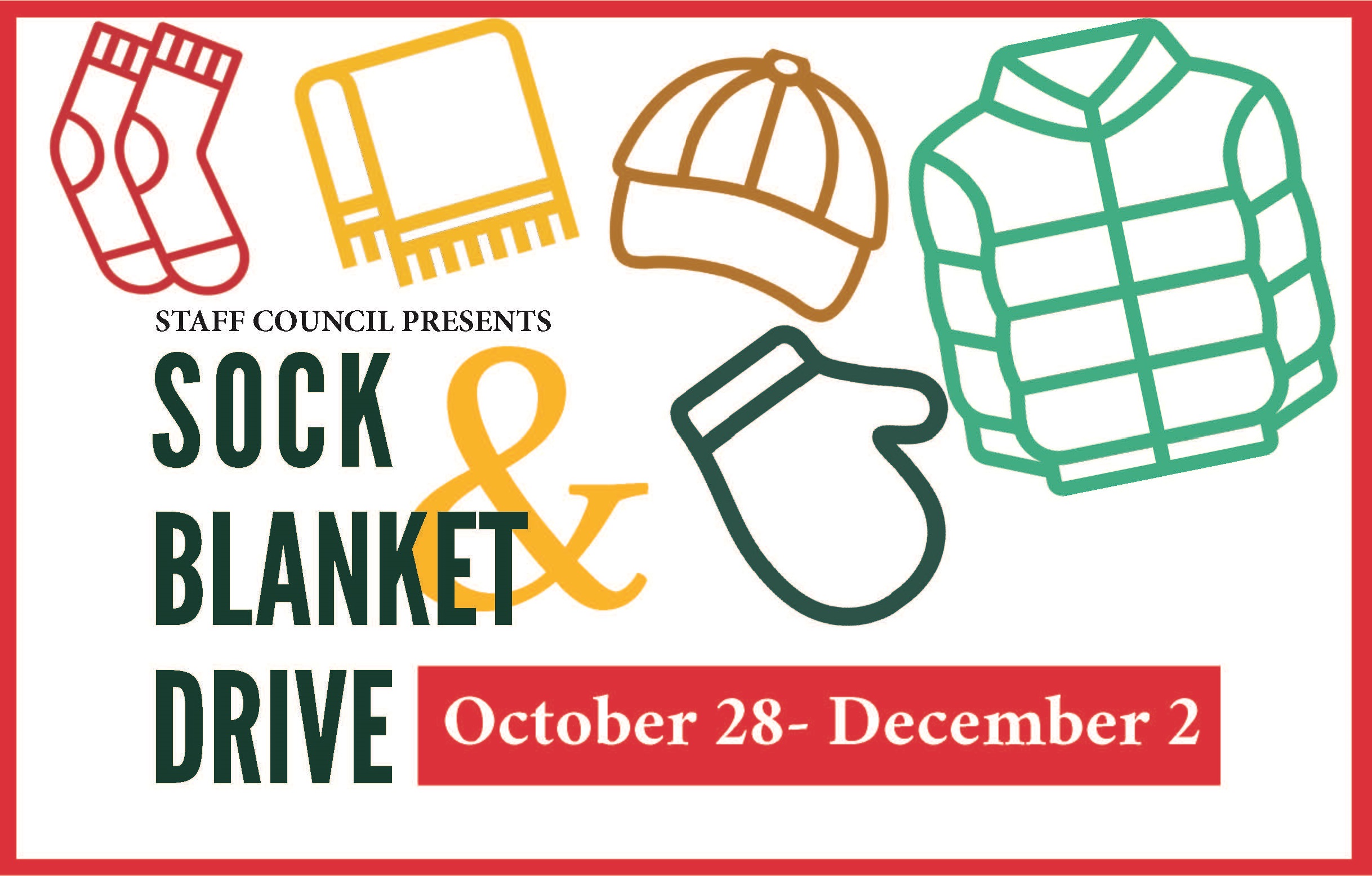 The 2019 Staff Council Sock & Blanket Drive, benefiting Star of Hope Mission, will run Monday, October 28th, through Monday, December 2nd.
Both new and clean, gently used items are needed. See below for the list of items needed and campus drop-off locations. If you would like to donate but do not see your location please contact Shatera Anderson and Cynthia Romero, Co-Chairs for the Staff Council Events Committee.
New Items Needed
All Purpose Wipes
Cleaning Products (such as mops, brooms, detergent, cleansers, dishwasher liquids, and sponges)
Clothing (such as shirts, pants, dresses, blouses)
Cotton Blankets
Baby Diapers
Adult Diapers (largest size possible)
Disinfectant Spray
Gloves
Hygiene Products (such as soaps, underarm deodorants, toothpaste, denture products, combs, brushes, lotions, shampoo, aftershave lotion)
Linens
Pajamas/Gowns
Pillows
Sheets
Slippers
Trash Bags
Clean & Gently Used Items Needed
Clothing (ALL kinds and sizes)
Coats/Sweaters/Gloves (ALL kinds and sizes)
Socks
Blankets/Comforters/Sheets
Pillows/Pillowcases
Duffel bags, backpacks, totes, purses
Campus Drop-Off Locations
A.D. Bruce Religion Center - 113 AD Bruce Religion
Cougar Village II - Housing Office
Hilton Hotel - 1st Floor, Room S108 (south wing student lobby)
Cullen - 1st Floor Lobby
Cullen - 3rd Floor
Welcome Center – 2nd Floor
Fleming (Chemistry) – Suite 112 Lobby
Law Center - Student Commons
Fine Arts - Room 100
Blaffer Gallery - FA 120
College of Pharmacy - Health 2 Building, Room 6007
General Services - GSB, Room 154
PGH 501 - Computer Science, 5th Floor
Engineering - E316 Building 2
McElhinney - 3rd Floor, Room 325 (Human Resources)
Architecture - ARCH Dean's Office
Child Care Center/UH Charter School - 2 Locations
Agnes Arnold - Dean's Office, Room 402AH
M.D. Anderson Library - Library Atrium
UH Charter School (Melcher Gymnasium) - TBD
Tech Bridge Building 1 – 1st Floor
Tech Bridge Building 2 - Room 240
Tech Bridge Building 2 - Room 101
Tech Bridge Building 3 - Room 275
Special thanks to Lowe's for providing the boxes used during this year's drive.