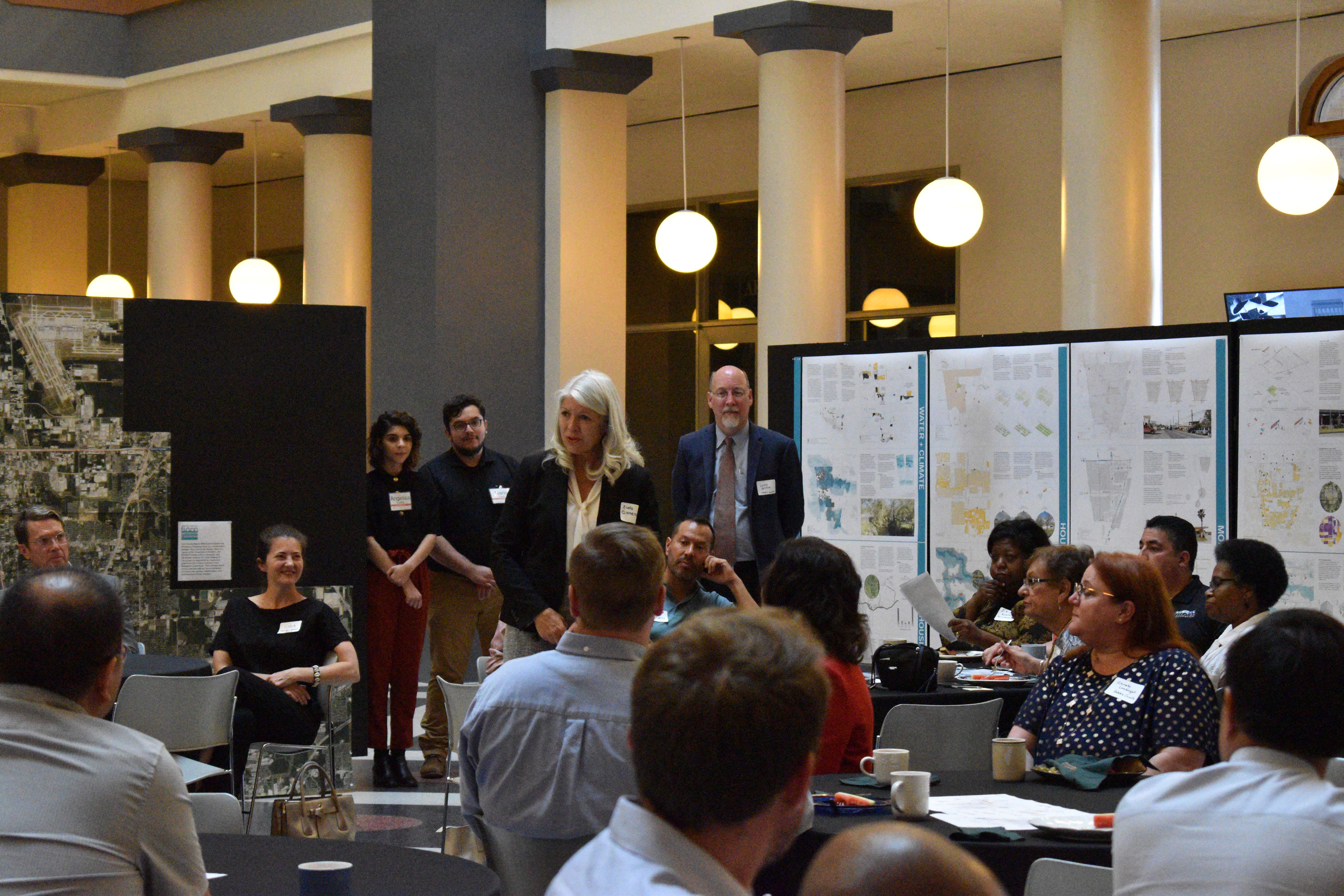 This July, the University of Houston Gerald D. Hines College of Architecture and Design hosted the Greens Bayou Watershed Resiliency Planning's second workshop. The goal of the workshop was to bring together researchers from the University of Houston Community Design Resource Center and the Rice University SSPEED Center, along with neighborhood stakeholders, community based organizations, and representatives from local government and Harris County in order to present specific flood mitigation strategies in each of the project's four case study neighborhoods: East Aldine, East Houston, Eastex | Jensen, and Greenspoint.
In 2017, Hurricane Harvey released the largest amount of rainfall ever recorded, resulting in one of the most damaging flood events in United States history. By all measures, its widespread impact was a devastating blow to Harris County and surrounding areas. The storm dropped between 36 and 52 inches along the Texas coast over five days, exceeding all rainfall records, with up to 20 inches in a day. Most bayous during Hurricane Harvey were upwards of ten feet over the bank, resulting in an estimated 205,000 homes flooded in Harris County alone.
For those living in the Greens Bayou watershed, major flooding has occurred too frequently. Compared to other watersheds there has not been substantial investment in flood mitigation projects. Compounding the challenges, the watershed is home to a large population near or below the poverty line, with many multi-family properties deep in the floodplain.
The Greens Bayou Watershed Resiliency Planning study aims to be a model for comprehensive flood management by incorporating state of the art methodologies for flood hazard modeling, investigating green infrastructure mitigation options, evaluating flood impacts on infrastructure (in the form of roadways and railroads), and by prioritizing equity, community engagement, and collaboration.
This project is a collaboration between the UH Community Design Resource Center, Rice University's SSPEED Center and Kinder Institute for Urban Research, and Texas A&M University at Galveston's Center for Beaches and Shores, all supported by a generous grant from the Greater Houston Flood Mitigation Consortium. 
This initiative would not be possible without the commitment of community leaders, stakeholders, and professionals across Houston. The Community Design Resource Center at the UH Gerald D. Hines College of Architecture and Design is proud to lead the way as Houston strives to strategically plan and prepare for future significant weather events.