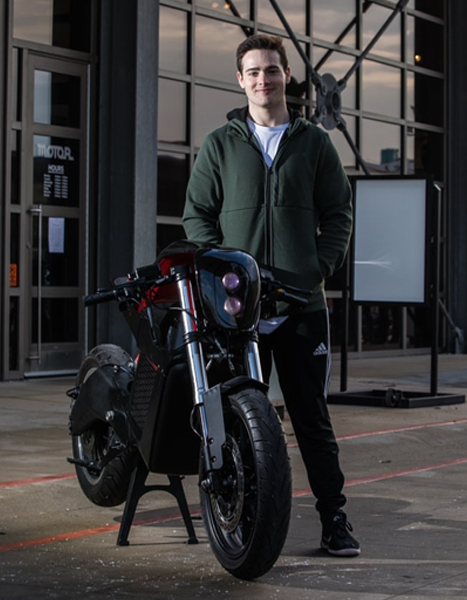 Like many aspiring designers, University of Houston Gerald D. Hines College of Architecture and Design alumnus Josh Probst '19 had his sights set on studying Engineering after high school. Unfortunately, this was not in the cards for Probst, who had yet to discover his love for creativity and innovation in the College's Industrial Design program.
While in high school, Probst found himself spending every moment of free time in his parent's garage rebuilding a 1978 Honda CB 125s into a fully custom café racer. The motorcycle ignited his interest in pursuing Industrial Design and set a path forward, ultimately leading him to receive accolades from DNA Paris Design Awards this year as the 2020 "Emerging Product Designer of the Year."
"While I was building the Honda CB, I came to realize that motorcycles were not made to be customized or even repaired beyond a certain point of obsolescence," said Probst. "Because the bike is built around a very specific technology component, when the component becomes broken or obsolete, the entire motorcycle is thus broken or obsolete."
This very concept intrigued Probst to question, could a motorcycle be designed to update and change so it would never become obsolete?
He set out to create an adaptable motorcycle, knowing his four years at UH would culminate in a realization of his vision. The dully adaptable motorcycle came to fruition during the last three months of Probst's studies as he worked tirelessly on his thesis project.
"From design to build, I spent almost every waking second developing a fully functional modular electric motorcycle in a mere three months," said Probst. "It was an ambitious undertaking, but its modularity is an idea I truly believe can help change the way we design products."
Probst approached the project following the famous philosophy of Raymond Loewy, MAYA – creating the Most Advanced Yet Acceptable products. Working toward this goal was not easy in a world where technology continually changes and becomes antiquated. However, Probst set to design a motorcycle that could adapt to the inevitable innovation of the industry.
It is not surprising that Probst named his motorcycle MAYA. He had flipped the design thinking of motorcycles from a structure made to support a core technology component to the modular frame where core technology supports the structure of the bike.
"This approach allows the modular frame of the motorcycle to be reused while its aesthetics and technology can are redesigned to fit different uses, diverse markets, and inevitably allow users to update their original obsolete motorcycle model to the next generation of models," shared Probst.
MAYA was invited to several custom motorcycle shows across the United States; however, due to COVID-19, these events were postponed.
Despite social distancing, Probst's motorcycle caught the attention of DNA Paris, a collaboration of "Farmani Group" and "In Between" established to celebrate exceptional design work around the world and help advance the design profession. The DNA Paris Design Awards recognized Probst as the 2020 "Emerging Product Designer of the Year," an award reserved for rising design stars across the globe.
"The University of Houston helped make me the designer I am today by opening my perspective to become more empathetic," said Probst. "A good designer must not only have the foresight to envision the impact of their design, but also be humble enough to learn from others and discern whether a product should be made at all."