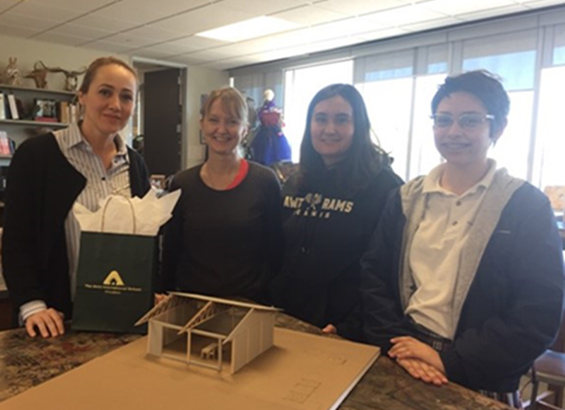 Gerald D. Hines College of Architecture and Design Professor Dijana Handanovic and seven undergraduate Architecture students joined forces with Houston's Awty International School and non-profit organization Schools for Children of the World (SCW) to raise money and build a new school in a rural Buenos Aires village, fifteen miles from Comayagua, Honduras.
Professor Handanovic and the students – Sarah Neiman, Morgan Mendenhall, Chris Nguyen, Sarah White, Andrew Medina, Edgar Castillo, and Steven Griffin – built a physical model of the Honduras school building envisioned by SCW. The students also produced several graphic representations, which were initially scheduled to be displayed at the annual Awty International Festival before the event's cancelation due to COVID-19.
"It was nice to see our students interact and build a relationship with The Awty School students," said Handanovic. "They were enthusiastic about this project and doing something good for the community in Honduras."
SCW and Awty International students raised more than $23,000, with the total cost of construction for the project estimated to be $22,000.
Hines College undergraduate students initially planned to travel to Honduras for a week with Awty students this past summer to help build the school; however, due to the unprecedented pandemic, they could not see the project come to fruition in person. While the upcoming year is uncertain, everyone involved desires to continue involvement in projects impacting the global community, such as this one.
"I am proud of the relationship coming out of this project with the Awty School," said Handanovic. "There was even talk about starting a program with Awty International upper-level students and University of Houston undergraduate students."
The Hines College of Architecture and Design is known for its work in the community, including locally with its Community Design Resource Center and other partnerships worldwide.