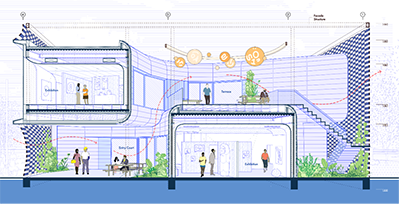 University of Houston Gerald D. Hines College of Architecture and Design students Caleb Matheson and Darci McGee recently received the Merit Award from the AIA Fort Worth Excellence in Architecture Student Design Awards for their project, Lewis Center, a tribute to the life and work of the late congressman John Lewis.
The project was born from Professor Emily Moore's studio assignment to design a social justice center that would revitalize a community. The Lewis Center orients itself towards serving surrounding communities of the Sweet Auburn Historic District in Atlanta, Georgia – a significant historical region containing markers and monuments from the Civil Rights Movement.   
Matheson and McGee sought to create a space celebrating John Lewis and perpetuating his mission of getting into "good trouble" for the sake of social justice. The word "dreams" as a metaphor, packed with imagery and having significance within the civil rights movement, was the Lewis Center's inspiration.
"Our goal for the building was for it to function as the dream of the community," said Matheson. "We wanted to help the community crystalize new ways of expressing itself." 
The Lewis Center draws on the metaphor of pushing boundaries through the progressive interior and against the conventional exterior. The project's exterior Flexbrick material and metal panels contrast one another to continue developing the local area's architecture. Simultaneously, the interior incorporates exhibits of local artists, providing a space for expression and social gathering for the community.
"I believe the flexible sunscreen facade helped elevate our project," shared McGee. "Our vision was to create a seamless social connection between the building and the community."
To learn more about the project, visit the profile on the AIAFW Students Awards website.