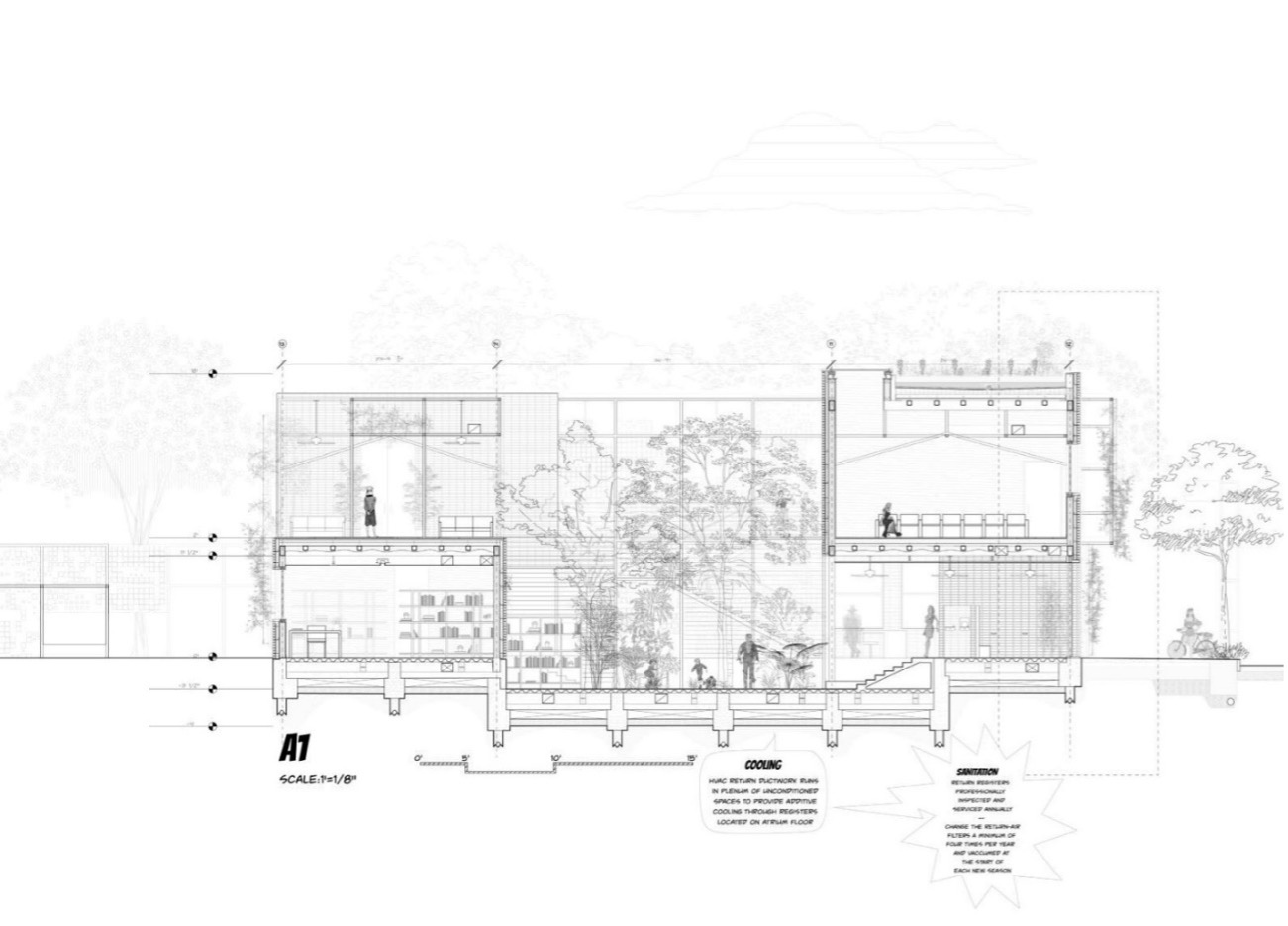 The American Institute of Architects (AIA) Fort Worth Chapter Excellence in Architecture Student Design Awards recently awarded Gerald D. Hines College of Architecture and Design students Michelle Ovanessians and Kieran Renfrow the 2022 Merit Award for their project Homecoming, a tribute to the life and work of the late congressman John Lewis.
The project was born from professor Emily Moore's 4510 studio assignment to design a social justice center revitalizing a community. Homecoming orients itself towards serving surrounding communities of the Sweet Auburn Historic District in Atlanta, Georgia – a significant historical region containing markers and monuments from the Civil Rights Movement. 
Ovanessians and Renfrow sought to create a space honoring John Lewis and perpetuating the notion of "grounding." The idea of centering oneself within their origins and cultivating community inspired Homecoming. The 1950s comic graphic style used throughout the design encapsulates an "old way of representing a new idea."
"When we first started researching, we found that the urban context lacked greenery and parks in the area," said Kieran Renfrow. "The space allows people to regain a sense of self through plants utilized in the design, while also creating an opportunity for collaboration with the community to produce something bigger than oneself."
Homecoming's multipurpose space integrates a time-share program allowing for utilization of the greenhouse during the day and the social garden at night, permitting communal integration. The project's exterior and interior utilize spaces, materials, and plants as a means of "grounding," providing a space stimulating mental health, physical health, and communal activities.
"The design itself reflects the prominent figure in history, John Lewis, while also bringing light to issues still salient in today's society," shared Michelle Ovanessians.
"Homecoming emphasizes the idea of Black people in community and creates a space fostering joy and a sense of normalcy," said Renfrow. "Architecture has the ability to create social movements and betterment for society."
To learn more about the project, visit the profile on the AIAFW Students Awards website.