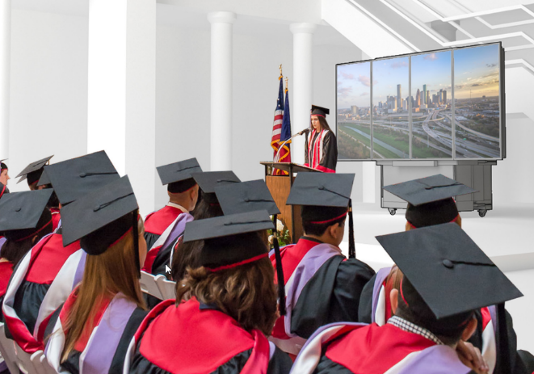 Gerald D. Hines College of Architecture and Design professors Patrick Peters and Jason Logan, along with nine graduate architecture students, joined forces with the University of Houston Jack J. Valenti School of Communication to design the AutoBox Mobile Digital Display, a portable venue for the digital screening of student's work that can be deployed both inside and outside.

Professors Peters and Logan and the students – Vanessa Beckett, Montserrat Bribiesca, Hannah Hemmer, Brian Liu, Joshua Rodriguez, Nora Segura, Naraphat (Pear) Siriko, Tiffany Thai, and Courtney Warren-Williams – designed AutoBox, utilizing construction and electronic components, software, and materials from across the globe. It includes software from Israel, horizontal glides from France, wheels and aluminum composite panels from the United Kingdom, screens from China, vertical actuators from California, and custom-fabricated stainless-steel hinges from Houston.

"After we started working on the project, it became very clear this was the ideal solution for COVID-19 protocols", said Professor Patrick Peters. "After what we all experienced during the pandemic, AutoBox's portable design allows us the ability to gather and have a common event that is socially distanced and outdoors."

AutoBox Mobile Digital Display was the 2020 project of Hines College's Graduate Design/Build Studio, a 32-year community engagement initiative. The studio offers the master of architecture students an opportunity to see their ideas evolve from conception to completed construction while demonstrating full-scale the implications of the students' aspirations, measuring the quality of their design thinking against the rigorous stand of the built reality.

Hines College master of architecture alumnus and president of Aria Signs and Display, Shaya Attaei, provided the fabrication services pro-bono and donations of paint, steel, and aluminum materials. Dr. Steven Wilkerson, PE, president of Zia Engineering, provided the structural engineering services pro-bono and collaborated with the students on the design.

"Designing AutoBox encouraged me to apply my skillset accordingly, as well be a team player throughout the process," said Brian Liu.

"It allowed us to use both our imagination and critical thinking skills to come up with a design that was truly unique. It also allowed us to look at architecture from a different perspective, which helped me personally as a designer," shared Courtney Warren-Williams.

"The virtual team design process proved to be the most challenging; however, it was rewarding to see the completed model in person," said Nora Segura. "I believe AutoBox will impact future students' education by showing that while architecture does heavily concentrate on the built environment, there is a certain level of architecture and design that goes into everyday and not-so-everyday products," shared Warren-Williams.

The Hines College of Architecture and Design recently utilized AutoBox at the 75th Anniversary Gala and IDesign week late last year. On December 15, 2021, Dr. Jennifer Vardeman, director of the Jack J. Valenti School of Communication, featured AutoBox as the venue to screen fifteen student films in the school's broadcast studio at its inaugural Experience Valenti Showcase event.

"With AutoBox being cutting-edge technology, we believe that it helps students visualize how their films and products can be used in the new media era. It also encourages them to be able to think more creatively and be more entrepreneurial in terms of how they visualize and bring their stories to a greater life than ever before", said Dr. Jennifer Vardeman, Jack J. Valenti School of Communication associate professor and director. "The architecture students largely developing this project during the pandemic is a perfect example of the power of the students here at the University, their limitless creativity, resilience, and ability to innovate."

To learn more about the Graduate Design/Built Studios, click here.