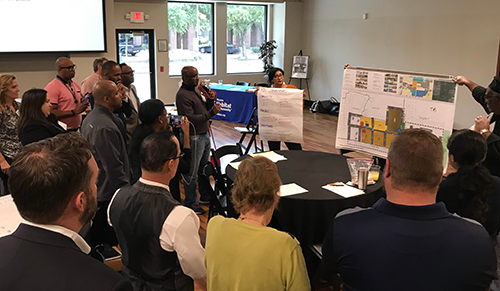 Gerald D. Hines College of Architecture and Design Professor Bruce Race's habitat project, Robins Landing Town Center: Strategies and Guidance for Resilience, was recently awarded the Texas American Planning Association (APA) Resilience Gold Award.
This award recognizes a strategy increasing the ability of a community to recover from and adapt to shocks and stresses of natural disasters, human-caused disasters, climate change, and other disasters. The result is the community becomes much stronger and better prepared than ever before.
The idea was born from Race's ARCH 5500 design studio five years ago. Students prepared net-zero concepts for the site and continued to work with Habitat for Humanity and community partners to identify needed services and the kind of 'central place' that draws neighbors together. Robins Landing Town Center was planned as a low impact development (LID), energy-positive, transit-oriented, mixed-use project.
"This is a project that is having real, positive impacts," said Bruce Race, Ph.D., FAIA, FAICP. "Houston Habitat for Humanity has provided single homes for over 1,000 families. The Robins Landing Town Center will be Houston Habitat's first effort to work with partners to develop a town center providing a social and economic focus."
Located in East Houston, the Robins Landing Town Center project is based on a process organized for collective community action. It has been a catalyst for public, private, nonprofit, and community partnerships meeting pressing community needs, such as healthcare, nutrition, and childcare, that can improve the quality of life for Robins Landing's residents and their East Houston neighbors.
"The project is planned to demonstrate how infill developed can contribute to the creation of energy and detention-positive communities," shared Race. "We are working on making the Town Center an official Houston Resilience Hub that can sustain services during and after weather events. Robins Landing Town Center demonstrates the power of design thinking and, when given the opportunity, how students can influence the future of Houston."
Bruce Race is presenting at the APA regional conference Climate and Energy Positive Infill Development in Fort Worth on November 2nd. Click here to learn more about Robins Landing Town Center: Strategies and Guidance for Resilience.