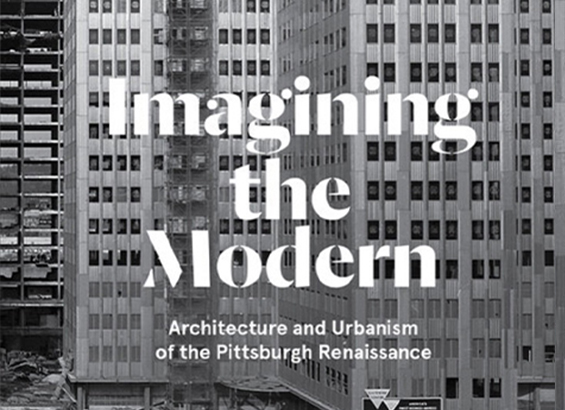 Last night, the Society of Architectural Historians (SAH) awarded Gerald D. Hines College of Architecture and Design Professor Michael Kubo with the 2021 Exhibition Catalogue Award for his book Imagining the Modern: Architecture and Urbanism of the Pittsburgh Renaissance, co-authored with Chris Grimley and Rami el Samahy and published by The Monacelli Press in 2019.

The SAH award recognizes and encourages excellence in publications of architectural history exhibitions. It also acknowledges catalogues that address historical and critical questions through documentation and artifacts for a diversified audience, becoming distinctive models for the expression of scholarship in architectural history. 

"It's an honor to be a part of the fantastic lineage of books that have received the Exhibition Catalogue Award," said Michael Kubo. "We especially appreciate SAH's recognition of our efforts to create a work of historical scholarship and advocacy that can have a life beyond the exhibition itself." 

Imagining the Modern originated from an exhibition of the same name that revisited the contentious legacy of Pittsburgh's urban renewal era, curated by Kubo, Grimley, and el Samahy at the Heinz Architectural Center (HAC), Carnegie Museum of Art in Pittsburgh in 2015-2016. The exhibition formed part of HAC Lab Pittsburgh, the first in a series of initiatives at the Heinz Architectural Center dedicated to examining and presenting the history of architecture, planning, and urban development in Pittsburgh and the region.

In Imagining the Modern, Kubo, el Samahy, and Grimley explore the modern architecture and urbanism of the Pittsburgh Renaissance, an ambitious era of urban revitalization in the 1950s and '60s that transformed Pittsburgh and became a model for other U.S. cities. The book provides a complex view of the city's post-World War II development through documentation, photographs, essays, analytical drawings, and interviews with protagonists and participants in the city's transformation in this period.

"The book tries to reassess the Pittsburgh Renaissance beyond the almost exclusively negative narratives that have framed the history of urban renewal up to the present," shared Kubo. "Our hope was that after the exhibition, the book could continue the work of reigniting conversations around the complicated legacies of modern architecture, heritage, and development in Pittsburgh and other U.S. cities during the urban renewal era."

To learn about past SAH Exhibition Catalogue Award recipients, visit the Society of Architectural Historians website.