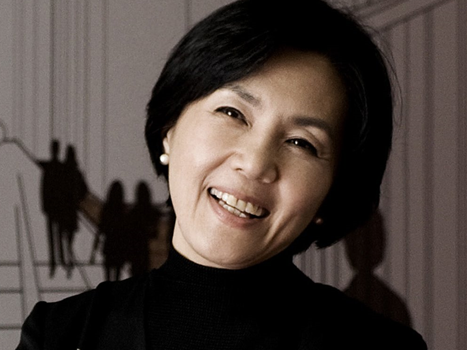 University of Houston Gerald D. Hines College of Architecture and Design Professor EunSook Kwon was recently honored by the Korea Woman Designer Association (KWDA) with the Proud Korean Woman Designer Award. The award recognizes Kwon, Director of the Hines College's Industrial Design program, for her over 30 years of dedication to design education and design communities in both the United States and Korea.
Kwon came to UH in 2003 to begin the College's Bachelor of Science in Industrial Design, the first Industrial Design program of its kind in the southern United States. A decade later, she launched the program's Master of Science in Industrial Design in 2013. Under her leadership, UH Industrial Design alumni and students have consistently received awards and recognition, including top prizes from the Industrial Designer's Society of America, International Housewares Association, International Contemporary Furniture Fair, Dubai Global Grad Show, and Makeup NYC.
The 2020 KWDA award highlights Kwon's contribution to improving the status of women in the design community. Over the past 25 years, she has furthered the promotion of design across the world through her involvements with the Seoul Metropolitan City Government, Korea Institute of Design Promotion (KIDP), Korea Association of Industrial Designers (KAID), Korea Society of Color Studies (KSCD), Industrial Designers Society of America (IDSA), International Council of Societies of Industrial Design) (ICSID), and Design Issues.
The award ceremony, which will be held on June 30th in Seoul, Korea, will also announce a new book, D-innovator, a collection of sixty articles by women designers, including Kwon.
Kwon is not the only professor earning acclaim in the Industrial Design program. Professor Luisa Orto, an instructor of the program's Design History I and II courses, has been awarded the 2020 Teaching Excellence Award: Instructor/Clinical recognition by the University of Houston Office of the Provost.
Orto teaches at both the Hines College and Kathrine G. McGovern College of the Arts, and is well-known and appreciated by her students. She has been an integral part of the Industrial Design program since its inception in 2003.
"It has been a career highlight to participate in the meteoric growth of this program, and to work with the talented and engaged students our program attracts," said Orto. "I believe that my full-year design history course provides a vital component to our commitment to educating the next generation of design thought-leaders and professionals."