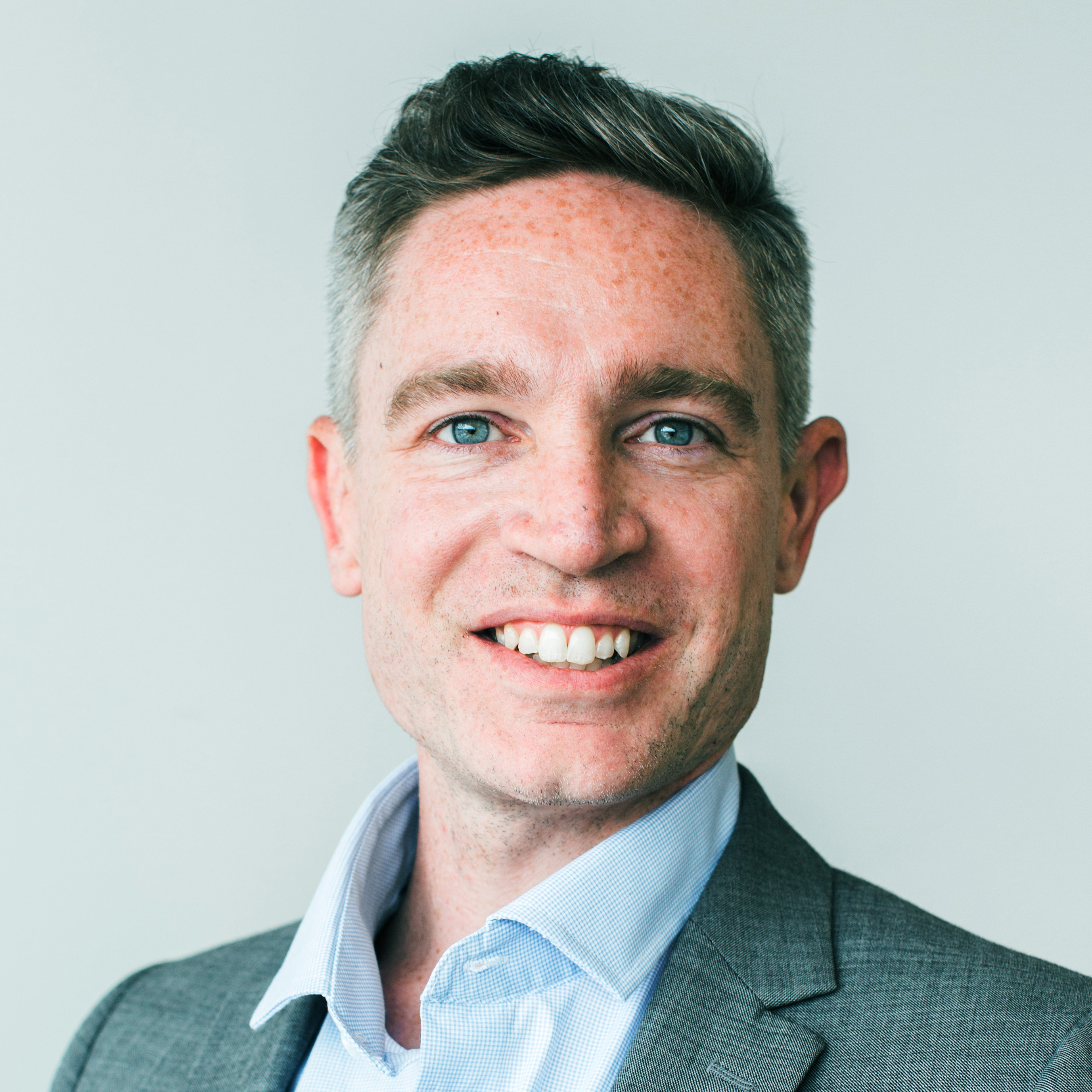 Name: Aubrey "Brey" Tucker
Hometown: Houston, Texas
Major: Bachelor of Architecture
Graduation year: 2007
Employer: Autodesk
Title: Senior Industry Manager, Project Delivery
Why did you choose the Gerald D. Hines College of Architecture and Design, and what drew you to design?
When I was in the sixth grade, I had an English assignment where we were instructed to draw a house for the author. We were reading Where the Red Fern Grows, and the expectation was to draw a floor plan. I discovered the need to draw elevations and attempted a perspective drawing without instruction. The teacher asked me if I knew what an architect was, which I did not know at the time. I was fortunate to have this experience sparking an interest in architecture. I ended up attending a high school with a drafting program that enhanced my love for drawing into precise modeling and visualization.
I was drawn to the Gerald D. Hines College of Architecture and Design for a few reasons. At the time, it had a Space Architecture program I found intriguing. The program was also practice-based, focusing on the design approach. After attending the high school summer discovery program in architecture, I was hooked. I loved the architecture building, as well, which acted as a natural progression upwards into the sky as you matured to the veritas class.
Design has been a love affair in my life since that first assignment in sixth grade. I love imagining space and different realities. It can be so addictive. I enjoy the act of design in all of its modalities – conceptual thinking, conversation, sketching, hand drafting, computer modeling, rendering, fabricating, and realizing.
What was one of your favorite memories from your time on campus? Was there a particular professor that influenced your education?
Ben Ntzon, Susan Rogers, Andrew Vrana, Joe Meppelink, and Cord Bowen were significant influences in my education. Ben was entertaining because I was in his first studio course to teach. I later worked with Ben's father, wife, and eventually Ben during my Houston career. Architecture is a small world, and this story just goes to show that your networking begins on your first day of school.
Susan was the first person to let my imagination go. I never worked harder because I was competing with my potential. It was an incredible year of internal growth. Andrew and Joe are the reason I am now at Autodesk and a die-hard for technology because of their introduction to parametric modeling and digital fabrication. Cord allowed me to embrace my weirdness and run with it. I cannot blame him for anything, but my work at Burning Man had his fingerprints on my design approach.
I have many fond memories from my time on campus – hearing (and contributing to) all the strange and wonderful music filling the atrium all hours of the night, designing ridiculous work environments within the studio to be productive, debating concepts with folks who would later be career-long friends, and the energy of learning. All of my friends from outside of the architecture program spoke of the buzz the building carried. It was real, and you could sense the intensity.
So many of us faced impossible dreams and attempted to bring them into reality. Those failures in school are my fondest memories. I spent weeks (sometimes months) working towards an imaginary goal, struggling with the computer, struggling with the Exacto knife blade, struggling with the plotter, and struggling with concepts. I did not always appreciate it then, but the school provided a safe space for me to fail and, therefore, develop a fearlessness of big ideas. Courage in the real world is important because when you pull off the impossible, that work also becomes addictive.
What has been your career path since graduation? Where are you currently working, and in what capacity?
My career path has been interesting. The greatest thing about an architecture degree is it gives you the broadest spectrum of potential jobs. I started like most architecture students and went to work for HOK, an architecture firm. Because of my fifth year in the Space Architecture program and affinity for 3D modeling, I was lined up in the Science and Technology division under a very tough manager who demanded a lot out of Revit, which was new software at the time. His unrealistic demands on a NASA project, mixed with an excellent training program provided by HOK, fostered the experience leading to my expertise in building information modeling (BIM) today. I pushed beyond what was possible and gained confidence with the technology side of project delivery.
Had the financial crisis of 2008 not occurred, I might have very well stayed with HOK and become an architect with them. I was laid off from HOK and pushed to find work in the economic downturn like many others in the industry. Fortunately, BIM experience was highly sought after, and I found a job with a medical equipment planning company, a very niche aspect of healthcare architecture work. This job was where I ventured into technology and learned about databases, cloud workflows, real-time render environments, and virtual reality. My first involvement with virtual reality changed everything for me. So many pieces of technology came together to create an incredible experience. It was exhilarating delivering a virtual reality environment for a hybrid suite operating theater used by a heart surgeon. I also had to convince many people to invest and believe in the technology, which was largely untested in 2009 (pre-Oculus). Persuasion is a significant component of business and its return on investment (ROI). My first time writing ROIs for technology in healthcare planning was lucky, however, I struggled to find the right balance of language for a few years.
I took an opportunity a couple of years later to join Perkins+Will and do extensive government work with a more focused BIM technician role befitting of a soon-to-be-architect. In this role, I appreciated team structure because it was missing from my place within the organization. I looked back at my time at HOK and remembered the mentorship, guidance, and consideration towards my experience. I cannot state enough how beneficial it can be to have a bad work experience. It begins with deep critical thinking as to what kind of environment is best for you.
I began to become interested in social situations allowing me opportunities to create something. I got into large-scale interactive art, dusted off all my digital fabrication skills, and started building weird structures for music festivals and Burning Man. I love this space. You work with interesting people who are volunteering their time to make something meaningful, and it is so wonderfully energizing. Finding a passionate hobby is something I cannot recommend enough. I continue these types of efforts today, mixing it up between building real things for festivals and virtual things in VR for historians.
I worked a few more positions in Houston similar to Perkins+Will, searching for a balance of technology and architecture, until a close colleague from Canada reached out, convinced me to move, and I began working for Stantec in Vancouver. Stantec is a Canadian corporation primarily focused on engineering with a comparably extensive architecture practice. I was sold on the dream of the Pacific Northwest. I came up for an interview and landed a middle-tier role in the Vancouver office. Canada, as a country, is largely behind in technology adoption and ultimately became a perfect storm for me to thrive. I was given an incredible opportunity to learn more about the business, technology implementation, adoption, planning, traveling the world to see the practice in action, and presenting to Stantec's investors. I was promoted to lead a corporate team of about 60 individuals working on technology concepts for varying practices across the organization. I learned a tremendous amount about computational design, machine learning, quantum computing, virtual reality, augmented reality, cloud infrastructure, cybersecurity, optimization, and the international implications of BIM within a large corporation. More than just learning what these technologies could do, I learned how to apply them to real business problems. The best thing a corporation can give you is scale. Technology companies want to work with you, and I ended up enriching my understanding of many things just through conversations with brilliant people.
All good things come to an end, and for me, that end was corporate politics. I could have settled very easily in that role. Settling is a large part of your career path where you will either choose your time, or somebody will choose it for you; however, if you do not settle for situations, there is a power residing in those actions. A new opportunity came along from my conference network, allowing me to lead IT and innovation for a small construction company. I was so far removed from design at that point and so annoyed with corporate culture, I took it. It was fascinating to see how estimating and construction happen. It was also great to be at the top of a leadership team in my mid-thirties. I met my match when I realized there was a difference in working with technology I was interested in and technology I was not. It was not a positive experience for me to set up work environments for staff, authenticate operating systems, and perform basic operations, like time cards. It was amazing to take object recognition AI to the field, connect BIM models to neural node networks, and automate construction management. I would have stuck it out in this role had the pandemic not occurred, but that event hit small construction companies particularly hard, and I automated myself out of a job.
Today, I lead the global strategy for Project Delivery at Autodesk. I thought about leaving the design practice many times to get into a startup or a big software company, but I never acted on it. A former Stantec colleague, now at Autodesk, encouraged me to apply for the job. After meeting my new manager, I could see how much consideration went into the structure of the position and the company's commitment to me being successful. I am back in a big organization full of politics galore, but under outstanding leadership, learning even more about international business and effectively managing innovation.
What does a typical day look like in your job? Do you have a particular design or business philosophy?
Being a strategy leader at a large publicly traded technology company is quite a wild ride. I manage a hundred million dollar business for the company, including all the cloud-based collaboration tools: BIM360 Design, BIM Collaborate, and BIM Collaborate Pro. Oddly enough, I am more like an influencer within the organization than someone who is "in charge" of anything.
Whenever business is up or down, I need to understand why. That translates to many conversations with marketing and sales on messaging, wins and losses, international codes potentially affecting adoption, and many other typical business inquiries related to performant success. Because of the relationships and time I spend with sales, I am also very close to many of Autodesk's largest customers (coincidentally many of my employers): HOK, Perkins+Will, Stantec, and other companies that I have admired: Apple, Google, WeWork, Jacobs, AECOM, etc. Generally, I meet executive leadership and top experts within those companies to discuss "vision."
To answer where we are going, I have to know where we are. This puts me in a relationship with all of Autodesk's product managers (in charge of the billions of lines of code that make all our software) related to the Project Delivery product suite. Autodesk refers to Project Delivery as a "horizontal industry" because it essentially touches everything on the desktop and cloud. This means I am close to AutoCAD, Revit, Dynamo, Civil3D, Plant3D, ReCap, Infraworks, Vault, and the cloud teams encompassing the products I follow closely. In these conversations, I use the database Airtable to manage all the features of what is working and not working, what is frequently used, what is losing use, and what is being requested. The product teams ultimately catch all the forum board requests for new features.
My main job involves working with data analysts to calculate market opportunities. Once we have a list of standards to measure value, I present that to Autodesk's executive leadership for what we build or acquire next. It is a very demanding job because I have to conduct many meetings to find information. Still, the majority of conversations I have are rich in technology and business application, which I find rewarding.
My main business philosophy is to stay organized all the time. I have a database that tracks the information I am learning, records most of my meetings, and transcribes the audio to text for easy searching. The brain is a pretty powerful tool, but it is impossible to remember everything when you have over ten meetings in a day.
I am also inspired by other incredible people who have been successful before me. Quotes are a great way to peer into the mindset driving success. One of my favorites is from Abraham Lincoln, "If I only had an hour to chop down a tree, I would spend the first 45 minutes sharpening my axe."
What is one accomplishment of your career of which you are most proud? How do you feel that the College prepared you for this?
I worked on ten skyscrapers in the practice period of my architecture career. I am most proud of the Capital Market Authority Tower in Riyadh, Saudi Arabia. The building is a striking design that is now on Saudi currency. I threw everything I had into that project. I was prepared in school to be fearless for a near-impossible task. Revit was not near as capable as it is today to collaborate on such a project. I was promoted to lead the technology delivery of that project with a team of over 15 international offices collaborating with Revit, AutoCAD, Rhino, 3DSMax, CATIA, Digital Project, and a few thousand pages of drawings. I made incredible friendships on the project because we all worked hard and enjoyed working together. This is another lesson I learned at UH – work hard, play hard. Nothing bonds colleagues together like a tough job. This was early in my career, but I love seeing that the building continues to be published, referenced, and discussed for its technological achievements and design prowess.
What is a valuable lesson you learned during your time at the Hines College? 
"Pencils down" – This was a difficult concept when working on charrettes; however, this one concept is the most important thing you can ever learn in your life. No one is perfect at time management, and it only gets more difficult when you are attempting to be realistic, manage expectations, create excitement, acquire work, or be impressive. You only have 24 hours in a day. You need to sleep a third of that time, and if you work more than a third of what you have left, you are cutting into the time you could be enjoying with your friends or family. I struggled with balancing school and friends while achieving what I wanted from my imagination in the studio. I often sacrificed sleep. You need to enjoy social life and explore your interests. Once you start working professionally, think about how much you are making per hour of effort. You do not want to just slide by; you want to increase your value. How you work within a period of finite time with limited resources is a special skill. This is where you must be strategic with your time and constantly question what is possible. Time management is the secret sauce to innovation. If you figure that out, you can do anything.
What is a piece of advice you would give to current Architecture and Design students?
There is nothing easy about architecture or design – recognize and love that. When you discover different styles or gain experience in practice, it is easy to replicate what they are doing; however, it is impossible to relive the journey that brought them to that recognizable form. You have to embrace the idea that things do not always fit perfectly together and realize that your approach to problem-solving will change what you yield from the process.
I can often be heard saying something like, "You know there are multiple theories of everything, and when you dig into the math, they all add up. The question isn't if the math is right; it's the order of operations." This is true for how you practice architecture and design. While you are in school, discover how you like to perform your order of operations. Once you have identified your preference, own it and guard it. This will help you navigate all the opportunities you will encounter in your life. Think about who you want to work with, what size of company you prefer, what kind of project or industry you want to focus on, what kind of tools you like to use, and how you want to balance your life.
If one thing is undoubtedly true – by graduating from the Hines College, you will have a plethora of opportunities and many future decisions to implement your preference.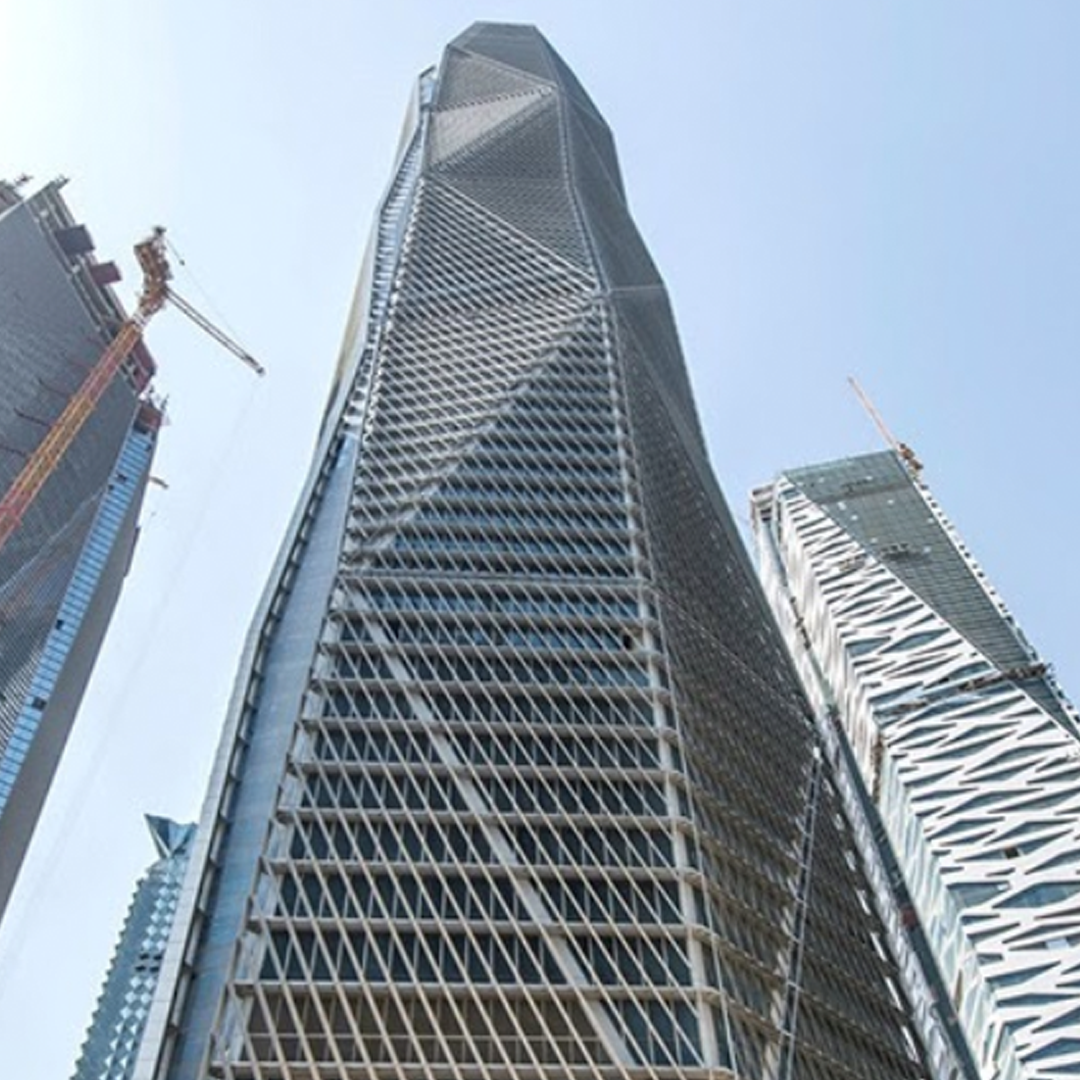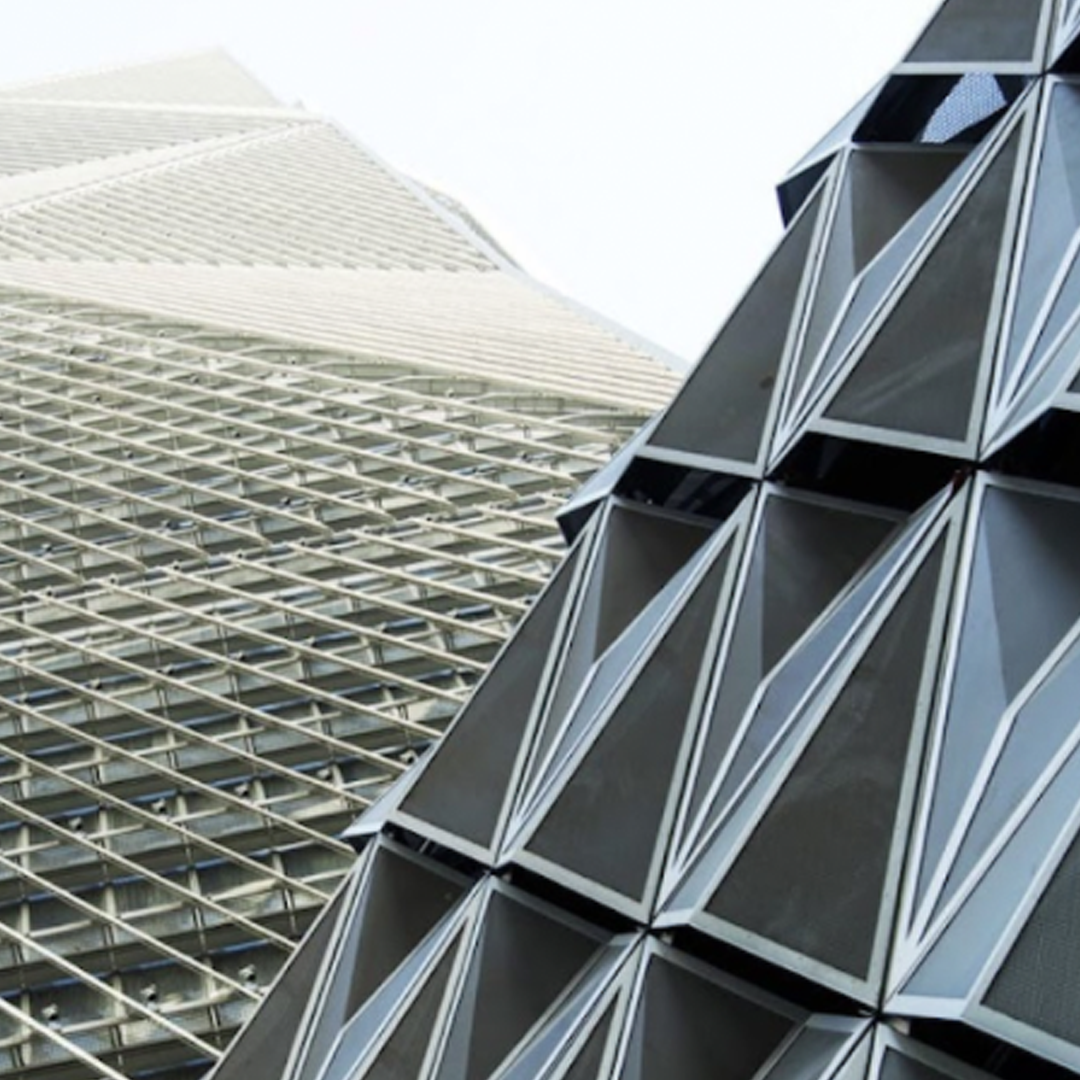 Left:
Capital Market Authority Tower, Riyadh, Saudi Arabia
Right:
Detail showing complex glazing systems for podium and tower in the background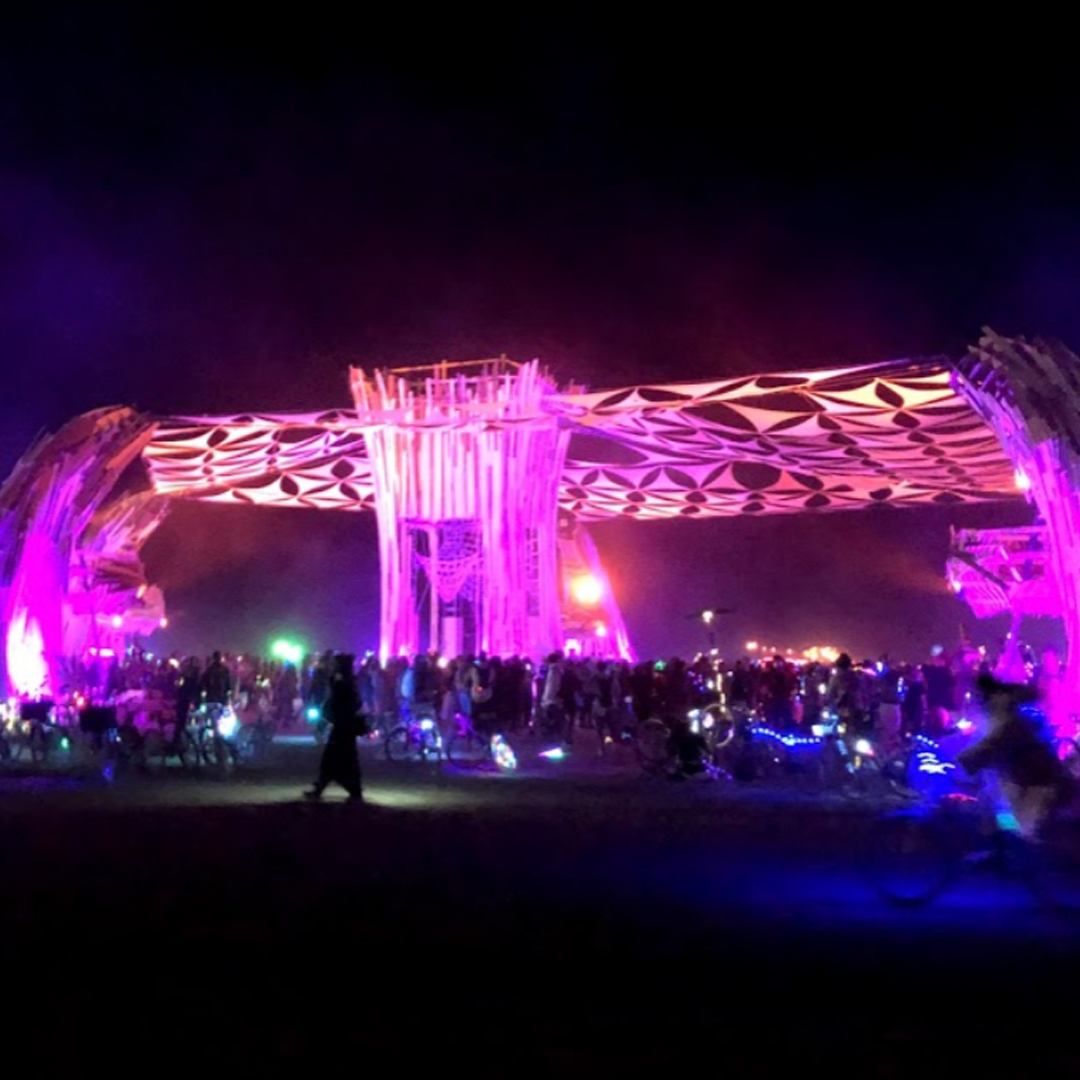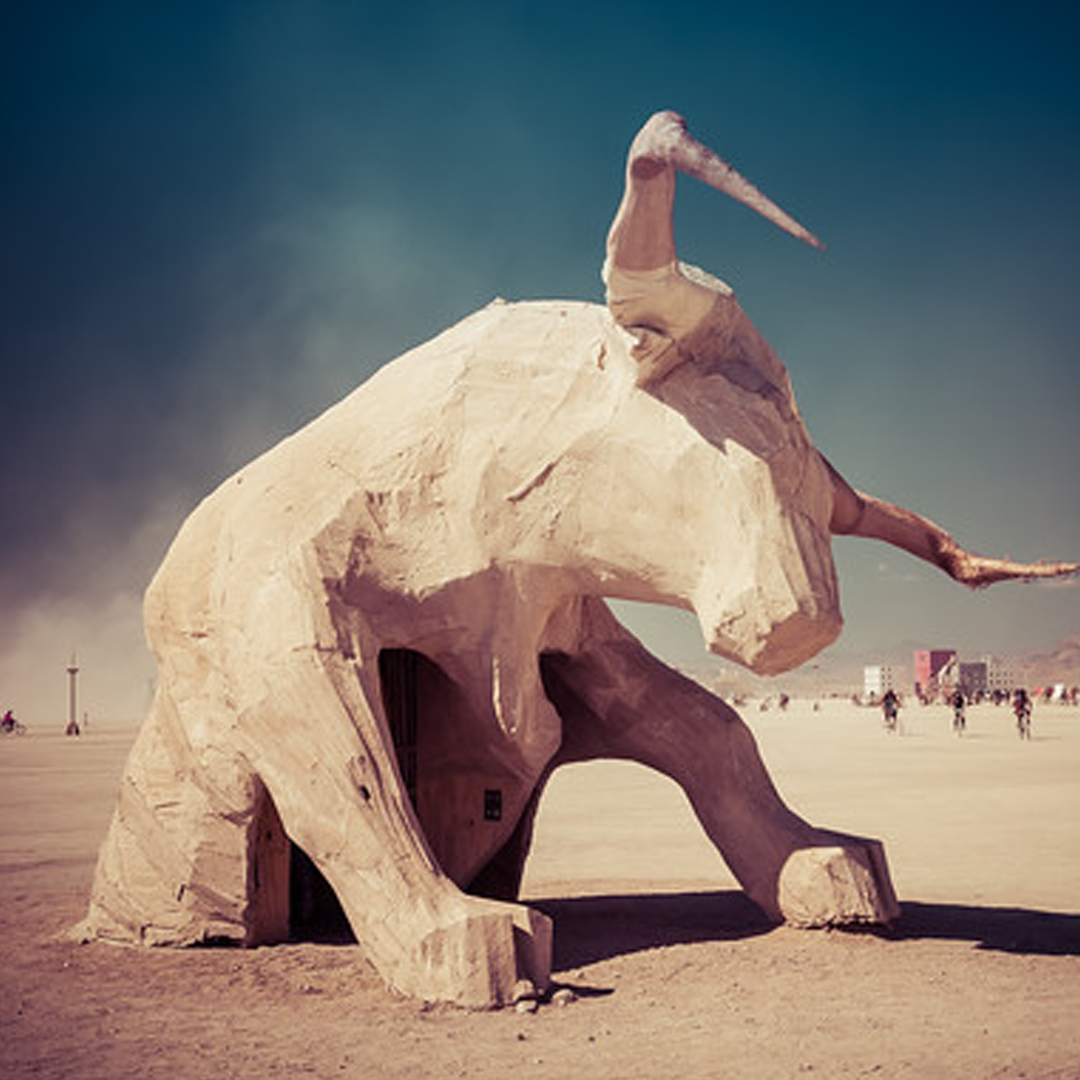 Left:
Burning Man 2019, Roots Society – Cathedral
Right:
Burning Man 2012, Houston CORE – ReinCOWnation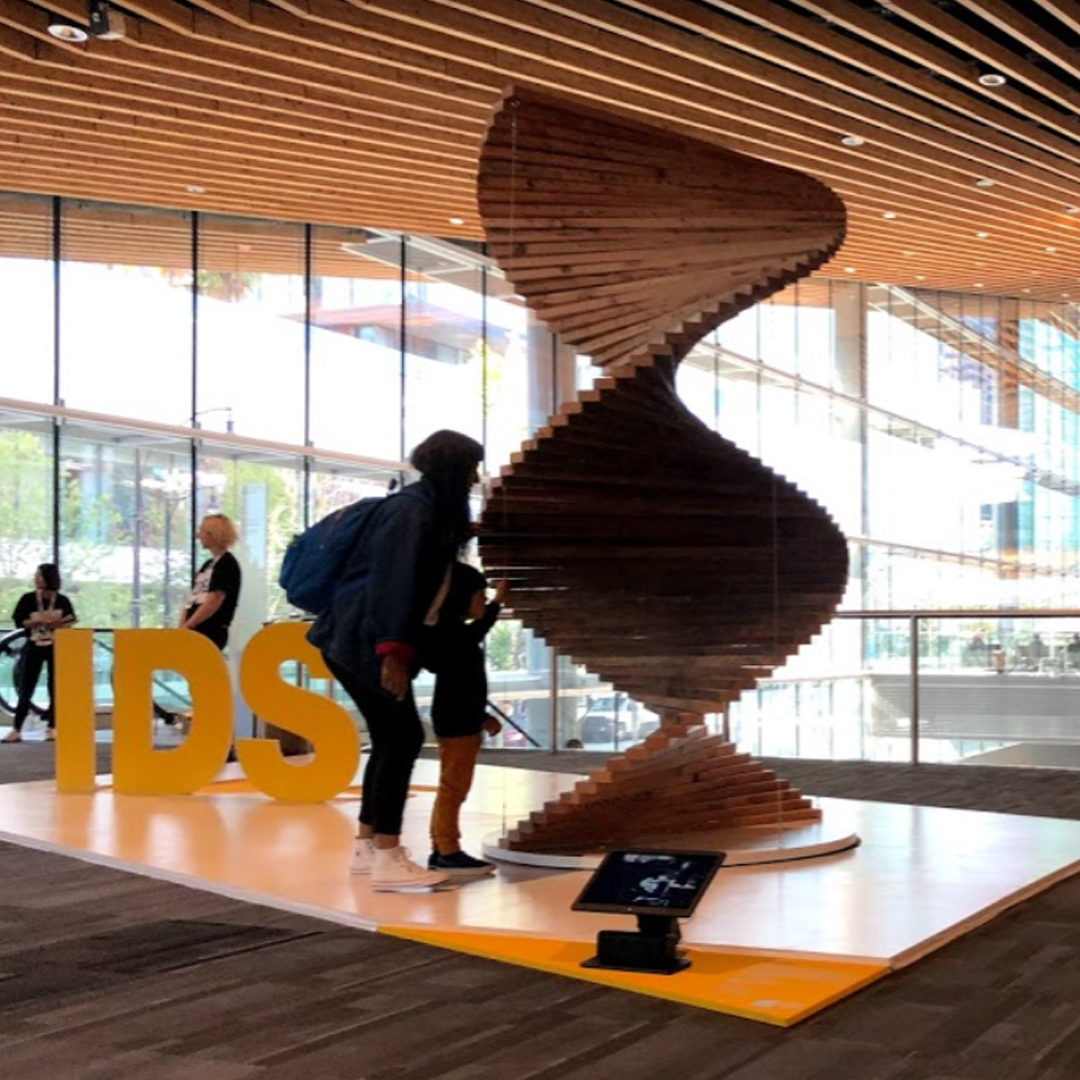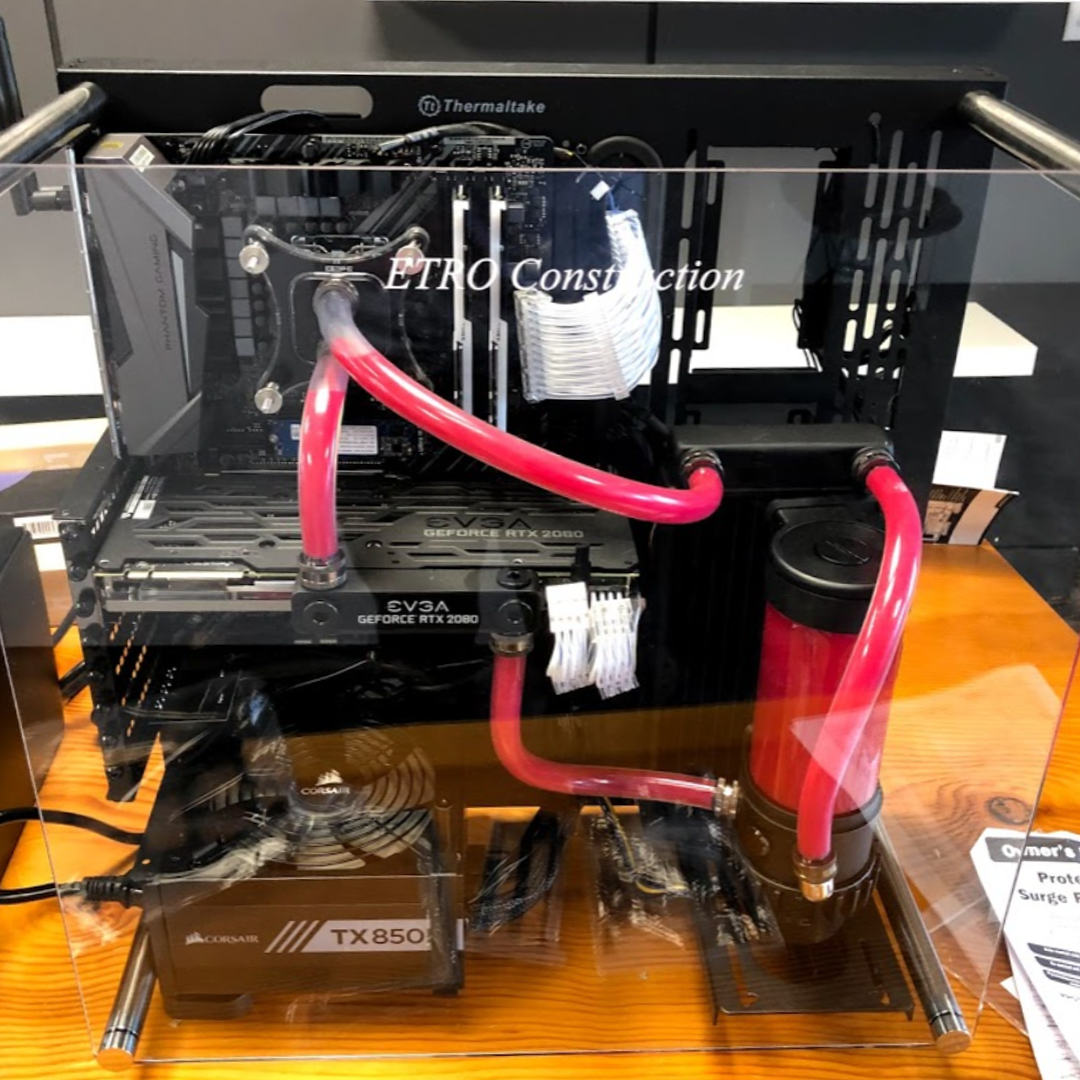 Left: Interior Design Show 2019, reclaimed wood showcase piece working with Tangible Interaction and ETRO
Right: Custom Liquid Cooled Computer Design by Brey Tucker for ETRO Construction for immersive environments