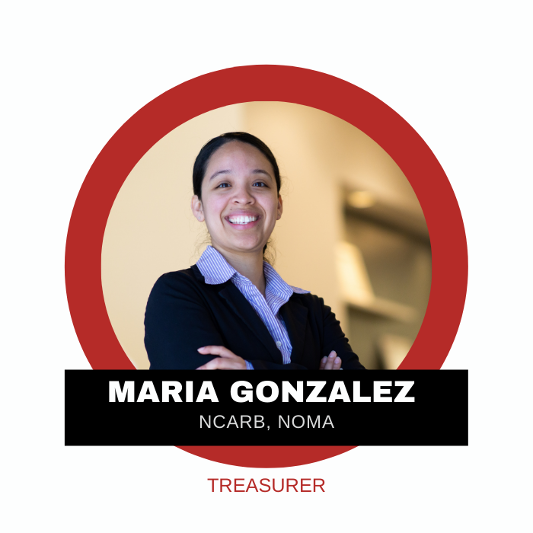 The Houston National Organization of Minority Architects (HNOMA) recently appointed Hines College alumna Maria Gonzalez '09 as treasurer on the organization's advisory board for a two-year term.

During Gonzalez's time at the Hines College, she earned her bachelor of architecture and a bachelor of science in environmental design degree. As a student, Gonzalez was an active member and president of the University of Houston NOMAS chapter. There, she found the opportunity to develop leadership skills, help underserved communities, and join a network that has continued to grow as a professional member.

"I know what it is like as a student to look up to professionals. NOMA helped me as an organization and as a student, and now I want to reciprocate that," said Gonzalez. "I am glad to see students within the UH NOMAS chapter taking the opportunity to pave a path for themselves. Hopefully, these students continue to see HNOMA as an organization that is there to be a resource and assist them in their career."

Since 2018, Gonzalez has been on the NOMA board in different capacities. Last year, she was elected as membership co-chair, where she maintained communication with members, became a resource for students, and committed to the initiatives of NOMA.

"I hope to do as great of a job as our former treasurer Anzilla Gilmore did by keeping us in line with our goals, continuing to reach students, recent graduates, and even seasoned professionals," shared Gonzalez. "As treasurer, my main duty is to make sure we stay within budget just as architects do in all of our projects. I hope what I gained in my profession carries on to this position."  

Gonzalez is an associate at Moody Nolan, where she leads large-scale commercial projects as a project manager. With over 13 years of professional experience in the architecture and planning industry, her diverse experience encompasses hospitality, residential, retail, community, education, and health care markets. Gonzalez's commitment to NOMA's mission has translated into her profession, service, and mentorship.  

To learn more about HNOMA, click here.