October 9, 2021
University of Houston Gerald D. Hines College of Architecture and Design
Remembering Gerald D. Hines | Honoring the Hines Family
Arturo Chavez '90, Gala Chair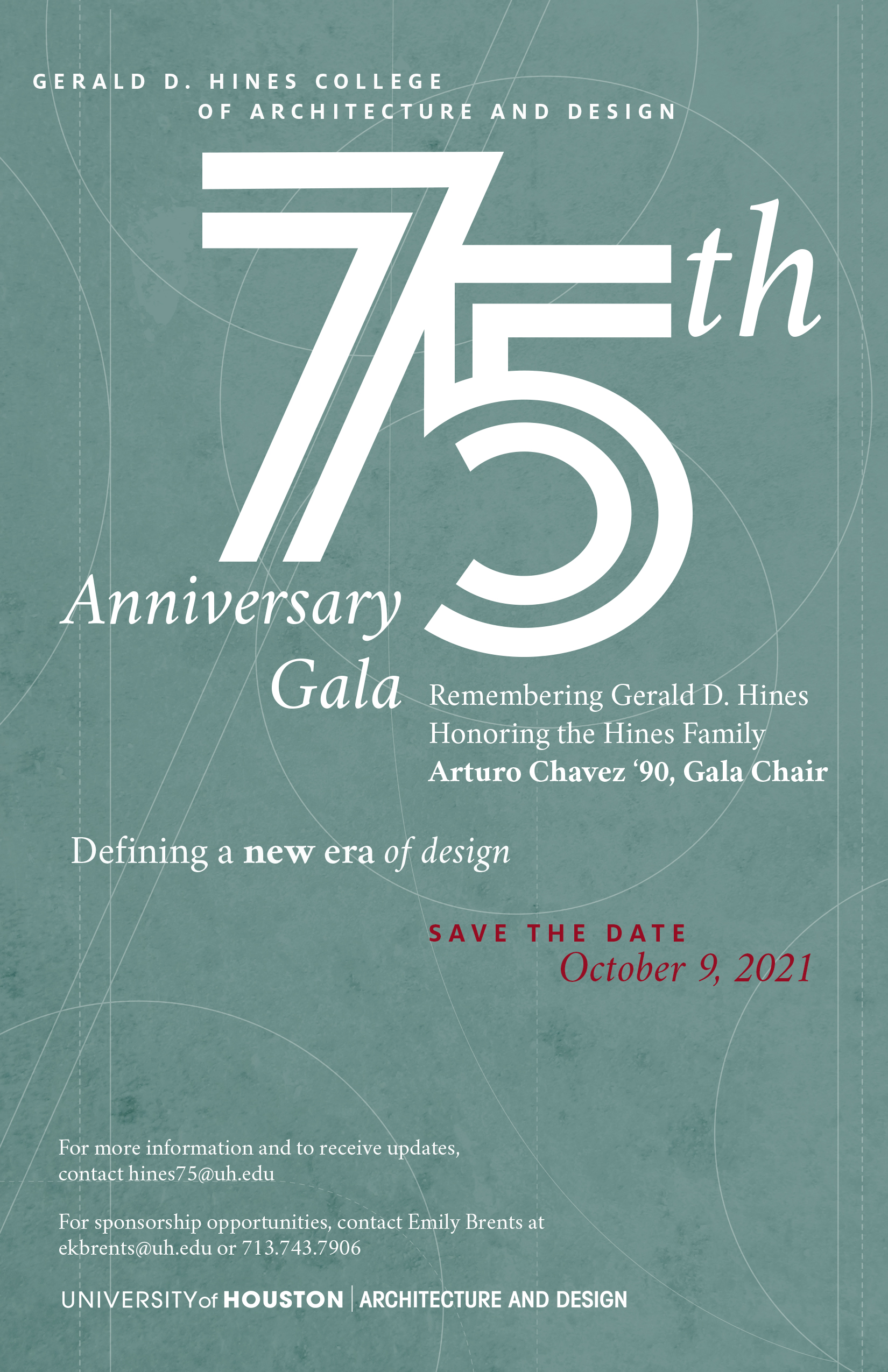 SPONSORSHIP OPPORTUNITIES
DIAMOND SPONSOR - $75,000 (FMV* $2,448)
Two reserved tables of 12 in VIP area
Invitations for 24 to the VIP Reception prior to the event
Sponsor-named aspect of event (area within venue, bars, parking)
Acknowledgment in event opening remarks
Prominent placement in printed and digital media at the event
Top placement in formal event invitation and digital collateral
Recognition in media releases and news promoting the event
Opportunity to host a private event, for up to 50 guests, at the Gerald D. Hines College of Design (sponsor is responsible for food and beverage, event rentals, parking, and security expenses)
PLATINUM SPONSOR - $50,000 (FMV $1,224)
One reserved table of 12 in VIP area
Invitations for 12 to the VIP Reception prior to the event
Acknowledgment in event opening remarks
Prominent placement in printed and digital media at the event
Priority placement in formal event invitation and digital collateral
Recognition in media releases and news promoting the event
GOLD SPONSOR - $25,000 (FMV $1,224)
One reserved table of 10 in VIP area
Invitations for 10 to the VIP Reception prior to the event
Acknowledgement in event opening remarks
Prominent placement in printed and digital media at the event
Priority placement in formal event invitation and digital collateral
Recognition in media releases and news promoting the event
RUBY SPONSOR - $10,000 (FMV $780)
Ten tickets for admission to the event
Recognition in printed and digital media at the event
Placement in formal event invitation and digital collateral
SAPPHIRE SPONSOR - $5,000 (FMV $624)
Eight tickets for admission to the event
Recognition in printed and digital media at the event
Placement in formal event invitation and digital collateral
PATRON COUPLE TICKETS - $1,500 (FMV $156)
Two tickets for admission to the event
Recognition in printed and digital media at the event
Placement in formal event invitation and digital collateral
SINGLE TICKET - $500 (FMV $78)
One ticket for admission to the event
YOUNG ALUMNI TICKET - $125 (FMV $78)
One ticket for admission to the event
UH Graduates 2010-2020
FACULTY TICKET - $125 (FMV $78)
One ticket for admission to the event
*Fair Market Value (FMV)
SHOW YOUR SUPPORT TODAY
For more information and to secure your sponsorship, contact Emily Brents, Director of Advancement, at ekbrents@uh.edu or 713.743.7906. 
---
Note regarding Donor-Advised Funds and Foundations:
Gala tickets and sponsorships, as they have a substantial fair market value, may not be purchased through a donor-advised fund or foundation. Exceptions occur only when a donor will not attend the event and the entire table or ticket(s) is to be donated back to the Hines College of Architecture and Design.
Event donations through your donor-advised fund or foundation, outside of table and ticket sales, are welcomed.