Staff Council & Women and Gender Resource Center Scholarships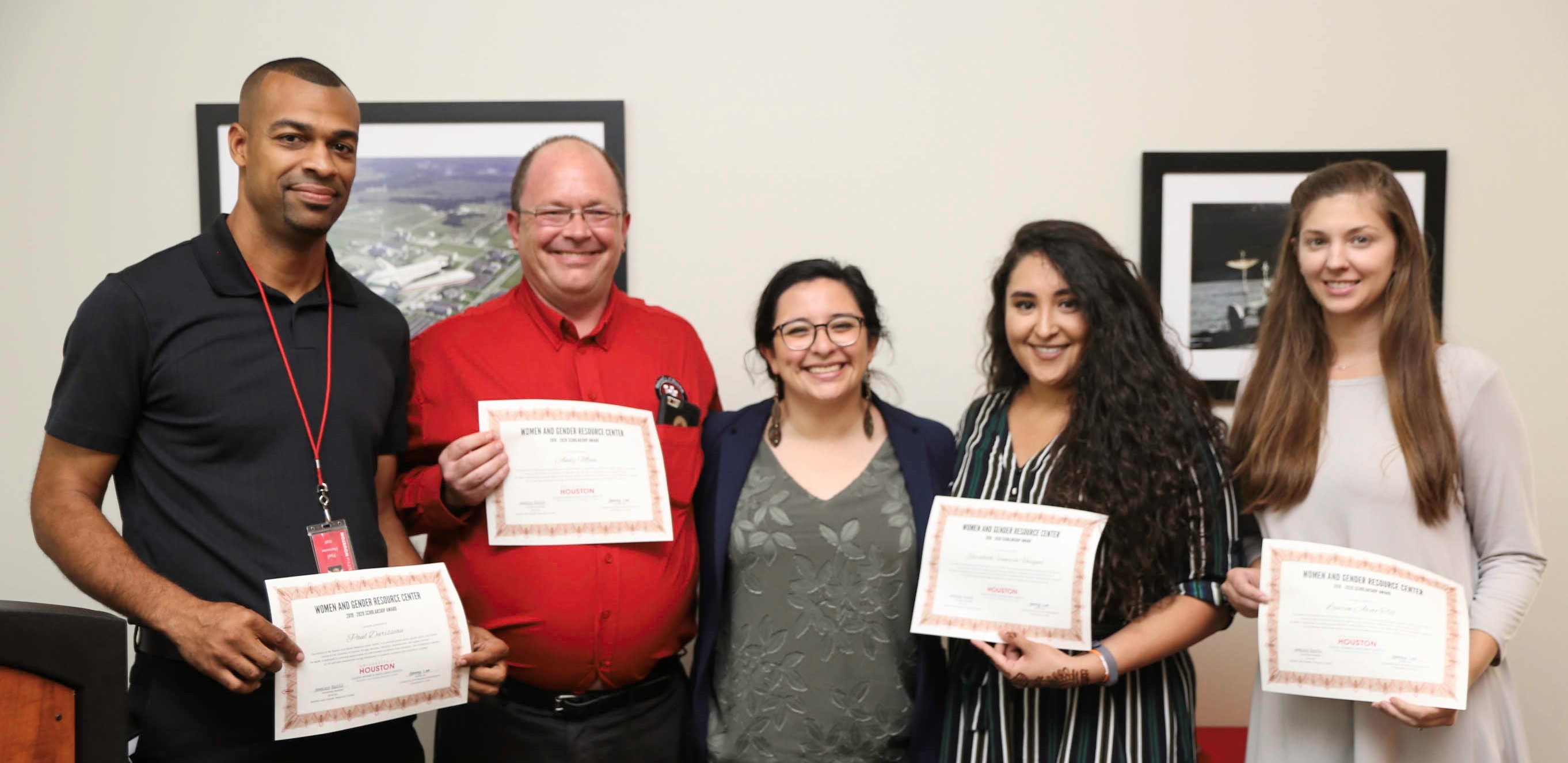 The University of Houston Staff Council and the Women and Gender Resource Center are dedicated to providing opportunities for staff members to advance their education.
In an effort to simplify the application process and to promote a wider distribution of the available scholarships, Staff Council and the Women and Gender Resource Center are pleased to announce that we have combined the applications.
By completing one application, you will have applied for both scholarships.
The Women and Gender Resource Center provides five $1000.00 scholarships and the Staff Council provides ten $1000.00 scholarships to employees who plan to attend degree or job related academic credit classes during the fall, spring or summer semesters at the University of Houston.
2020-2021 APPLICATION DEADLINE: MAY 8, 2020
Criteria

To be considered for these two gender-neutral Scholarships, the staff member:

Must be employed in a benefits-eligible position on the University of Houston campus for at least one year as of February 11, 2020.
Must have completed 6 hours of undergraduate or graduate credits for evaluation.
Must have a cumulative grade point average of 2.5 or higher.
Must demonstrate strong commitment to academic excellence and potential to succeed.

How to Apply

Each applicant shall submit an application packet containing the following information by Friday, May 8, 2020 5:00PM. (Incomplete packets will not be reviewed).

Complete and submit the

 

scholarship application

 

form below and send all other documents listed below to scscholarships@uh.edu

 

in MS Word or PDF format.
All college transcripts. The transcripts don't have to be official copies, but they must be legible.
Typed essay (maximum one page, double-spaced, 12 point font, no exception)

 

explaining career goals (professional objectives) and personal statement (why you believe you should receive this scholarship).
Your resume. The resume should include awards, honors, achievements, work experience and activities.
Two letters of recommendation. Letters should be as specific as possible.

If you have any questions, please contact scscholarships@uh.edu.

Selection and Award Process

A Staff Council/Women and Gender Resource Center committee ranks the applications in a blind review process and selects the top fifteen applicants to receive scholarships proportional to the number of applicants at each degree level (undergraduate or graduate).

Awards are credited to the recipients' UH academic account when proof of registration is received.
Awards are credited to an academic course (not audit or continuing education) for UH

 

credit during FY'21 (Fall '20, Spring '21, or Summer '21).
Awards apply to that year and cannot be moved forward. Any recipient who cannot utilize the scholarship within the year should notify the UH Staff Council Scholarship Committee or the Women and Gender Resource Center. Recipients must still be employed by the University on the first day of class of the semester in which they take the class.
A previous recipient may re-apply annually for these Scholarships. Recipient may receive only one scholarship each year.
Past Recipietns
Past Staff Council Scholarship Recipients

2019 - 2020 Staff Council Scholarship Recipients


                                

 Gillian Bautista (Office of Research, NSM)            Candace Guy-Anzaldua (Dept. of Physics, NSM)

 

                                  

Lan Chi Nguyen (College of Optometry)                Dina Padovan (UH Police Department)

 

 

2018 - 2019 Staff Council Scholarship Recipients

Lauren Abbott
Keri Myrick
Trang Phan
Hayley Brown
Esmeralda Valdez
Molly Niemczyk
Candace Guy Anzaldua

 

2017 - 2018 Staff Council Scholarship Recipients

William Clayton
Stephanie King
Saira Nadeem
Sarah Borders
Miranda Lindsey
Sam Byrd
Michael Ahlf

 

2016 - 2017 Staff Council Scholarship Recipients  

Michael Ahlf
Amanda Anderson
Sarah Borders
Andrew Kapral
Moises Medina
Saira Nadeem
Farideh Nekoobahr
Tan Feng Pao
Trang Phan

 

Past GWRC Scholarship Recipients

2019 - 2020 Women & Gender Resource Center Advisory Committee Scholarship Recipients 



                                

Lauren Abott Till (Health & Human Performance)    Michael Ahlf (Center for IT in Education

                             

Paul Durisseau (Enterprise Systems IT)                 Andy Moon (Technology Services and Support)

Vanessa Vasquez (Undergraduate Advising Center, NSM)