Pharmacy Leadership and Administration
Curriculum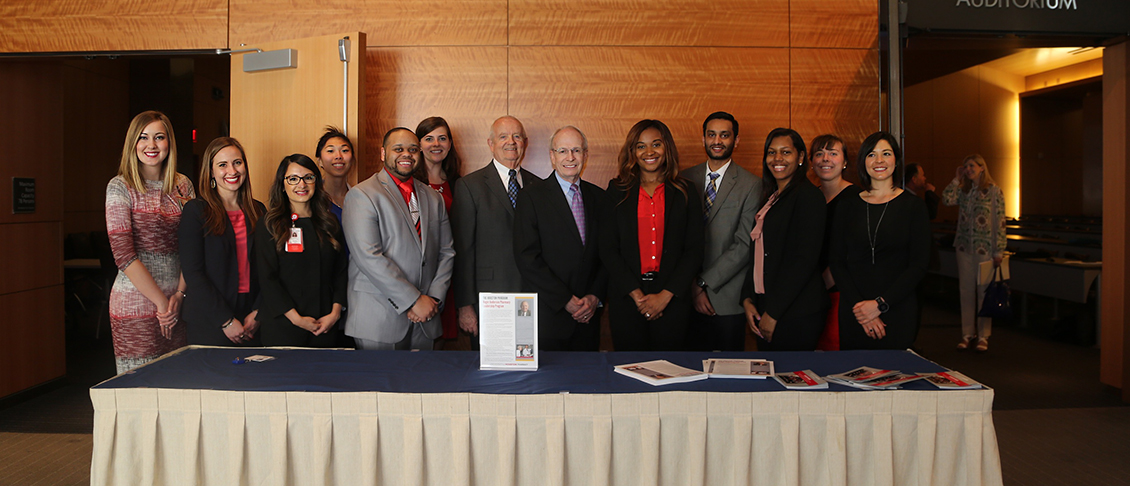 The two-year M.S. curriculum will consist of leadership training, health-systems pharmacy administration, research, and business-related coursework. Theses and projects will be developed in conjunction with real-world questions from healthcare institutions. A summary of the curriculum is shown below.
The objectives of the M.S. program will be to deliver a comprehensive graduate education in pharmacy leadership and administration, provide didactic and experiential training in pharmacy practice and administration; and train pharmacists for research and scholarly activities in pharmacy practice.
MS Degree Curriculum Overview

Coordination with Residency Training
Through an active steering committee, learning objectives and logistics of the M.S. program are coordinated with the learning objectives and site logistics of the residency programs. A summary of the goals and objectives of the residencies are shown below.
Interested applicants are encourgaged to visit all sites offering the PGY1/PGY2 in Health-system Pharmacy Administration. For specific questions on the residency components, please visit the residency pages of the participating TMC health systems and contact the residency program directors for additional details.
Degree Requirements
The MS program is offered by the Department of Pharmacy Practice and Translational Research (PPTR). The curriculum focuses on Pharmacy Leadership and Administration in Health-System Pharmacies. The student must complete a minimum of 36 credit hours (Cr Hr) for the M.S. degree, including a major thesis/project. In accordance with the University of Houston guidelines, the department may approve a maximum of 9 Cr Hr of transfer credits from another institution. 
Total 13 Hours

Required Coursework
Hours
PHLA 6100
Leadership Seminar (Taken 4 times)

1

PHLA 6321
Intro to Hospital and Health System Pharmacy Management

3

PHCA 6320
Medication Safety and Quality Improvement

3

PHCA 7199
Master Thesis (Taken 3 times)

1
Total 20 Hours

Suggested Electives
Hours
ACCT 6331
Financial Accounting

3

PHCA 6198
Special Problems (Taken 2 times)

1

PHCA 6298
Special Problems (Taken 3 times)

2

PHCA 7306
Pharmaceutical Health Outcomes and Quality

3

PHCA 7308
Biostatistics and Experimental Design

3

PHCA 6313
Pharmacy Workforce Competency

3
Total 3 Hours

Open Elective
Hours
Elective can be selected from any available options for the student.

3
Suggested Degree Plan
Fall I
Hours
PHCA 6298
Special Problems

2

PHCA 7308
Biostatistics and Experimental Design

3

PHLA 6100
Leadership Seminar

1

ACCT 6331
Financial Accounting

3

PHLA 6321
Intro to Hospital and Health System Pharmacy Management

3
Spring I
Hours
PHCA 6198
Special Problems

1

PHCA 6298
Special Problems

2

PHCA 7199
Master Thesis

1

PHLA 6100
Leadership Seminar

1
Summer I
Hours
PHCA 6320
Medication Safety and Quality Improvement

3
Fall II
Hours
PHLA 6100
Leadership Seminar

1

PHCA 6298
Special Problems

2

PHCA 7199
Master Thesis

1

Elective

3
Spring II
Hours
PHLA 6100
Leadership Seminar

1

PHLA 6313
Pharmacy Workforce Competency

3

PHCA 7199
Master Thesis

1

PHCA 6198
Special Problems

1
Residency Plan