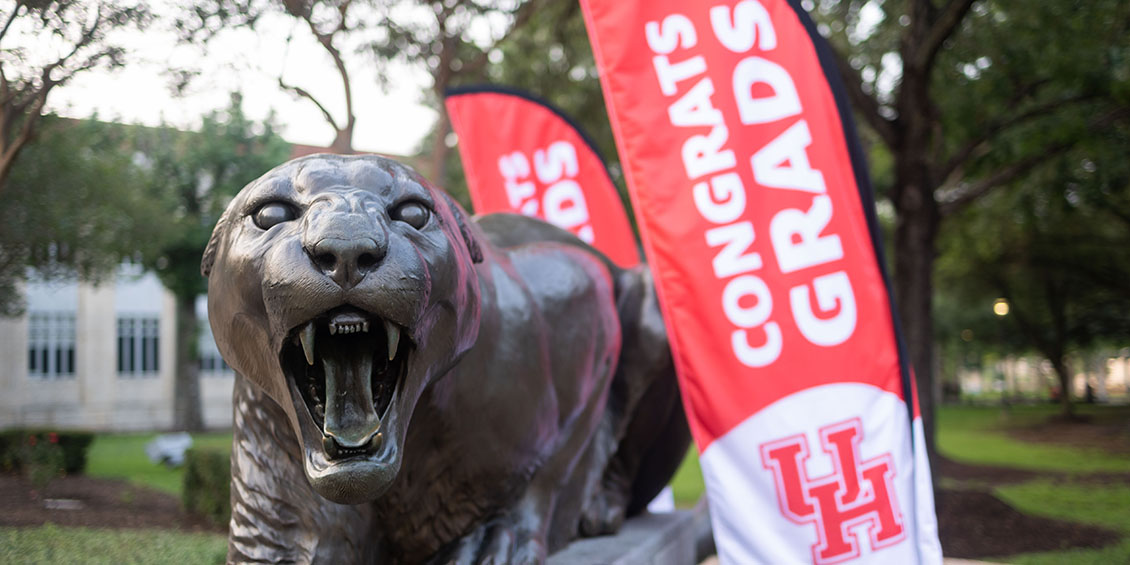 Commencement for UHCOP Class of 2024
The nearest public parking to the UH College of Pharmacy's Commencement venue, Cullen Performance Hall, is in the Welcome Center Garage, Welcome Center Garage*, 4434 University Dr., Houston, TX 77204. However, several other parking areas have been designated for students and guests (see map). 
Accommodations for Students & Visitors with Disabilities
Guests of Graduating Students 
Persons with disabilities who desire accommodations should contact Kimberly Nguyen, 832-842-8332 at least 48 hours before the ceremony.
---
Apply for Graduation - Spring 2023
Regular Deadline: TBA
Late Deadline: TBA
To apply for graduation, please log in to your UH account: http://my.uh.edu. Applications are also available in the Graduation Office, 108 Ezekiel W. Cullen Building.
Note: Students must clear all financial holds and meet any exit interview obligations before applying for graduation.
---
Stay Connected & Involved
Pharmacy Alumni Association/University of Houston Alumni Association
The Pharmacy Alumni Association is a constituent group of the University of Houston Alumni Organization. As a member of the University of Houston Alumni Association and the Pharmacy Alumni Association, you can help in the university's continued growth and development. Visit the UHAA website or call 713-743-9550 for details about membership benefits and levels.
Update Your Information Online
Stay connecting to your alma mater quick and easy by updating your contact information using the secure online form. Current contact information is vitally important to ensure that you continue receiving newsletters and information about your classmates, faculty mentors, future graduates, and what's happening at the college and university.
Updating a Student E-mail address
Login to MyUH (PeopleSoft)
Once logged in, select UH Self-Service
Select Campus Personal Information
Follow the instructions to update your phone number and email address. You must have at least an updated Destination address at which you can receive official UH emails.
Update the information and click the Save button
Sign Out from myUH (PeopleSoft)
Contact UH IT Help
Phone: 713-743-1411
Fax: 713-743-1410
Email: support@uh.edu
Mail Code: TSS 2002
Subscribe to College of Pharmacy E-newsletters
UH College of Pharmacy's e-newsletters — the Interactions Refill and UHCOP General Announcements — offer the latest headlines, events and activities from the College of Pharmacy right to your computer or web-enabled mobile device. To sign up for the college's e-newsletters, please click here.