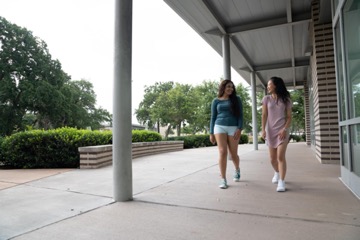 For a lot of college students, living on campus is the first experience of living with someone who isn't family.  This can be a tough transition for most. Student Housing and Residential Life would like to provide you with some pointers to help make sure your new living arrangement is easy and agreeable for all people involved. 
Less roommate conflict means: 
More time to focus on the important aspects of college

 

Less stress

 

A comfortable environment 

 

Better study habits

 
How to minimize conflict when living with a roommate 
Discuss and learn each other's schedules 
Knowing when your roommate will be in class, studying, sleeping, etc. It will help you be respectful of their needs. For example, if you know your roommate has class early in the morning, don't try to pull an all-night study session in your room. Instead, go to the library and rent a study space.  
Clean up after yourself 
Your roommate is not responsible for your mess and vice versa.  Pick up your clothes, keep your bathroom tidy, and don't let dirty dishes sit out.  It may be helpful to schedule a communal cleaning time once a week, where you divide and conquer all the chores that need to be done. 
Be honest and open with your roommate 
If something bothers you or makes you uncomfortable it's best to address it. Your roommate may be unaware that they are upsetting you and will probably be happy to change their habits in order to keep the peace. The same can be said for you.  If your roommate confronts you with an issue be respectful, open, and understanding.  If you and your roommate cannot resolve the conflict on your own, contact your Resident Advisor (RA) for help.