Residence Hall Association Recognition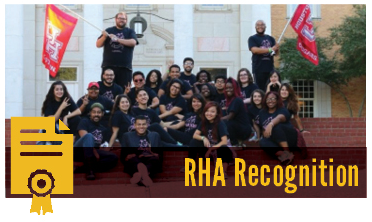 Twenty-two SHRL Residence Hall Association student leaders attended the annual SWACURH Leadership Conference at the University of North Texas in October. The SWACURH Conference is an opportunity for student leaders in housing to learn about how other schools are doing things on their own campuses while gaining knowledge and skills for leaders to return with to their home school. SHRL student leaders brought back several awards for UH school spirit while at the conference, conference program presentations, and for work done as leaders at their home campus. Students who attended the conference were Mehvish Mirza, Cami Elahee, Tierra Harris, Sydney Hoffman, Carlos Uribe, Genesis Robles, Aspen Sherriff-Bay, Michael Ocampo, Joylee Chisato, Ty-Rinetta Sanders-Washington, Trang Ha, Alejandro Dolores, Emily Joslin, Kendra Williams, and RHA Executive Board members Demointe Wesley, Carlos Iniguez, Andrew Teoh, Henri Jreij, Zhanna Vanderschoot, Hamza Muhammad, Mariam Bitar and Kathryn Delgado. Along with staff advisors: Courtney McElroy, Assistant Director and Aaron Crowe, Residential Life Coordinator.
2016 SWACURH Awards
Most Spirited Large School Delegation (4th year in a row)
Most Programs Presented at SWACURH
Mikhail Jarrett regionally recognized for an Of the Month Award
written by Coley Boucher
Volunteer of the Year: Chris Pinto


Programs
Andrew Teoh: Tinder Time: Presenting YOU!
Michael Ocampo and Taylor Archer: The Sweetest Sex
Tierra Harris: Let's Judge a Book by its Cover