Being employed during the academic year is a great way to earn extra money, build a professional network, and gain valuable job experience that can transfer into your desired career goals. Explore your options and decide what's right for you.
2 Types of on-campus student employment
1. College Work-study (Also known as Federal or Texas Work-study)
The College Work-study or Federal Work-study (FWS) Program is a government subsidized student employment program designed to assist students in financing their post-secondary education. In order to be eligible for Work-study students must document financial need every year by completing the Free Application for Federal Student Aid (FAFSA). Students who not receive a college work-study award after completing the FAFSA and are interested in obtaining college work-study, should email a request to workstudy@uh.edu or visit the Office of Scholarships and Financial Aid office to be added to the waitlist. CWS FAQ
Eligible CWS students

Eligible students will be notified by the University of Houston Financial Aid if they receive college work-study and MUST accept the award via myUH self-service.
Eligible students can work part-time on-campus or with UH-approved work-study off-campus organizations
Eligible students are able to work up to 20 hours per week at an hourly starting rate of at least minimum wage ($7.25). (Note: Students may not earn more than the amount of the Work-Study (WS) award)

Types of CWS jobs

The on-campus work-study jobs are as diverse as the personnel needs of the University. Clerical assistants, data entry operators, photography technicians, artists and laboratory research assistants are but a few examples.
Off-campus positions with employers/agencies approved to participate in the Federal Work-Study Program offer further variety. These positions are available through non-profit organizations and are usually in areas of community service. Off-campus positions may include Photography, museum guides, public relations, editorial, research assistants, and tutors.

Resources for CWS students
2. Non-College Work Study
The employer pays 100% of the student's wages out of their own funds.
Eligible NCWS students

All enrolled students are eligible for NCWS positions and will need to apply for open positions through Cougar Pathway or directly visit on-campus departments
Students are able to work up to 20 hours per week at an hourly starting rate of $7.25

Types of NCWS jobs

NCWS jobs could fall under any of these categories: office assistant, ambassadors, technology support, program assistant, social media assistant, research assistant, teaching assistant, data entry, food service worker or cashier, or tutor.
NCWS jobs can be found all across campus including academic departments, student affairs and enrollment services, athletics and food service.

Resources for NCWS students
Determine your eligibility
| Student Status | College Work-Study | Non-College Work-Study |
| --- | --- | --- |
| Part Time or Full Time: Undergraduate Student and U.S. Citizen | Yes | Yes |
| Part Time or Full Time: Graduate Student and U.S. Citizen | Yes | Yes |
| International Student | No | Yes |
How to find on-campus student employment
Each Fall University Career Services hosts an on-campus job fair for all students. On-campus and off-campus employers attend the event and are looking for students to fill their open positions.
Students can log into Cougar Pathway to view available on-campus student employment positions.
In order to apply for ANY open positions through Cougar Pathway, students must have:

Completed their academic and personal profile
An approved resume in Cougar Pathway
How to apply for on-campus student employment
Students are encouraged to frequently view the numerous jobs available by logging in to their account on Cougar Pathway. New jobs are posted in Cougar Pathway daily!
Steps for applying:
Log onto Access UH – Click the Cougar Pathway icon
Once on the home screen, click "Jobs" on the left side
3. Click "Search" or "College Work-Study" (if eligible for work-study)
In the search bar, you can type keywords or simply search through all positions
Apply with an approved resume within the system and follow the instructions provided within the job posting
You will be contacted by the employer should they be interested in interviewing you
Tips & Suggestions/Recommendations for On-campus Employment Job Search
Apply for multiple job postings (minimum of 10-15 jobs)
Follow up after applying (3-5 days afterward)
Search for jobs daily and respond quickly to positions that you are interested in (even check on the website a couple of times during the day)
Have a Career Counselor look at your resume before applying

Instructions for setting up a career counseling appointment

Practice interviewing with a Career Counselor
• Dress professionally for the interview (View Professional Dress Assistance/Resources)
If you go in person to the department, show enthusiasm and friendliness to everyone in the office
Show the department as much availability as possible in your schedule. It is helpful for students to schedule classes to accommodate a consistent work schedule. Creating blocks of time for work, such as 8:00am – 12:00pm or 1:00 – 5:00pm, is best, as many departments prefer students to work for a minimum three-hour block of time
Student Employee of the Year
Each spring, University Career Services hosts Student Employment Week which honors and recognizes all University of Houston student employees. During the week, there are programs such as coffee and breakfast for student employees, free professional headshots and a supervisor "thank you card" writing. At the end of the week, there is a Student Employee Awards Luncheon where student employees are recognized and one student is chosen as Student Employee of the Year.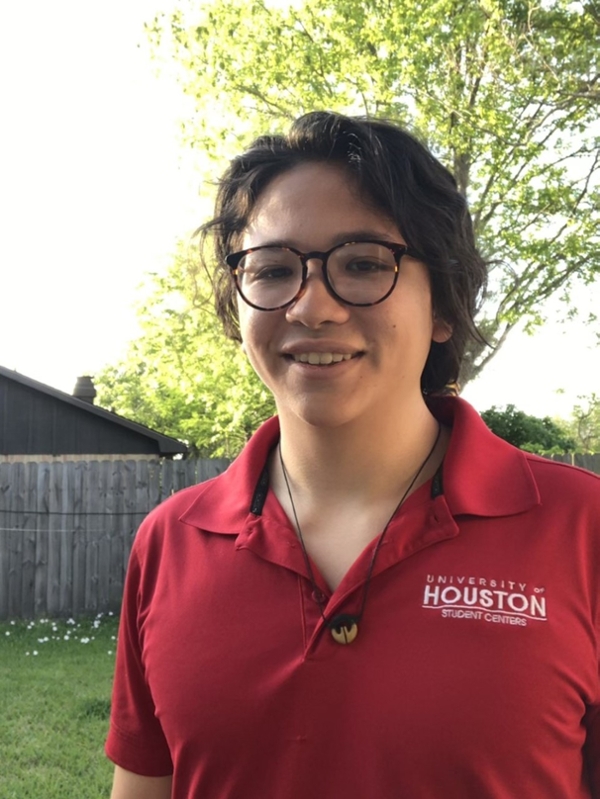 2020 – 2021 Employee of the Year
Emilio Jamerlan
Customer Relations Manager
Student Center