Scholarships & Endowments
Achieving their dreams. Making the impossible possible.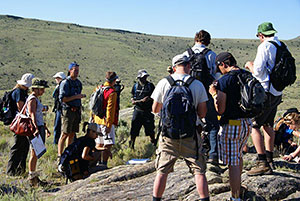 That's what scholarship support does for hundreds of highly qualified UH students each year. Often, scholarship support is the deciding factor for an incoming freshman or transfer student in selecting the University of Houston over another institution. With this support, students can reach their goal of an education while focusing their energies on their studies. In fact, studies conducted by UH show 87% of scholarship recipients stay at the university and have higher grade point averages in general.
The college offers several opportunities to make a difference through scholarship programs:
Operating Scholarships
Operating Scholarships provide support for a single year. Unlike endowments, these awards provide one-time, immediate financial assistance for current and prospective students. You may renew your support for a scholarship each year and you may designate it to a specific program or department. The minimum gift for an operating scholarship is $1,000.
Endowments
An endowment is a permanent source of funding, in which the principal amount stays intact while the generated interest provides a consistent stream of income to be used for purposes designated by the donor.
Funding an endowment is one of the most far-reaching acts of philanthropy because an endowed fund provides sustaining support in perpetuity. It is a permanent tribute to the person whose name it bears, and a sound investment in the future.
Endowed Scholarships
Endowments provide stability to scholarship programs because the principal gift is retained to produce income on an annual basis, in perpetuity. Only a portion of the annual investment return is used for a scholarship award. The rest of the investment yield is returned to the principal, and over time, the fund grows. Endowing a scholarship is an excellent way to ensure your legacy at UH because we hold the principal of your gift in perpetuity.
Endowed Scholarships begin at $25,000 and may be paid over five years. You may name an endowment for your family, company, or in memory of a loved one.
Endowed Chairs and Professorships
Endowed Chairs and Professorships are an exceptional honor, bestowing upon a faculty member, respect and recognition as well as additional research and teaching resources. These endowments allow the university to recruit and retain top faculty and reward those who are top in their fields. Endowed professorships start at $500,000 and endowed chairs start at $1 million.
How are Endowment Gifts Managed?
Endowment gifts to the UH System are placed in the UH System Endowment Fund for investment and oversight purposes. The UHS Board of Regents has adopted the broad objective of investing endowment assets to preserve both their real value and the long range purchasing power of endowment income. The board seeks superior investment returns through a diversified, professionally managed portfolio to minimize risks. Once an endowment is fully funded, it will take approximately one year to earn the appropriate interest for distribution. The distribution amount is a percentage (usually 4 to 5 percent) based on a three-year rolling average of the market value. The remaining earnings will be added to the principal to allow it to grow over time. Once a year you will receive a report detailing your endowment's financial information.
For more information on establishing an operating scholarship or endowment at the UH College of Natural Sciences and Mathematics, please contact Sarah Truby at 713-743-3131 or struby@central.uh.edu.