Where is that Thing in v.8 that I Used to Use in v.7?
Where is it in Version 8? (a Table of 7 vs 8) | What is All New in Cascade CMS v.8?
| Some known issues with version 8
| Can I still see System Names in the Asset Tree if I Need To?
---
Where is it in Version 8?
Following is a table which may help long-time users find the features and tools they are used to using, and where to find the same or similar things in the Cascade CMS version 8.
Cascade v.7.14

Cascade v.8n

New Menu

Add Content Menu

Tools >> Zip Archive Tool

Now part of the Add Content >> File Upload Dialog

Recycle Bin tab on Dashboard

Site >> Site Content >> Trashcan icon

Caution: as you scroll down the Asset Tree, the Trash icon can become hidden under the Site Content column header box.

History – in Cascade Menu bar; Quicklinks

User Button >> History;
My Content area >> Recent listing

Home button in Cascade Menu Bar

Click Cascade logo icon in upper left corner of Cascade Menu Bar to return to your Home/Dashboard view

Log Out – links at top right and bottom right

User button >> Log Out

User Preferences

User button >> Settings

Move, Rename, Copy, Relationships (Subscribers): Tabs
More (Versions, Delete): Tab;
Check-out/Lock asset;

More button;
options here may vary by what type of material is selected

Advanced Options: e.g. spell check, link checking, accessibility checking

Now part of the Submit button dialogs - as the "Check Content and Submit" button; can be skipped

Un-Publish / Publish

Unpublish is now a separated process, found under the More Button; and Publish has its own button/tab when editing assets; Both are still governed by the same Publisher functionality: i.e. an asset which is not enabled for Publishing cannot be Un-published, either

Publish Queue
Cascade Menu Bar >> Logo >> Publisher >> Active Jobs

Stack Menu >> Publish Queue;
You must be within a Site area to see the Queue – e.g. will not show while at your Dashboard, or in your "My Content" area;

Submit to save page edits

Save Draft and Preview Page before Submitting to save edits. To Submit without saving a Draft, select the vertically stacked dots to the right of the "Save & Preview" button.

View Tab

Preview – initial right-hand panel view upon asset selection

View >> Properties; Outputs

Details >> Properties (HTML, XML are the Output types)

Edit shortcuts from arrow that showed up on rollover from the right side of assets in the Asset Tree: View, Edit, Move/Rename, Copy, Delete, Reference, Versions

Right-click on item in Asset Tree (or in Asset lists);
also shows asset's system path.

Multi-select action options popout at the bottom of the Folder Contents List

Now appear at the top of the Folder Contents List – as tool icons which appear only when one or more items are specifically selected from the list (checked); now includes an Un-publishing option;
IMPORTANT: see Important Editing/Selection Tips and Restoring Accidental Deletions

Re-Order buttons in the folder preview, contents list

Click Order header for a folder's contents list to sort it either ascending/descending, then click and drag rows to desired position. Note: for page-bearing folders, the Order Number governs the order of the Left Navigation items.

Where is our Site – Our stuff?

Select your site from the Sites Selector, My Content Widget on your Dashboard, and/or select 'Site Content' from the Cascade Menu bar to see your Site's Asset Tree

Where did that Folder, Page, File, etc. go? I think it was called something else . . .
[system-name / Title or Display Named]   !?

User >> Settings – adjust the "Appearance of Asset Links" to toggle how asset names are displayed in the CMS interface

Set Content Review Date –
select asset >> Edit tab >> Metadata

select asset >> Edit button >> Metadata >> Review Date selector

Quick Links

Messages

Dashboard Widget (set up by Site);
User Button >> Notifications;

Workflows

More Button >> Workflows;
My Content area >> Workflows

Locked Assets –
Asset selected >> View tab >> Lock (Checkout)

My Content area >> Locked Assets;
Asset selected >> More button >> Checkout/Lock

Drafts

My Content area >> Drafts listing

For page or file assets: if "Current" button shows, click to access "Draft" version

Content for Review report

Dashboard Widget (set up by Site);
Stack Menu >> Reports >> Content Up for Review;

Stale Content report

Dashboard Widget (set up by Site);
Stack Menu >> Reports >> Stale Content;


NEW WITH CASCADE CMS v.8

Dashboard Widgets – a number of these must be set up by-Site

-n/a-

My Content Dashboard Widget: Recent, Owned Content, Drafts, Workflows, Locks;

My Content area >> Owned Content listing;

-n/a-

My Upcoming Tasks Dashboard Widget (set up by Site);
My Content area >> Tasks Assigned to Me listing

-n/a-

Stack Menu >> Reports >> Broken Links

-n/a-

Stack Menu >> Reports >> Content Ownership

-coming soon?-

Stack Menu >> Reports >> Google Analytics

New Functionalities

File upload while inserting image


Upload an image on the fly while placing it via a WYSIWYG Insert/Edit Image dialog;

Folder contents view

View Folder Contents Lists in Icon/Thumbnail mode for easier visual selection
---
SOME KNOWN ISSUES WITH V.8
Unexpected Deletion of Entire Folder after items are selected via checkboxes in a Folder's Contents List view, and user selects Delete from the More button at the upper righthand side of the interface.

! Cascade CMS does not intend for users to employ the main, persistent editing buttons (at the upper right of the interface) to apply to items selected individually from a Folder's Contents List view.

FIX: This issue has been addressed with the update from v.8.8 to v.8.9 on June 15, 2018. With v.8.9 the main editing buttons which relate to a selected Folder become greyed out when the Folder's Contents List multi-select actions are activated by one or more List checkboxes being selected (checked).
 
When one or more items are Checked in a Folder's Contents List, List-specific buttons will appear at the top of the List's panel. Please be aware that appearance of these buttons can be permissions based and for Users without Publishing permissions they may not appear.

Those context-specific actions/options will be applied ONLY to the Checked items. User should be aware that the context-specific buttons at the top of the List may become obscured if the List is scrolled. Simply scroll back up until they are in view. 
 
Related: Accidentally Deleted Assets.
If you believe items may have been accidentally deleted: As soon as possible, find the Trash icon (formerly 'Recycle Bin') at the top of the Asset Tree panel and open it. From the Trash Contents List, find, select, and Restore the desired items. NOTE: Items moved to the Trash will typically be retained for at least 2 weeks; after that time period you may find the materials have already beeen permanently deleted. However, for Sites which have not yet gone live Users may have a much longer timeframe for retrieving items moved the Trash area. For more information see: Restoring Accidental Deletions.
 

Some left-navigation menus have displayed certain items which previously were not set to display in menu.
FIX: switch off any offending Folder's Display In Menu setting. [ Folder > Edit > Metadata ]
If pages need to be republished to synchronize with the live site, be sure to Republish from the Parent Folder of the Folder which needed to be fixed.
 
Unpublish While… (Renaming, Moving, Deleting) which was not working initially in v.8.3 should be working again since v.8.4. Unpublish can still be done as a separate step, as needed: More button >> Unpublish. If you experience any further trouble with this feature, please contact cms@uh.edu.
 
Unexpected placement after Choosing 
FIX: check carefully whether assets have been placed where expected when moving or copying, especially if moving between sites. Chooser may show a choice the CMS background processes are delayed in honoring, or Cascade may hang up in displaying a different Site's selections; or user selection may not have been completely finalized (be sure that the Radio Button or Checkbox selector is Checked); or a selection from the Recent list may not be what was actually wanted (be sure the selected item's details match the item you want to select, and if they don't you may need to use Browse instead).

To move assets placed in an undesired location: refresh your browser window to ensure the asset tree is up to date; navigate to the placed asset and select it (use Search for asset's system name if needed); from the More button select Move and navigate to the desired location.
 
XML error preventing Submit – Cascade CMS tries to accommodate valid code, and when copying from electronic or online sources to paste into a WYSIWYG Editor the material may bring unseen extra coding with it – e.g. <o:p> tags generated by MS Office products indicating the enclosed material belongs to an office "namespace". These tags can trigger a CMS error which may prevent a page from being saved via Submit [e.g. '

Invalid XML: The prefix "o" for element "o:p" is not bound'

].
FIX: Remove these tags via the embedded HTML editor; and/or clean the code before pasting in the material. Suggested: use the WYSIWYG's Paste as Text mode; and/or paste the material first into a plain-text editor such as Notepad, then copy it out of there before pasting it into a CMS WYSIWYG editor.
 
Additional Content Section: Hidden Content Source – This issue affects standard interior pages. These pages have the option for adding separate content sections for which the content appears below the main content. These sections have a selector for the User to choose the type of content desired [new WYSIWYG editor; Gallery chooser; etc.]. After content has been added to the page and Submitted, CMS may subsequently drop the content-type selection for this area and display as "None". Content developed in the Additional Content section will continue to display on the page, but User would no longer see the option to edit it in the Edit panel.
FIX: re-select the needed content-type (e.g. WYSIWYG) from the popout selector and content editing should become available again. Submit the page to retain the setting.
 
Re-Titled, Re-Named, Moved, Deleted (etc.) assets do not show as altered in the Cascade interface after an action or command is applied/Submitted. Cascade typically flags users if actions are consigned to a background (not visible) process. When such a message does not appear Users may try to reapply action and receive an error, or believe that a command did not work or did not work correctly.
FIX: Refresh your browser window after taking actions which affect how or where an asset's information displays in the interface, especially if the expected change is not quickly apparent. After browser refresh most such changes should become apparent in the interface immediately. If not, give the interface a moment to catch up and Refresh browser again. If changes are still not apparent, they may instead have been preserved in a Draft version, or may not have been applied correctly.
 

Other unexpected results – please contact us so we can troubleshoot, and/or report them to Hannon Hill if needed.
webservices@uh.edu ; webmarketing@uh.edu
---
Can I still see System Names if I Need To?
Yes. The system name view for the asset tree was the default view in all versions of Cascade prior to version 8. The version 8 default, however, is for assets to be shown using their metadata set's Title information instead.
You will find the Asset Title/Display Name view very useful when reviewing User Reports, and when comparing Left Navigation Menu or Breadcrumbs link-text to the Page's parent Folder (which provids the link-text, by allowing its Title Metadata to be indexed by the Cascade system).
System name information of course has been retained by Cascade, as it is important to the CMS's dynamic asset management as well as to the Publisher (which seeks and/or writes an asset's system name as the final filename when addressing the server). And for your published pages, folder system name[s] will comprise a significant part of any page's URL. 
Thus, version 8 provides a method for you to toggle your interface view so that Cascade can display either the metadata set Title information or the system name information.
The view preference can be easily switched back and forth at any time you wish.
To Toggle the System Name / Asset Title Text View: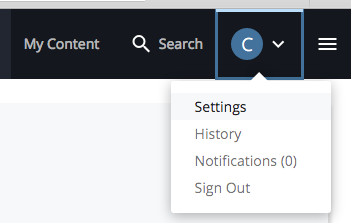 1) Go to your User area and select "Settings."

2) From the Settings panel, de-select (or select) the "Appearance of Asset Links: Show asset's Title or Display Name if available" checkbox. De-selecting the checkbox allows the CMS to use system names in the Asset Tree and throughout the interface.
 
Be aware, however, that toggling the view setting will apply to many views throughout the interface, and could make some of the Reports and other information less useful to you when you are in system name view - such as Reports listing multiple Pages which would all then show as "index". In a case like that, however, you can still distinguish between items by hovering your cursor over them to see informative text appear (e.g. the item's CMS system path).
System Path Displaying on Cursor Hover
Following is an illustration of a typical user Report, with full system path[s] showing on cursor hover:

---