Due to COVID-19, Student Housing and Residential Life has implemented new guidelines designed to support social distancing.
Dates for Fall 2021 Move-in:
Fall 2021 Move-in will take place August 18-21, 2021. More information about fall move-in will be available during the summer.
Move-in Sign Up Times:
Residents will be able to select a move-in date and time during move-in week. More details about this process will be available in the summer.
Mandatory requirements for move-in:
Face coverings will be required for all persons assisting in the move-in process.
Be sure to follow social distancing protocols, including maintaining six feet of social distancing
In order to adhere to strict sanitation protocols, there will be a limited number of carts available at the residence halls for students to use during the move-in process. We encourage you to bring your own moving supplies if possible.
Please note that residents will only be able to have two guests assist them while moving in.
If you or anyone attending move-in with you are feeling sick or displaying the symptoms of COVID-19, you may not come to campus and will need to reschedule your move-in time. Please follow the UH COVID-19 FAQ for guidelines on reporting illness.
Review our Housing COVID-19 FAQs
Stay informed about all the Housing COVID-19 updates by reviewing our Housing COVID-19 Updates. As with all the guidance and protocols related to COVID-19, the University will adjust its guidance as necessary to reflect new information and findings.
Bring Your Cougar Card to Move-in
Your Cougar Card is the official University of Houston access card for all students, allowing you entry to your on-campus housing location, to use your ShastaBUCKS, meal plans and on-campus printing. Your card also gives you entry to the on-campus Recreation Center and free entry into most UH games and events. If you need to obtain your card before move-in, please contact the Cougar Card Office at 832.842.CARD (2273) or cougarcard@uh.edu.
For additional information regarding COVID-19 prevention please visit: https://www.cdc.gov/coronavirus/2019-ncov/prevent-getting-sick/prevention.html
We ask that you please continue to watch this page for updates to the move-in process.
Fall 2021 Move-in will take place August 18-21, 2021.
Visit AccessUH and click on myHousing to:

Verify your room assignment
Check your assigned move-in date and time
View roommate information
For more information contact the housing office.

Attend orientation - At orientation, you will:
Visit AccessUH and follow the steps below to select your meal plan. For a full meal plan, eligibility details click here.

Use your myUH ID and password to log in to AccessUH
Select the Meal Plan icon
Select the "Buy Meal Plan" option from the menu
Select the appropriate semester (Fall 2020)
Choose a meal plan
View the meal plan terms and conditions
Check the box to accept the meal plan terms and conditions
Click "Buy"
Click "OK"

Make a packing list - Review the suggested list of items to bring as well as prohibited items included in this guide. Be sure to talk with your roommate and/or suitemates to decide who is bringing shared items to avoid duplicates.
Moving supplies (Boxes, moving dolly, etc)
Cleaning supplies
Masks/PPE
Hand sanitizer
Disinfectant wipes
Face coverings
Thermometer
Cougar Card You will use it for check-in, dining and getting into your residence hall. Be sure to upload your photo here.
Linens pillow, blanket, quilt or comforter, pillow top or egg carton cushion, mattress pad, towels, washcloths, sheets (Beds in Cougar Village I & II and Moody Towers are extra long twin size beds. Beds in Bayou Oaks, Cougar Place, The Quad, and University Lofts are full-size beds.)
Desk lamp/desk organizers
Closet organizers
Personal toiletries including toilet paper (Shower caddy and shower shoes for Moody Towers)
Personal decor items posters, photos, etc. (No nails, screws or staples), only use blue painters tape or 3M Command Strips
High-efficiency laundry detergent, clothes hamper, iron/ironing board, hangers
Housekeeping supplies – spray cleaner, trash liners, small vacuum, air freshener
Surge protector - Fire Marshal requires these to be UL approved
Bicycle lock (if you bring a bicycle to campus, UHPD recommends U-shaped bike locks)
Computer/laptop
Food/eating utensils
For move-in day: bungee cords, plastic or tarp (in case of rain) 

TIP
- Make sure to pack all belongings in boxes or totes. Loose items can easily be lost or misplaced. All boxes and totes should be labeled with your name, residence hall, and room number so they can be clearly identified.
You are 
strongly
encouraged to ensure your personal property and carry renters insurance, whether that be a special policy or as a part of the parents' or guardians' homeowners' policy. 
Emergency Preparedness Kit
In case of an unforeseen emergency, an emergency preparedness kit is recommended. Each kit should contain supplies for a 72-hour period. For a full list of recommended items, visit the Office of Emergency Management's Emergency Preparedness Website:  Emergency Preparedness
Do not bring
Pets – Other than fish in a maximum 10-gallon tank
Open coil heating or cooking devices (toaster ovens, hot plates, space heaters)
Candles or incense
Fireworks
Weapons or anything that can be construed as a weapon*
Drugs/paraphernalia
Large amounts of cash
Tobacco -  UH is a  tobacco-free campus, this includes the use of electronic cigarettes and vape pens
Extension cords – Fire Marshal prohibits the use of extension cords
Multi-plug adapters without UL approved surge protectors
String lights such as Christmas lights unless battery operated
Hoverboards
Microwaves - 

While it's ok to bring a microwave if absolutely necessary, we encourage most students not to, due to the fact the most residence halls have them in individual rooms and community kitchens.
*Use or possession of any items used as weapons, including, but not limited to, handguns, firearms, ammunition, fireworks, pellet guns, paintball guns, BB guns, knives, tasers, or explosive or noxious materials on University premises except in accordance with federal, state, local law, and/or University of Houston policy. NOTE: See University of Houston policy regarding Campus Carry at http://www.uh.edu/af/universityservices/policies/mapp/07/070105.pdf
A note about refrigerators
Several residence halls come equipped with refrigerating appliances.
Moody Towers - rooms come with a microwave-fridge
Cougar Village I and II - rooms come with a mini-fridge
Bayou Oaks - suites come with a full-size fridge
Cougar Place - suites come with a full-size fridge
The Quad - suites come with a full-size fridge
University Lofts – suites/rooms come with a full-size fridge
Due to limited space, it is recommended that you don't bring extra refrigerating appliances.  
All residents will report directly to their residence halls to check-in.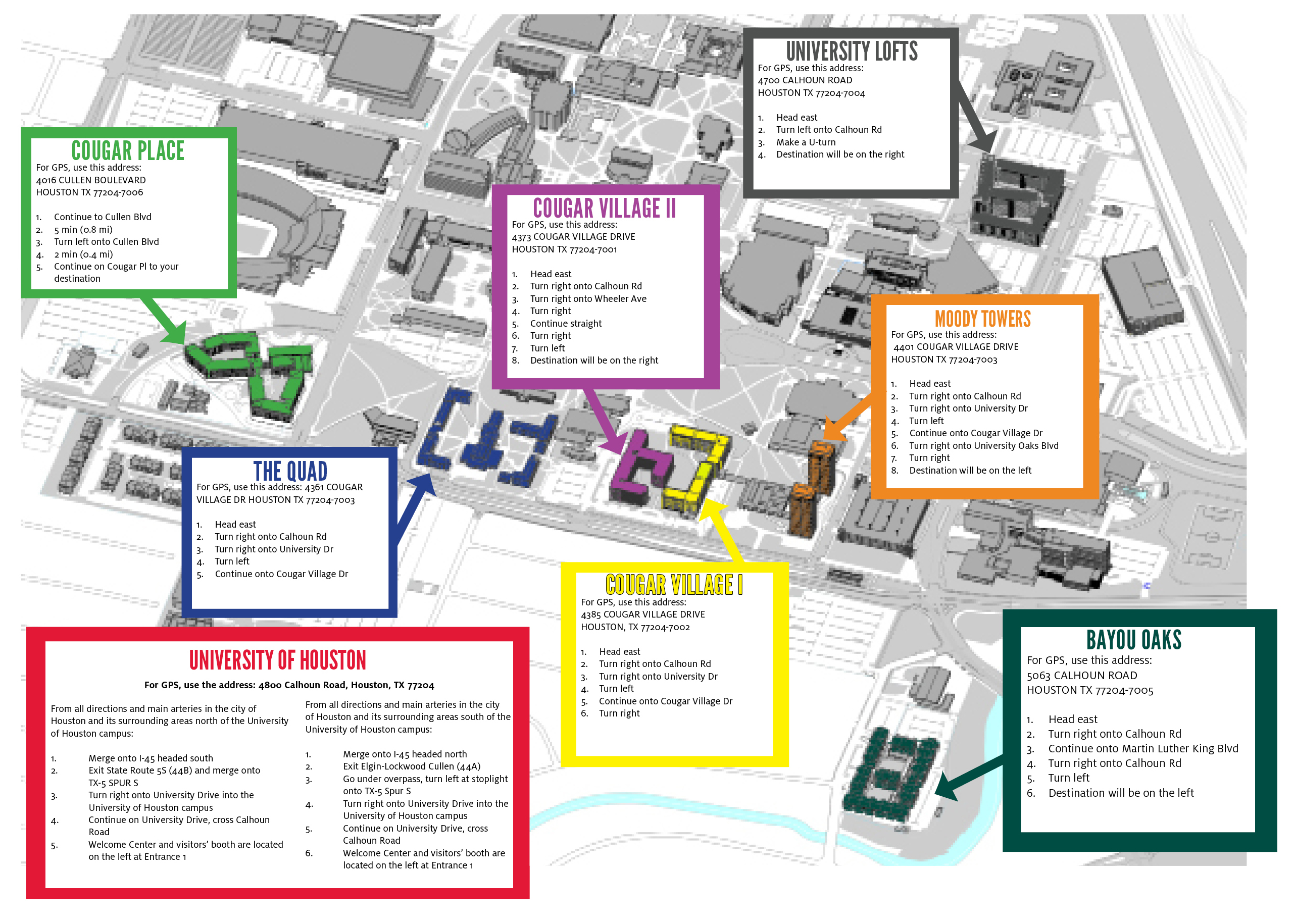 If you notice damage or issues in your room after moving in, you must submit a FIX-IT request within 48 hours to address the issue. If you do not submit a FIX-IT request could potentially be charged for preexisting damages after checkout. To submit a FIX-IT request you can: email fixit@uh.edu, call 713-743-4948, send a text message to fixit@uh.edu, or log online to AccessUH and find the FIX-IT icon.
If you run into any issues, please visit the 24/7 front desk in your building or call them at:
Cougar Village I 832.842.6020
Cougar Village II 713.743.6432
Moody Towers North 713.743.6057
Moody Towers South 713.743.6056
The Quad - 713.743.

6044

Cougar Place 713.743.6994
Bayou Oaks 713.743.6594
University Lofts 832.842.5638
Streaming Television

Philo Edu delivers live TV and DVR capabilities to your laptops, tablets, smartphones and TV sets anywhere on your campus network. It offers entertainment at your fingertips with the ability to watch live TV and record up to 20 hours of your favorite programs - news, sports, and series-all from the devices you use most. It's TV the way you want it: on your schedule, anywhere on campus.
For more information about Philo Edu, visit: http://www.uh.edu/infotech/help/resident-support/philo/
Peer-to-Peer Music or Video Downloading
In accordance with state and federal regulations, the University does not support illegal peer-to-peer music and video downloading.
Wireless (WiFi) Network Services 
WiFi is available in all residence halls. If you are having difficulty connecting to the network in your room, please visit  uh.edu/housing-support and submit a ticket.
  Get the Most out of WiFi
802.11ac is available in most Student Housing buildings. Go to uh.edu/improve-wifi and check our videos to make sure you can use the best WiFi infrastructure.
Take the speed test. Visit  uh.edu/testmyconnection . If your speeds are slower than 5 Mbps, check the following settings to ensure your built-in WiFi adapter is optimized:
Disable Power Savings Mode. Some devices will slow or turn off WiFi to conserve battery power. Maximize WiFi performance by changing your power settings
Switch WiFi channel to 5GHz. 2.4GHz is a common frequency for electronic devices. To avoid wireless interference with these electronics, switch your device to 5GHz: Network Connections --> Adjust the Channel mode to prefer 5GHz
A USB WiFi adapter. This is an easy way to enhance your device to get the fastest speeds available. UIT recommends the NetGear A6210, which is available on campus at the CougarByte and online stores or electronics retailers near you.
Test a USB adapter before you purchase! Visit the Tech Commons Support Center to try a WiFi adapter and see how much of an improvement it is over your current WiFi connection.
Information Technology Support
There are several ways to get help with your IT needs. The most frequently asked for services involve general account issues (Cougarnet, Blackboard, etc.), your computer, how to set up wireless, and where to get the software.  
IT Support Center staff will be on-site during move-in to assist you. You can also reach us at:
Live Chat: uh.edu/livechat  - Monday through Friday, from 8am-8pm
Email:  support@uh.edu
Phone: 713-743-1411
In-Person: Tech Commons, the basement of MD Anderson Library, every day from 8am-8pm
You can also text UIT at 713.743.1411. This option is available Monday through Friday, from 8 am to 8 pm
UH ALERT is the official emergency notification system for the University of Houston. UH ALERT is used to provide prompt notification to students, faculty, and staff in the event that there is a condition that may threaten the health or safety of those on campus. To learn more and sign up, click
http://alerts.uh.edu/about/
The University of Houston is vulnerable to impacts from tropical storms and hurricanes. This Hurricane Planning Guide provides guidelines and establishes protocols for an organized response to a hurricane. It addresses pre-storm preparation and post-storm recovery as well as management of the campus during a storm. Click on the following link to learn more information:
http://www.uh.edu/emergency-management/
 .
The University of Houston Police Department (UHPD) can be reached at 713-743-3333 or by dialing 911 from a campus phone. For resources and information, please visit www.uh.edu/police/