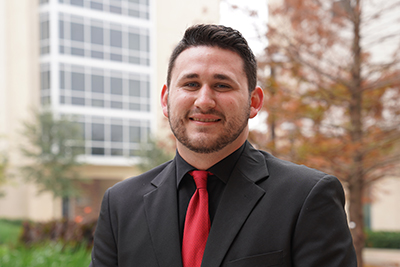 George Hill, Residential Life Coordinator for Bayou Oaks, was selected as a namesake for Cub Camp 2020. The honor of namesake is given to a UH faculty, staff, or alumnus who have positively impacted student's success. Namesakes are nominated by the UH community.  
Cub Camp namesakes have the opportunity to interact with camp staff and attendees throughout the year and are able to attend Cub Camp in August. 
Hill's commitment to building relationships with his staff and residents is one of the traits that made him an outstanding candidate for the Cub Camp namesake. His hands-on leadership approach and involvement in student-run activities were highlighted in the nominations received by the Cub Camp Executive Team. 
"George constantly attends various UH events and student-run programs, to give motivational speeches that dwell on his experience working in the field of student development in an effort to encourage student engagement and increase residential participation. Ultimately, George does everything to inspire student success so that they might one day achieve their own goals. He inspires growth and embodies spirit through every single one of his tasks by taking the time to create a genuine connection and ensure a meaningful conversation with everyone he comes into contact with." 
"George takes it upon himself to get to know the residents at Bayou Oaks and participate in events any resident hosts or invites him too. He often brings his French Bulldog, Beignet, to these events or around campus to lift people's spirits. You can often find George and Beignet in the outside area near the bus stop at Bayou Oaks on Monday to give the residents a 'pawsome' start to their week!" 
"There are not enough words to describe the hard work George puts in every day for every UH student he reaches. He encourages development within the UH community in every area he is involved in. Even as busy as he is, he continues to reach new students every day. There is no better representative of the University of Houston than George." 
Hill shared his excitement about the honor stating, "Overall, it's a humbling experience to have my name associated with such an amazing tradition. I am grateful for the students who nominated me because they believed I have positively impacted their student experience. I am excited for the opportunity to welcome incoming freshman to the University of Houston. I'm looking forward to interacting with all the cub camp staff, mentors and participants. I want to make Camp Hill one of the most memorable college experiences for everyone involved!" 
More information about Cub Camp. 
About Cub Camp 
Cub Camp is a supplemental first-year transition program designed to bridge the gap between initial course enrollment and the beginning of the first Fall semester. Students engage in purposeful activities that allow for a deeper understanding of UH culture and tradition, promote successful transition into college life, and identify and cultivate vital support systems.