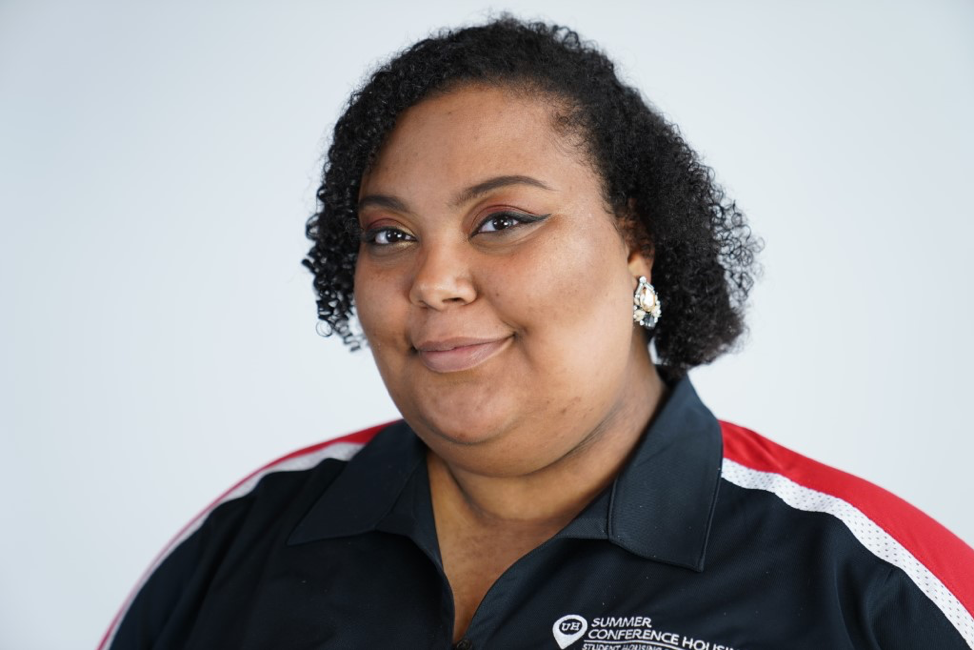 Student Housing and Residential Life welcomed three new Summer Conference Coordinators to the team. Each summer, the conference program welcomes approximately 10,000 guests between the end of May and early August and the Summer Conference Coordinators at the University of Houston are an essential part of the professional staff within the department. 
These coordinators will serve as liaisons to multiple conference groups to ensure that their contractual requirements and expectations are met.  In addition, they will supervise student staff and meet with upper administration. This position is integral to maintaining positive relationships and campus experiences.   
Kate Lyn Broom, originally from Northern Virginia, just received her bachelor's degree in political science from Temple University in Philadelphia, Pennsylvania. While at Temple, she was a resident advisor for three years and participated in student government and held positions in other student organizations. She is also an alumna of an AmeriCorps program called City Year. Her experience with City Year and her exposure to student affairs in undergrad inspired her to want to help students in periods of transition who might otherwise feel like they're falling through the cracks. To begin her student affairs journey, Kate Lyn will be starting her master's program at the University of Florida in the fall. Kate Lyn is an unapologetic musical theater fanatic, and loves painting, exploring new places, and playing with her geriatric cat, Houdini. As a fun fact, she is generally pretty lucky and she has seen more than 15 shows on Broadway, all by winning discount ticket lotteries. 
Brittany Buchanan is originally from Chicago but currently resides in Edwardsville, Illinois. She is pursuing her Master of Science in education and plans to complete the program within one year. Brittany is involved with the College Student Personnel Administration program at Southern Illinois University Edwardsville and serves as a Graduate Assistant in Community Engagement. Her passion for students stems from being a first-generation college student "in constant search for affirmation and support of my ideas, vulnerabilities, accomplishments, and shortcomings." Her goals for this summer are to build a stronger network with other professionals, gain more supervision experience, and to have a positive impact on the Student Housing and Residential Life team. Brittany credits Beyoncé, Viola Davis, and her mom "as sources of light, strength, and undeniable inspiration." Additionally, she enjoys Popeye's and getting her nails done. 
Megan Hill is a 2018 graduate of the University of Houston where she majored in biology and minored in psychology. She became interested in student affairs during her undergraduate career, where she was a tutor, mentor, and was a teaching assistant in various student success programs. Megan "absolutely loved and enjoyed working closely with college students to provide support, assistance, and necessary resources." Once she graduated from UH, she decided to apply for graduate school to receive her master's in higher education. Her goal is to "head [her] own student success program that utilizes student mentors to provide support and broaden access to resources necessary for success in college." This summer, Megan hopes to meet new people and "jump out of [her] comfort zone." When she's not working, Megan enjoys keeping active at the gym, shopping, and watching Game of Thrones. She describes herself as "your go-to person for tips on organization, places to shop, and someone to come to if you want to share a good laugh over a meme." 
Please join us in welcoming Kate Lyn Broom, Brittany Buchanan, and Megan Hill to the Student Housing and Residential Life team.