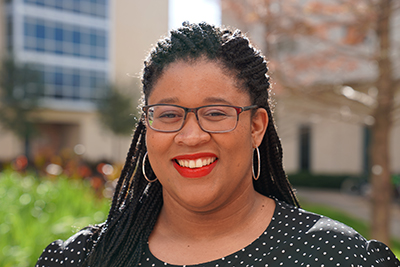 BriAnn Price, Residential Life Coordinator in Cougar Village II for Student Housing and Residential Life, was recently selected to participate in the 2019 NASPA New Professionals Institute (NPI) taking place June 8-13. 
The New Professionals Institute brings together individuals with five years or fewer full-time experience in Student Affairs for an interactive week of learning, sharing, networking, and professional development. Over a five-day period, attendees will work intensively with experienced NPI faculty to share their unique stories and draw on their first years of experience to improve their professional effectiveness. 
Before arriving at the University of Houston, BriAnn received her Bachelor of Science in sociology from the University of West Georgia, where she worked in the housing department until she graduated.  She then went on to earn her Master of Science in college student personnel from the University of Tennessee, Knoxville.  There she worked as an Assistant Hall Director and landed an internship helping international students and their families at the University of Illinois Urbana Champaign. She also studied abroad one summer in South Africa with Bowling Green State University. 
When asked how she felt about this opportunity, BriAnn said, "I am humbled and excited to be selected to represent UH Student Housing and Residential Life, connect with professionals, learn from others and I look forward to continuing my professional development journey in student affairs." 
NASPA is the leading association for the advancement, health, and sustainability of the student affairs profession. They serve a full range of professionals who provide programs, experiences, and services that cultivate student learning and success in concert with the mission of colleges and universities. Established in 1918 and founded in 1919, NASPA is comprised of over 15,000 members in all 50 states, 25 countries, and 8 U.S. Territories. 
Please join us in congratulating BriAnn Price on being accepted into the 2019 NASPA New Professionals Institute.