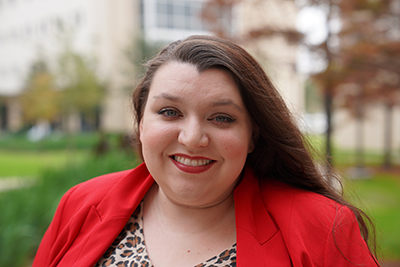 Student Housing and Residential Life (SHRL) is proud to announce that effective December 2, 2019, Alyssa Veteto will serve as Assistant Director of Residential Life. 
In this role, Alyssa will represent the department as a primary lead within the Apartment Communities.  
She will be responsible for the overall management of her area, including policy development, strategic planning, goal setting and direction of all operational, fiscal, and personnel aspects. 
Prior to her arrival at UH, Alyssa served as an Area Coordinator for Austin College in Sherman, Texas. She has also worked at Southern Methodist University and the University of Kansas in various housing roles. 
"I believe Alyssa's experience, values of community and relationship building, and professional passions will help us grow as a department and better realize our mission of a great housing program with an ethic of care, that supports student academic success," said Kenny Mauk, Director of Housing Operations & Outreach. 
Alyssa earned her Bachelor of Music Performance in voice and her Master of Education in educational leadership at Southern Methodist University in Dallas, Texas. 
Please join us in congratulating Alyssa on this accomplishment.