Sysco Student Kitchen, a Recipe for Success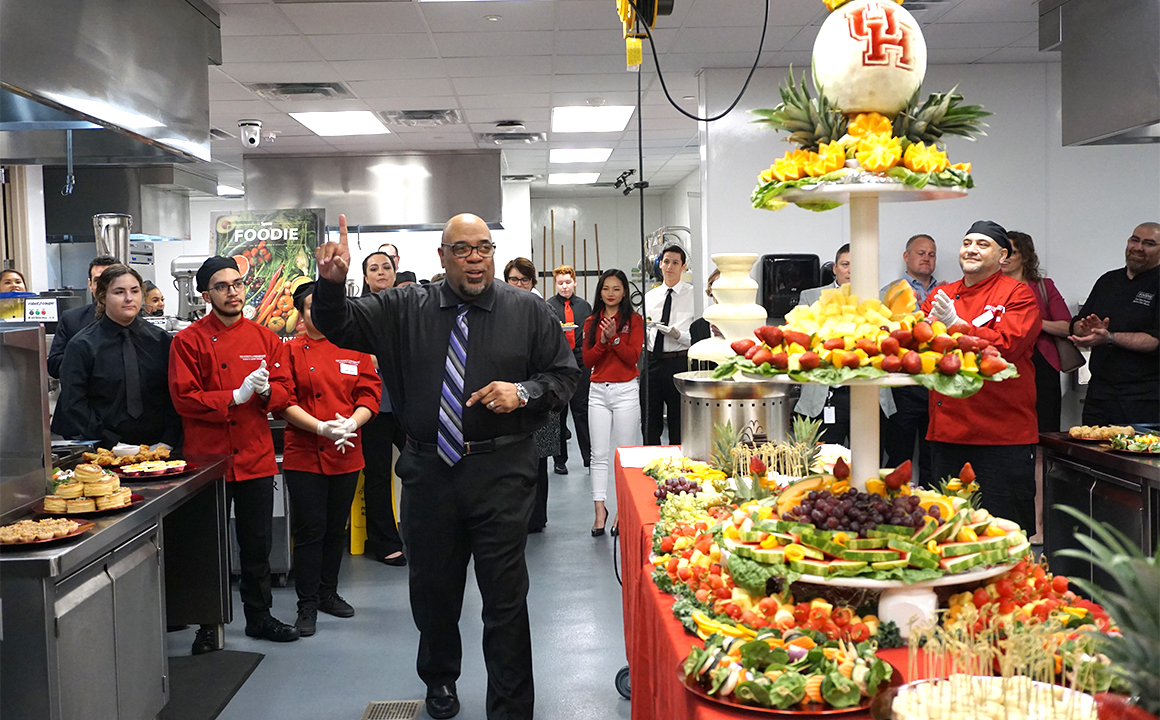 Things are officially "cookin'" for students in our Foods I class. The much anticipated renovation of Room S114 is finally complete! To celebrate, a special ribbon-cutting ceremony held March 19 was a chance to show off this new state-of-the-art kitchen lab and to say "thank you" to our donors and the behind-the-scenes players who made this all possible. This is the first major renovation our student kitchen has had since the South Wing opened in 1989.
The new Sysco Student Kitchen boasts $1.3 million in renovations and top-of-the line appliances and equipment, thanks to the generous support of the Fred and Mabel R. Parks Foundation. The University's Maintenance Project Evaluation Committee (MPC) and Sysco also helped to fund this project. Dean Dennis Reynolds and junior Ailin Fei had the ribbon-cutting honors and then welcomed guests, faculty, staff and students to tour the kitchen and to nosh on hors d'oeuvres made by Chef Anthony Chevalier (pictured) and his Foods I class.
The Sysco Student Kitchen features four state-of-the-art cooking stations to give it the functionality of an exhibition kitchen. The entire space was completely gutted and rebuilt from the ground up, starting with new flooring. Monitors above each area allow students to receive lectures simultaneously and remotely from anywhere in the world. Overhead cameras can also broadcast live events from the kitchen to multiple venues, including the Hilton University of Houston ballrooms. These enhancements now provide opportunities for the hotel and the College to use the technology for a variety of special events, including cooking demonstrations from guest chefs.
"This 'extreme makeover' of our original kitchen allows our students to learn using equipment that meets industry standards," said Dr. Mary Dawson, associate dean for Academic Affairs. "The open-kitchen concept provides an environment of collaboration for the instructor and students, and the technology significantly increases our teaching capacity and allows us to broadcast more demonstrations to multiple venues simultaneously."
As far back as 2011, former Assistant Dean for Business Development Jon Schultz and former Dean John Bowen recognized the need to replace this aging kitchen equipment. They sought the expertise of Associate Professor Nancy Graves, who drafted a conceptual plan and layout that would modernize our commercial student kitchen, provide cutting-edge instruction and continue to accommodate students with disabilities. But first, they needed to raise the money.
In 2016, a year before his retirement, Schultz helped secure $450,000 toward the renovation through a generous grant from Jim McClellan, president and trustee of the Fred and Mabel R. Parks Foundation. When Joel Jaffe took the reins, he worked with Miguel Cabrera, director of Development & Alumni Engagement, and Deepu Kurian, executive director of Business Operations, to secure the MPEC funds. In March 2018, Dean Reynolds announced that Provost Paula Myrick Short had approved our MPEC request for $500,000.
Three months later, with most students gone for the summer, construction for our state-of-the-art kitchen finally commenced. Building upon the original plans presented by Dr. Graves, The Worrell Design Group led by President Rodney Worrell and BRAVE/Architecture – with Principal Fernando Brave and Project Lead Christian Sheridan – provided room layout and specifications. Director of Facilities Akash Grover worked with Vaughn Construction to coordinate the project, ensure safety and to keep disturbance to a minimum. When students returned from spring break, the Student Kitchen Lab was finally ready for its debut!  
Of all who attended this special dedication, perhaps the most excited were the direct beneficiaries of this new student lab – our students.
"I am so proud of our new kitchen," said sophomore Sammie Theige, who helped prepare food and serve guests at the ribbon-cutting ceremony. "By having state-of-the-art equipment, we know the sky is the limit for all our cooking creations!"
To see more photos of the event and of the Sysco Student Kitchen, visit Hilton College on Facebook. 
(Story & Photo: Pearl Cajoles)  
Posted on March 21, 2019