Former CEO of American Airlines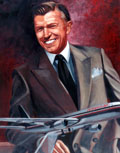 During his 18-year tenure as head of American Airlines, Robert Crandall revolutionized the airline industry. American was the first airline to recognize the value of filling empty seats with discounted tickets, outselling charter planes. Crandall also saw the importance of building a route system around central hub airports. During a time in which many airlines went bankrupt, American Airlines became one of the world's leading airlines with the largest jet fleet worldwide. American led the industry in revenue in the 1990s, and its parent company, AMR Corporation, was a Fortune 500 company.

Raised in Rhode Island, Crandall graduated from his state university and the University of Pennsylvania's Wharton School of Business. He worked as a regional credit supervisor for Eastman Kodak and later, headed the computer programming division at Hallmark Cards. In 1966, he joined TWA as assistant treasurer. He briefly left the airline industry in 1972 to become senior financial officer at Bloomingdale's Department Stores, but returned the next year when American made him its senior vice president of finance. From there, Crandall advanced to president, and then chairman.

To keep American Airlines on top of the industry, one of Crandall's visions was to tap into the overseas market. Crandall soon acquired promising overseas routes to Asia, Europe and Latin America.

Perhaps Robert Crandall's greatest contribution to the success of American Airlines was his idea to propel the Semi-Automatic Business Research Environment (SABRE) Group from an internal division of the company to one of the world's largest, privately owned computer networks. Conceived in 1959, SABRE served as an internal link between American's offices and ticket counters to help track reservations. When talks aimed at developing an industry-wide reservation system broke down between travel agents and major carriers in the mid 1970s, Crandall successfully marketed his airline's computer system throughout the world. At the time of Crandall's induction into the Hall of Honor, more than 85,500 SABRE terminals were in use at travel agencies in 47 countries, providing schedules and fares for 665 airlines and information on prices and availability for more than 20,000 hotels and 52 rental car companies. Crandall is also credited with the development of the first airline industry frequent flyer program, AAdvantage.

In April 1997, Crandall received the Horatio Alger Award, which honors individuals who have achieved success despite challenging life circumstances. Many national and trade publications have honored Crandall for his achievements and executive leadership, as well. The Wall Street Journal dubbed Robert Crandall "the man who changed the way the world flies."

Crandall retired from American Airlines in 1998. At the time of his induction, he was on the board of several companies and nonprofit organizations.