Jennie Grossinger & Elaine Grossinger Etess
Owners of Grossinger's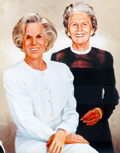 In 1914, Harry and Jennie Grossinger founded Harry Grossinger's Resort and Country Club in the scenic Catskill Mountains. Grossinger's started as a summer boardinghouse that featured kosher cuisine, but by the end of World War II, it had become a 600-room, 812-acre facility that attracted approximately 300,000 guests each year. The facilities included a 27-hole golf course, a shopping arcade, a ski slope, indoor and outdoor pools, tennis courts, a post office, two kosher kitchens and a nightclub. Grossinger's was a favorite of celebrities, as well—Eddie Fisher's rise to stardom began at the resort. Today, Grossinger's may be most widely recognized as the inspiration for Kellerman's Mountain Resort in the 1987 film "Dirty Dancing."

Jennie Grossinger was instrumental in the development and day-to-day operations of the resort and continued to manage it as she raised her two children. She also was heavily involved in charities, and received many honorary degrees and awards for her philanthropy. She raised millions of dollars in World War II war bonds, for which an Army airplane was named in her honor. In Israel, a clinic and convalescent home bears her name, and June 16 has been declared Jennie Grossinger Day in New York because of her public service.

In the book, "Jewish Heroes and Heroines of America," it notes that "Jennie Grossinger best personified America. She was poor when she started and rose to riches by her skill as an innkeeper. Grossinger's will always be the symbol of what success is in the hotel industry of America."

After Jennie Grossinger's death in 1972, her daughter Elaine Grossinger Etess and her son Paul Grossinger assumed ownership of the resort. Under Elaine Grossinger Etess' leadership, the resort reached its height of success. In 1985, the family sold Grossinger's to a group of New York City investors.

Like her mother, Grossinger Etess was an industry leader. She served as chairman for the International Hotel and Motel Show in 1984 and was a member of the advisory council to the U.S. Senate Commerce Committee on Travel and Tourism. She also was the first woman president of the American Hotel and Motel Association. Other honors include the Doris L. Crockett Distinguished Service Award from Russell Sage College, the Sullivan County Business & Professional Woman of the Year Award and the Lawson A. Odde Award from the American Hotel & Lodging Association. She was also the first recipient of the lifetime achievement award at the Quality through Diversity conference for her contribution of promoting diversity and diversity management through the hospitality industry.

Grossinger Etess lives in Florida. At the time of her induction into the Hall of Honor, she was president of Elaine G. Etess Associates, a hospitality industry-consulting firm. She also is director of hospitality at Forest Trace, a Florida retirement community.