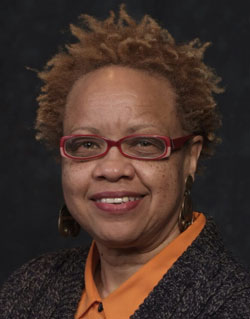 Professor
Anthropology
Ph.D., University of Kansas
Old Science Building, Suite 230
713-743-3987
jhutchinson@uh.edu
Biographical Summary
M.P.H., School of Public Health, The University of Texas Health Science Center at Houston, 1997.
Ph.D., University of Kansas, Lawrence, Kansas, Anthropology, 1984.
M.A., University of Alabama, Tuscaloosa, Alabama, Anthropology, 1980.
B.A., University of Alabama, Tuscaloosa, Alabama, Anthropology, 1975.
Research Interests
As a medical anthropologist, my research interests include condom use, HIV/AIDS, racism and health, and health issues among People of Color. I am currently examining family talk about hypertension and diabetes among Hispanics and African Americans in Houston. I will examine family dialogues on food, drink, celebration, identity, plus risk perception and management of chronic diseases.
Teaching
I take a biocultural approach to research and teaching anthropology. Along this line, my courses on Race and Anthropology, Human Variation and Medical Anthropology as well as the Anthropology of HIV/AIDS, and Family and Chronic Disease conform to this approach. The latter two courses provide case studies and a more in depth study of health and culture within the biocultural approach to anthropology.
Selected Publications
Audrey Smedley and Janis Hutchinson (Editors) (2012 ) Racism in the Academy: The New Millennium. American Anthropological Association, http://www.aaanet.org/cmtes/commissions/Racism-in-the-Academy-New-Millennium.cfm.
Kim, Tae-Woo, Charlotte Haney and Janis F. Hutchinson, "Exposure and Exclusion: Unmanaged Risks among Uninsured Korean Americans". Culture, Medicine, and Psychiatry 36 (4): 621-639, 2012.
Hutchinson, Janis, THE COEXISTENCE OF RACE AND RACISM: CAN THEY BECOME EXTINCT TOGETHER. University Press of America, 2005.
Hutchinson, Janis, POWER, RACE, AND CULTURE: THE EVOLUTION OF A BLACK ANTHROPOLOGIST. Hamilton Books, 2005.
Brodkin, Karen, Sandra Morgen and Janis Hutchinson, "Anthropology as White Public Space." American Anthropologist 113(4), December 2011.
Issa, A.M., Tufail, W., Hutchinson, J., Tenorio, J., and Poonam, M. "Assessing Patient Readiness for the Clinical Adoption of Personalized Medicine. Public Health Genomics 12: 163-69, 2009.
Hutchinson, Janis Faye and Richard Sharp, "Karma, Reincarnation, and Medicine: Indian Views on Biomedicine, Journal of Genomic Medicine 2:107-111, 2008.
Patterson, Thomas, Hutchinson, Janis Faye, and Alan Goodman, "Minorities in Anthropology: 1973 versus 2008, Progress or Illusion. Anthropology News 49(4): 23, 2008.
Hutchinson, Janis Faye, "Medical Racism." In: Encyclopedia of Race and Racism. Ed. John Hartwell Moore. Vol. 2. Detroit: Macmillan Reference USA, Pp292-298., 2008.
Hutchinson, Janis Faye, "The Past, Present, and Future of Race and Health. Anthropology News, November, 46(8): 13, 2005.
Hutchinson, Janis Faye, "Female Identity and the Construction of Condom Use among Young African-American Women." In: Culture and Condom, Peter Lange Publisher, Karen Anjar and Thuy DaoJensen (eds), Pp 131-162, 2005.
Hutchinson, Janis Faye, "HIV and the Evolution of Infectious Diseases." In: Learning from HIV and AIDS, Melissa Parker, George Ellison, and Cathy Campbell (eds.), pp 28-55. Cambridge University Press, 2003.