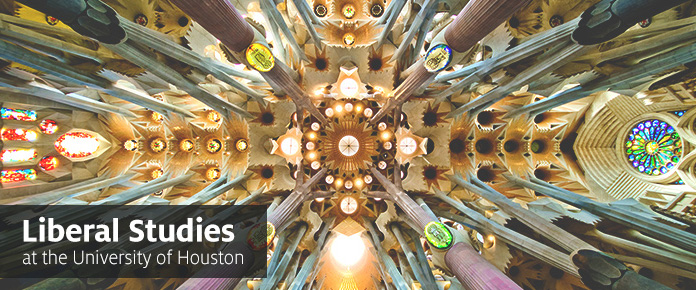 Liberal Studies - the "three-minor major" degree program
Liberal Studies is an interdisciplinary major that allows students to customize their education around their interests in a unique, personal manner. Our degree program consists in the combination of three minors.
Liberal Studies, or the study of the liberal arts, is an interdisciplinary approach to a well-rounded education. While this approach to education is widely believed to have been first developed in ancient Greece, it has informed education in many civilizations, from ancient to modern times. These "arts," or skills, have been called "liberal" because they are believed to be the educational foundation for all free, self-governing people (from the Latin word libertas, for liberty).
Liberal Studies involves the study of pathbreaking ideas, critical perspectives, and research methods across academic disciplines and scholarly traditions, ranging from the arts and literature, to history and philosophy, to the social sciences, to the natural sciences. An interdisciplinary, liberal education offers you the reading, reasoning, and communication skills to thrive in a broad range of career contexts and to pursue life-long learning.
Program Description
Liberal Studies is an interdisciplinary major that is satisfied by the combination of three minors, at least two in the College of Liberal Arts and Social Science (CLASS), with the possibility of one from any other college. Students can freely choose their minors and thus maximize their college experience without the academic restrictions of a single major. We offer both Bachelor of Arts (B.A.) and Bachelor of Science (B.S.) degrees in Liberal Studies.
Our two required Liberal Studies courses (ILAS 2350 and ILAS 4350) complement the three minors by focusing on logic and critical reasoning, methods of research, and strategies for problem-solving. At the beginning of the degree, the Introduction course "Knowledge and Methods" (ILAS 2350) addresses the specific epistemological and methodological challenges of combining three minors. It provides our majors the "learning to learn" orientation that allows them to navigate the diverse cognitive methods of various disciplines. At the end of the degree, the Senior Seminar course "Interdisciplinary Problem-Solving" (ILAS 4350) provides a capstone research component that aims to integrate the interdisciplinary methods of analysis from each student's three minors by applying them as tools for addressing a practical, substantive, social problem-solving task. In short, with these two required courses, we first learn how to research, and then we put this knowledge into practice.
Whether our majors earn a Bachelor of Arts (BA) in Liberal Studies or a Bachelor of Science (BS) in Liberal Studies, all of our students do three minors, instead of a traditional major. There are thousands of possible combinations of minors -- one of them is probably just right for you!