Tam Appointed Standing Member of NIH Center for Scientific Review Study Section
July 27 — UH College of Pharmacy Professor Vincent H. Tam, Pharm.D., BCPS (AQ-Infectious Diseases), FIDSA, has received a prestigious multi-year member appointment to the Drug Discovery and Mechanisms of Antimicrobial Resistance Study Section (DDR) of the National Institutes of Health's Center for Scientific Review.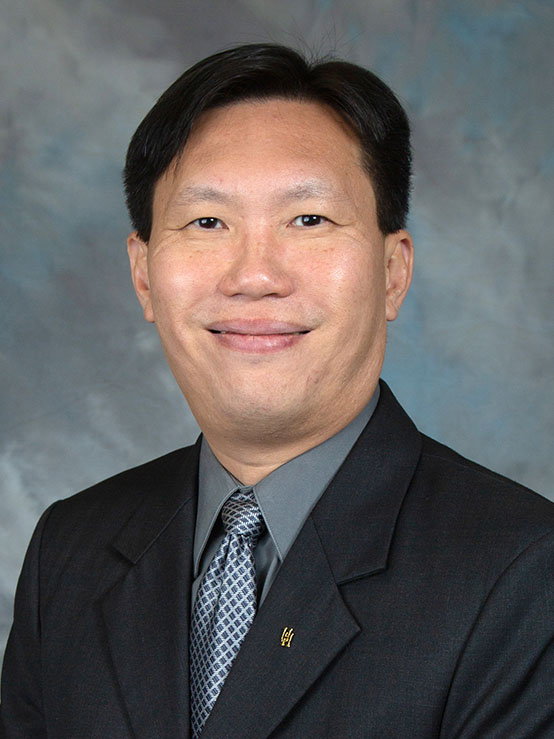 Recognized an expert in the field of infectious diseases and antimicrobial resistance, Tam will serve on the 13-member standing panel through June 2025. Study sections review grant applications submitted to the NIH, make recommendations on the applications to the appropriate NIH national advisory council or board, and survey the status of research in their fields of science.
While appointment as a temporary/ad hoc or "Special Emphasis Panel" NIH-CSR Study Section grant reviewer is considered an affirmation of a scientist's high standing among peers, appointment as a "permanent"/standing member of a study section is typically reserved for researchers who have distinguished themselves among the upper echelons of their given field of study. 
He has authored/coauthored more than 170 papers in peer-reviewed journals since 2001, including a May 2014 paper published in the journal Antimicrobial Agents and Chemotherapy that was recognized as the Pharmacotherapy Paper of the Year by the Society of Infectious Diseases Pharmacists (SIDP).
He also served as coauthor of the recently published "International Consensus Guidelines for the Optimal Use of the Polymyxins" in the journal Pharmacotherapy, with the endorsement of the American College of Clinical Pharmacy, European Society of Clinical Microbiology and Infectious Diseases, Infectious Diseases Society of America (IDSA), International Society for Anti‐infective Pharmacology, Society of Critical Care Medicine, and SIDP.
Over the course of his career, Tam has received research support from the National Institutes of Health, the National Science Foundation, nonprofit associations and foundations, and companies within the pharmaceutical industry. Tam also is co-inventor on U.S. patents for novel formulations for the last-resort drug polymyxin B and a novel rapid diagnostic system to help guide rational dosing of antimicrobials at the bedside.
A past member of the SIDP Board of Directors, Tam also was the first pharmacist elected to serve on the National Foundation for Infectious Diseases' Board of Directors. His other honors include the American Society of Health-System Pharmacists (ASHP) Foundation's Literature Award for Sustained Contributions in 2019, IDSA Fellow designation in 2018, and the University of Houston Excellence in Research and Scholarship Award in 2008.
He also is a founding member of the Center for Antimicrobial Stewardship and Epidemiology at CHI St. Luke's Health-Baylor St. Luke's Medical Center, which was named as a IDSA Antimicrobial Stewardship Center of Excellence in 2020 and recipient of the ASHP Best Practices Award in 2010.