Every spring semester, part of campus is transformed into a fully functional town called Fiesta City. The hard work is for a good cause, as the annual student-led Frontier Fiesta promotes education, community and scholarships, while also showcasing the many talents of the UH student body.
Scheduled to take place March 23-25, 2023, the festival will include live concerts, variety shows by student organizations, carnival booths, a cook-off competition and more.
Impact on Parking
Frontier Fiesta will affect parking on campus from March 16-26. Zone F lot 12A will be blocked off in phases to allow for the construction of Fiesta City.
Individuals parked in Zone F lot 12A should plan to have their vehicles moved by 11:59 p.m. the night before each phase begins, otherwise, they will be relocated to another lot on campus at the owner's expense. The map below illustrates what will be closed off in each phase (click on the map to view a larger version).
Please note: The week of March 13-19 is spring break, and so anyone with a valid UH parking permit can park in any of the ungated lots on campus through Sunday, March 19. Just remember not to park in restricted spaces.
Zones D, E and F
Zone F lot 12A will be completely blocked off March 20-26. During this time, Zone D, Zone E and Zone F permit holders will be able to park in any of the locations below:
Zone D
Zone E
Elgin Street Garage
University Gateway Garage
Please note: This does not allow anyone to park in restricted spaces or lots.
In order to be able to get into the Elgin Street Garage or the University Gateway Garage the week of March 20, here are the three methods permit holders for zones D, E and F can use to get in and out:
1. Toll Tag
Parking and Transportation Services allows the use of EZ Tag (Harris Co.), NTTA Toll Tag (Dallas) or TxTag as a hands-free way to enter and exit the garages. If you have one of the toll tags listed above on your vehicle you can register it to your permit by following these steps.
(Please note: If the toll tag on your vehicle is not located in the top center portion of the windshield, the gate equipment may not be able to read it.)
2. Cougar Card (physical)
You can use your physical Cougar Card for entry by swiping it at the gate.
3. Cougar Card (virtual)
You may also use your cell phone to pull up your virtual Cougar Card through the UH Go app. Once you have the Cougar Card up on your phone, you will need to click where it says "Tap for QR Code." That will generate a QR code with a moving background. Scan that code with the scanner that is on the gate equipment.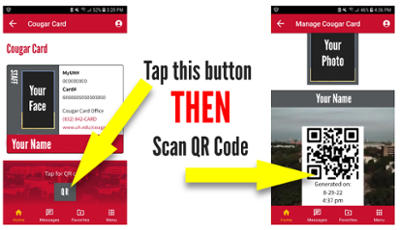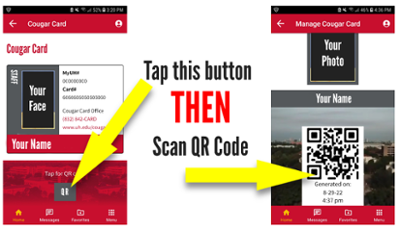 (If you have a physical Cougar Card with a QR Code on the back, do not attempt to scan that QR Code at the gate. It is not a valid form of entry and will not work.)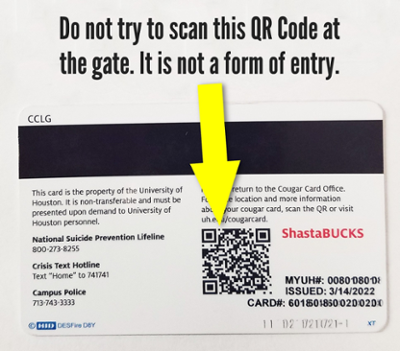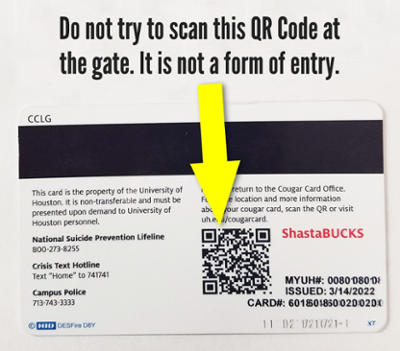 Stadium Garage
In addition, a portion of the Stadium Garage will be used on all three days of Frontier Fiesta (March 23-25). Students, faculty and staff who have a valid permit for the garage will still be allowed to access it but should plan for increased traffic.
Everyone must return to parking in the area designated on their parking permit by 7 a.m. Monday, March 27.
For more information about Frontier Fiesta, visit its webpage.