Electric Vehicle Charging Stations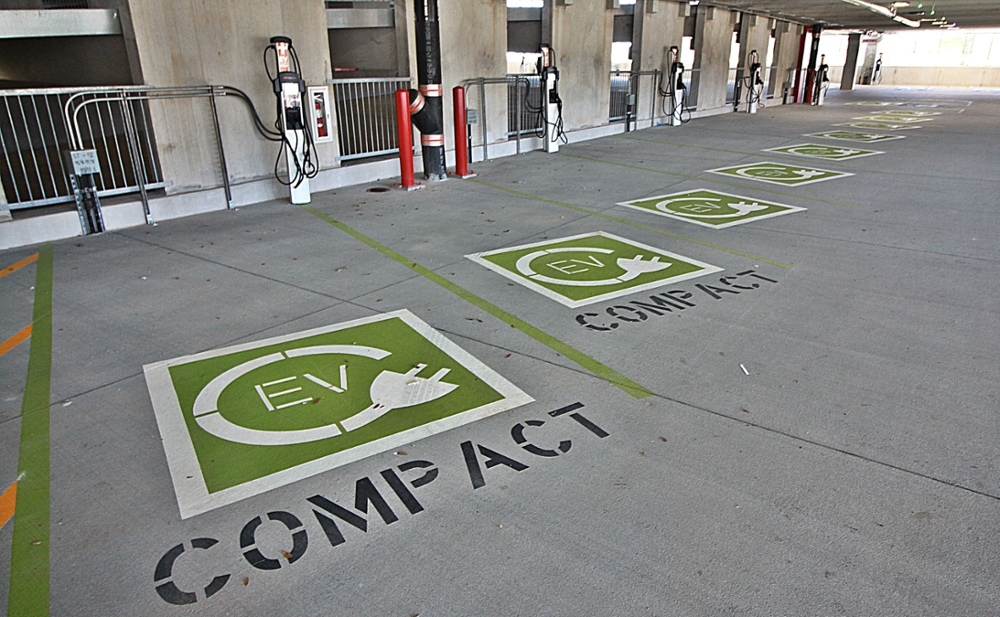 As part of its continued commitment to sustainability and energy savings, the Parking and Transportation Services Department has 60 electric vehicle charging ports available to UH students, faculty, staff and visitors. All charging stations are a part of the ChargePoint network and are Level 2 chargers (average of four hours to fully charge a vehicle).
Locations
Charging stations are located across campus at the following locations:
University Gateway Garage (28 ports)
Elgin Street Garage (13 ports in the student/faculty/staff section and 10 ports in the visitor section)
College of Medicine (six ports)
Gated Lot 19B (three ports)
General Usage Rules/Regulations
The following rules and regulations are meant to ensure all EV owners have fair and equitable access to the charging stations each day:
Vehicles parked in an EV charging space must be a plugin (electric or hybrid) vehicle and must be actively charging. (Vehicles must be plugged in to be considered actively charging.)
EV charging stations are a shared resource and are provided on a first-come, first-served basis. EV owners should not expect to have a dedicated space available to them at all times.
If a non-plugin vehicle is parked in an EV-only space, contact PTS at 832-842-1097 or email parking@uh.edu.
All privately-owned electric vehicles are prohibited from charging at standard electrical outlets found in parking facilities or campus buildings. Charging vehicles by any means other than a designated charging station is subject to citation and/or confiscation of charging cable.
The University of Houston assumes no responsibility or liability for damage to vehicles using the EV charging stations.
Fees
Users must have a valid parking permit for the facility in which the charging station is located, or pay the applicable visitor parking rate if using a charging station located within the visitor section of the garage.
In addition, there is an hourly fee to use a charging station:
For the first four hours of usage, there is a $2 per hour fee.
After the initial four hours, the rate increases to $10 per hour.
The revenue generated from these fees helps cover the cost of the electricity that is used, as well as the maintenance expenses needed to keep the stations operating properly.
Membership for UH Students, Faculty and Staff
Parking and Transportation Services offers a free membership program to students, faculty and staff who use the charging stations. Members receive notifications about any maintenance work being conducted on the charging stations. They also get to use the EV charging stations at a discounted rate. To sign up, fill out this short form.
Member rates to use the charging stations are $1.50 an hour for the first four hours. After that, the rate is $5 per hour.
Etiquette for Shared/Limited Equipment
Don't charge if you don't need to. Leave the spot free for another EV driver that might really need the charge.
Only occupy an EV charging spot while your car is being charged. When the charging session is completed, unplug and move your car to free up the spot for another EV driver.
When completed with a charging session, wrap the charging cord neatly and place it back on the charging station where no one can trip on it or drive over it.