Ph.D. Student Receives Molecular Biophysics Predoctoral Training Fellowship
Biochemistry Doctoral Student Jordan Johnson Studies Ribosomal Translation
"It feels great. I was really nervous about getting it. I hadn't actually started my Ph.D. project yet when I filled out the application, so receiving this was a huge relief."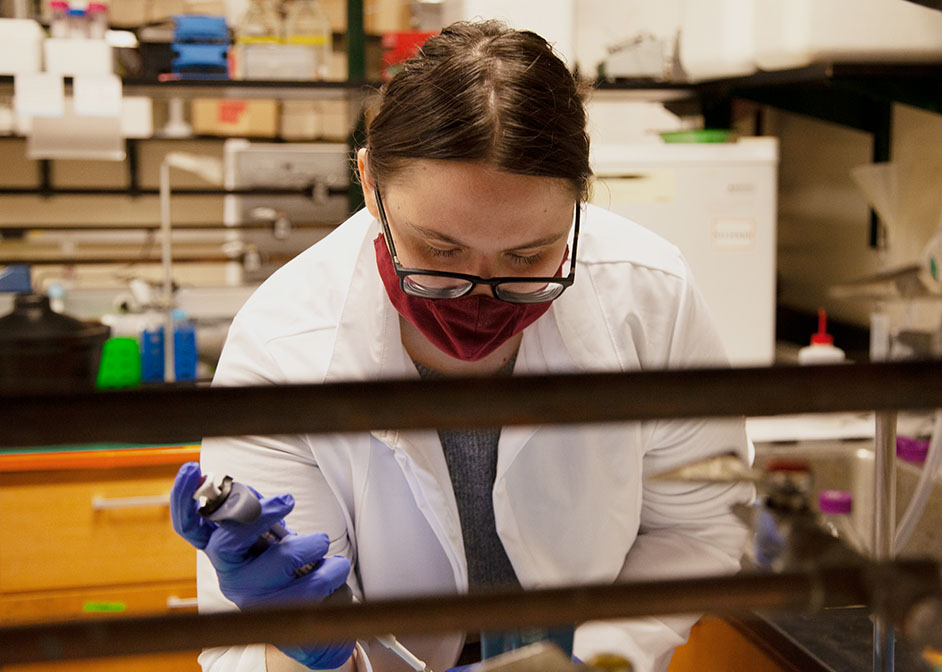 Jordan Johnson is a second-year biochemistry Ph.D. student at the University of Houston's College of Natural Sciences and Mathematics, under the mentorship of Yuhong Wang, professor of biology and biochemistry.
Johnson's potential in research, her communication and her career development thus far gave her a competitive advantage when applying for the Houston Area Molecular Biophysics Program Predoctoral Training Fellowship.
"There are a lot of molecular biophysics techniques that I don't know about, but I would love to learn," she said. "I will get to pick the brains of the people around me, learning about what they do. For part of this fellowship, I have to take a molecular biophysics class at Rice University that I'm looking forward to."
The fellowship provides Johnson three years of funding for her research at UH. The program, funded by the National Institutes of Health and managed by the Gulf Coast Consortia, chooses highly qualified applicants from six prestigious Houston-area universities. It provides biophysical training, along with access to resources and leading scientists at Baylor College of Medicine, Rice University, University of Houston, University of Texas Health Science Center at Houston, MD Anderson Cancer Center and University of Texas Medical Branch at Galveston.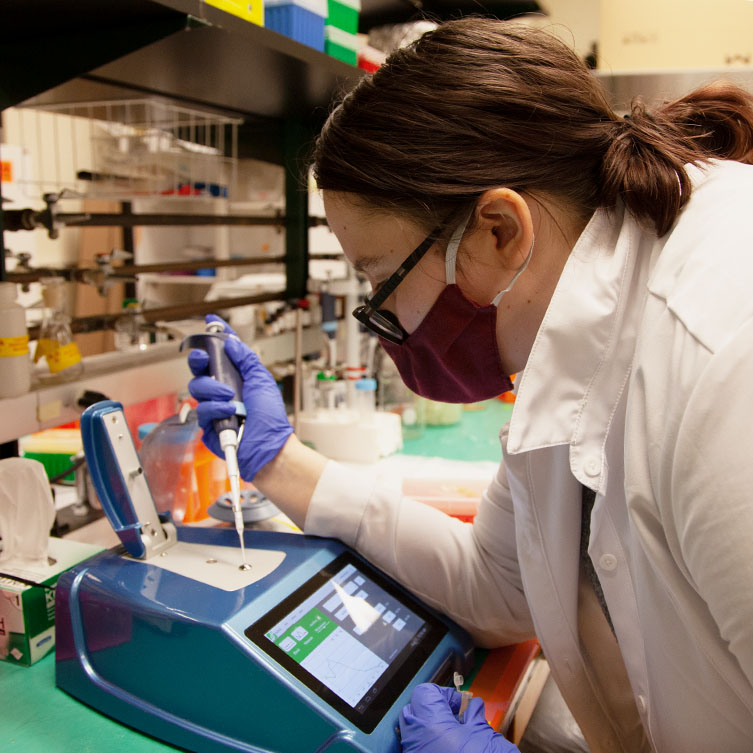 Course requirements include one semester of graduate-level molecular biophysics, weekly seminar attendance, completion of a research ethics course, monthly trainee meetings and attendance at a yearly research symposium.
"Jordan is hard-working and detail-oriented," said Wang. "If she is not satisfied with the results, she takes extra time and effort. She searches for and reads literature to improve her experiments."
In 2018, Wang's Ph.D. student Miriam Gavriliuc was awarded the same fellowship.
Protein Study Could Lead to Neurological Disease Breakthroughs
Johnson's research focuses on a protein called elongation factor thermal unstable, or EF-Tu.
For EF-Tu to release amino acids, the protein must hydrolyze a molecule called guanosine triphosphate, known to researchers as GTP. The process of hydrolyzing, Johnson said, is basically using water to remove one of GTP's phosphates, which in turn creates energy.
"I want to look at how EF-Tu moves when it hydrolyzes GTP to release the amino acid," she said. "I also want to know if mutating the area where GTP binds will have an effect, because we do know that that mutations in EF-Tu can cause diseases, such as Huntington's disease, ADHD, and epilepsy, and can cause intellectual disability and depression."
Johnson also wants to further investigate the force EF-Tu gives off when it hydrolyzes GTP.
"To observe force generation," Johnson writes in her application, "I will use a technique developed by our lab called FIRMS (force-induced remnant magnetization spectroscopy) that can accurately measure the force EF-Tu produces when performing its function."
She further writes that understanding how this protein works will be beneficial to create drug therapies for the neurological disorders and diseases linked to mutations in elongation factors.
Analysis of EF-Tu using the lab's methods would also allow the team to discover whether their method is efficient and if it could be used on other proteins to develop new tools.
- Rebeca Trejo, College of Natural Sciences and Mathematics
September 2, 2021