Cheng Delivers Keynote at STEM Conference

Event at Lamar University Attracted More Than 120 Students
On October 3, 2015, Lamar University hosted the 3rd Annual Texas STEM Conference, Transforming Undergraduate Education in STEM. Dr. Albert Cheng, professor of computer science, provided the keynote address titled "How to do Research? & Functional Reactive Real-Time Systems."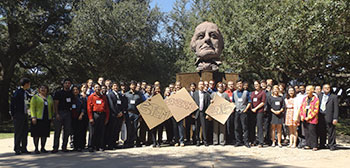 Cheng, an advocate for STEM programing, stated "STEM education of K-12 and college students is critical to our nation and vital to the well-being of society and its people. STEM teachers and programs need to inspire students to do more research so that they can innovate when they join the workforce."
ExxonMobil sponsored the STEM conference which was designed for undergraduate STEM majors. Over 120 students from Texas and Louisiana attended. The STEM conference seeks an interdisciplinary collaboration between science, technology, engineering and mathematics (STEM) across undergraduate and graduate education.