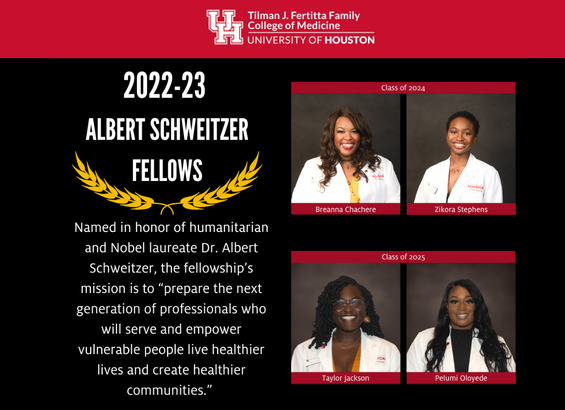 Four University of Houston medical students were selected for the 2022-23 class of the prestigious Albert Schweitzer Fellowship, a year-long service-learning program focused on addressing the unmet health needs of underserved communities.
The UH Tilman J. Fertitta Family College of Medicine fellows are Breanna Chachere and Zikora Stephens from the Class of 2024, as well as Taylor Jackson and Pelumi Oloyede from the Class of 2025. Their projects tackle a broad spectrum of health issues – from maternal and infant mortality to loneliness and social isolation among the elderly in the Houston-Galveston area.
Named in honor of humanitarian and Nobel laureate Dr. Albert Schweitzer, the fellowship's mission is to "prepare the next generation of professionals who will serve and empower vulnerable people live healthier lives and create healthier communities." This mission is a perfect match for the Fertitta Family College of Medicine students' commitment to improve health and health care in Texas.
"What drew me most to the Schweitzer Fellowship is the emphasis on students partnering with community agencies and amplifying the efforts these organizations are already working on to make a difference, filling in gaps pre-identified by these community experts," said Chachere.
Project Details:
Improving maternal and child health outcomes through collaboration
Chachere, Jackson and Stephens, all aspiring OB/GYNs, joined forces on a project to raise awareness about maternal health risk factors and educate women, who are mothers, pregnant or of child-bearing age, about how to address those risks during preconception, prenatal, and postpartum periods with available resources.
"Research has shown that as much as 60% of all maternal deaths in the U.S. are preventable. And that increasing access to preconception, prenatal, and postpartum care and education can reduce pregnancy-related complications," said Chachere, a Houstonian who is passionate about addressing perinatal health inequities among communities of color, increasing health care access, and championing community advocacy.
The program is designed to support women of color, women who have had no or late prenatal care during a current or previous pregnancy, and women who have experienced a previous complicated pregnancy or related maternal health complication.
"This project is enabling my classmates and I to get real-time experience of implementing a service-learning project to support a population and community that we're passionate about," she said.
The students are partnering with UH Healthy Start, the American Heart Association, and the Humana Integrated Health System Sciences Institute at UH – organizations that share a similar mission and commitment -- to serve the Houston area via the development of communication products and a health-based curriculum.
They plan to use these resources by offering educational sessions to provide evidence-based health information and launching a social media awareness campaign among other efforts. The team hopes these combined tactics will improve maternal and child health by empowering women with increased social support, knowledge, and access to resources.
"As a woman myself, I have experienced how often women neglect their health to care for others while also experiencing marginalization and exploitation in society," said Jackson, who has wanted to be a doctor since nine-years-old. "I want to create a bridge of trust and knowledge between the medical field and underserved communities to help improve health autonomy."
Using the power of stories and art to connect generations
According to the U.S. Census Bureau, 10.5% of Houston's population is aged 65 or older. For the past two years, COVID-19 has limited nursing facility activities to decrease the spread of the virus, exacerbating the loneliness and social isolation already prevalent in nursing homes, which then negatively impacts health and well-being of older adults.
Oloyede, a licensed community health worker, partnered with a Baylor College of Medicine student for a project using storytelling and art activities to encourage social interactions between medical students and the elderly residents of St. Dominic Village. Many of the residents have some level of dementia or other cognitive impairment and St. Dominic's has a great need for engaging social activities.
"Older adults come from a lifetime of memories that can be used to tell a story, and stories and/or art can be powerful tools for social interaction," Oloyede said.
This project, builds on a previous virtual project and has three major goals:
(1) Address loneliness among older adults -- in independent living, assisted living, and possibly nursing home areas -- who are isolated due to ongoing COVID-19 concerns.
(2) Foster intergenerational relationships between older adults and medical students.
(3) Utilize arts and storytelling activities to build these connections.
While helping some of Houston's elderly, the project also enables medical students gain invaluable insight.
"As future physicians, these students will interact with older adults in various health care settings, and it is important to gain comfort with this group outside of a clinical environment as well," Oloyede said. "Students can become physician advocates for older adults in the future."
This year was the most competitive application cycle the Houston Galveston chapter of the Albert Schweitzer Fellowship has ever had, according to notification letter sent by Dr. Andrea Link, executive director of the organization. Seventy fellows were selected for 2022-23.