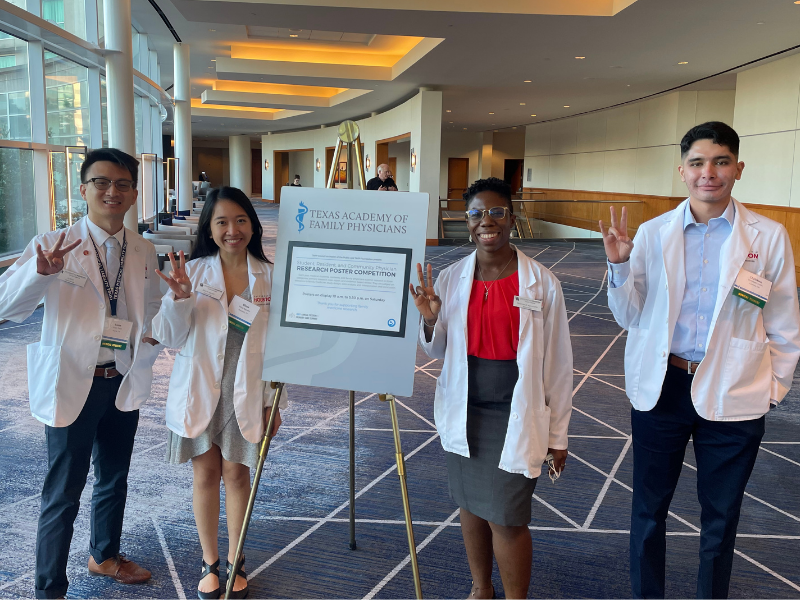 Students at the University of Houston College of Medicine not only survived the fall 2021 semester but thrived. In addition to handling pandemic-related challenges and the rigors of medical school, several medical students, who belong to the college's inaugural class, also earned accolades and awards in different arenas. These students, just in the second year of medical school, are already making meaningful contributions to the College's mission – improving health and health care in underserved communities in Greater Houston, Texas and beyond.
Student Poster Wins First Place in Texas Academy of Family Physicians Competition
A poster examining patient barriers to medication access created by three UH medical students placed first in the evidence-based review category of the 2021 Texas Academy of Family Physicians Research Poster Competition. There were 17 student submissions across three different categories in the competition.
Rosemary Agwuncha, Christian Colin, and Elissa Nguyen participated in the Medical Student Summer Health Equity Research program sponsored by the College of Medicine's Office of Research and the Humana Integrated Health System Sciences Institute in partnership with Dispensary of Hope this summer.  They presented findings from their work in the winning poster, titled "Barriers to Medication Access Among the Uninsured and Underinsured: A Scoping Review." It examined medication access among vulnerable populations after the passage of the Affordable Care Act and found that Black and Hispanic patients were more likely to be uninsured or underinsured. Further, these same populations consistently faced barriers such as high costs, lack of social support, and complex insurance processes that limited medication access contributing to poor health outcomes.
"The thought of working on a poster to present at a conference seemed unattainable for a long time because I had no similar experiences during my undergraduate education. It was daunting because I didn't know where to start," said Nguyen, reflecting on the win. "With the help of advisors and classmates during my time in the Summer Health Equity Research Program, however, I feel better prepared to undertake more research opportunities in the future."
Agwuncha and another classmate Luan Tran also submitted a second poster about telemedicine utilization in community-based family practice clinics. They examined patient and provider characteristics that correlated with telemedicine use. This work is being featured in a virtual forum with the TAFP research member community in 2022.
Both posters were presented at the TAFP Annual Session and Primary Care Summit held in November.
Another team, which included Diamondneshay Ward, Jalyce Taylor and Nabeel Ahmad, presented a poster about the impact of Federally Qualified Health Centers on access to medications in uninsured and underinsured populations at the Texas chapter of the American College of Physicians annual meeting.
Three Students Win Mary Susan Moore Medical Society Scholarships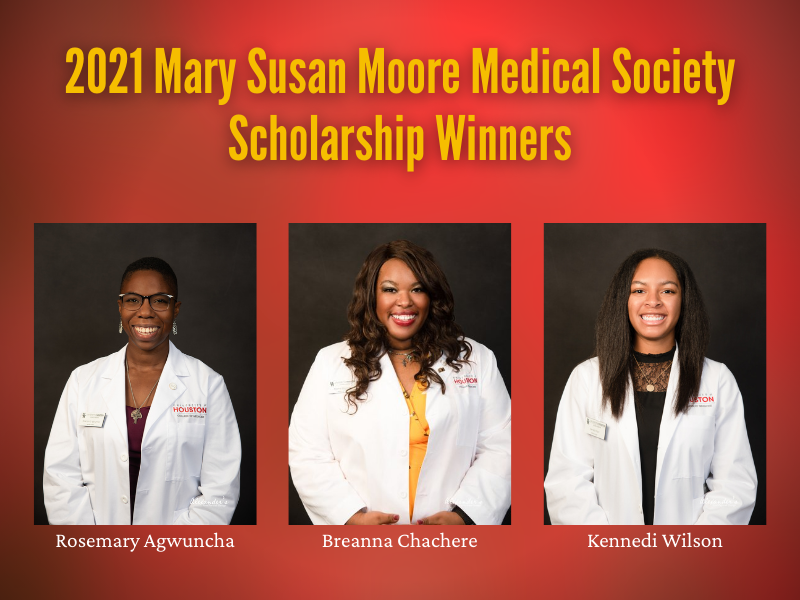 Students from the Class of 2024 won three out of four $1,000 scholarships awarded by the Mary Susan Moore Medical Society this year. The three recipients are Kennedi Wilson, Breanna Chachere and Rosemary Agwuncha.
The scholarship program, which honors Dr. Mary Susan Moore, the first African American woman to practice medicine in Texas, was created to "ensure future African American women physicians have the financial resources, in addition to the professional support, they need to continue to thrive." To learn more about the society, visit: Mary Susan Moore Medical Society – Houston's Black Female Physicians
"In a system where minority populations have historically been discriminated against due to systemic inequities that affect health and overall quality of life, there is a desperate need for excellent primary care physicians who can be an effective first line of defense to manage patient care at a high standard," Agwuncha shared with the society.
AAN Meeting Scholarship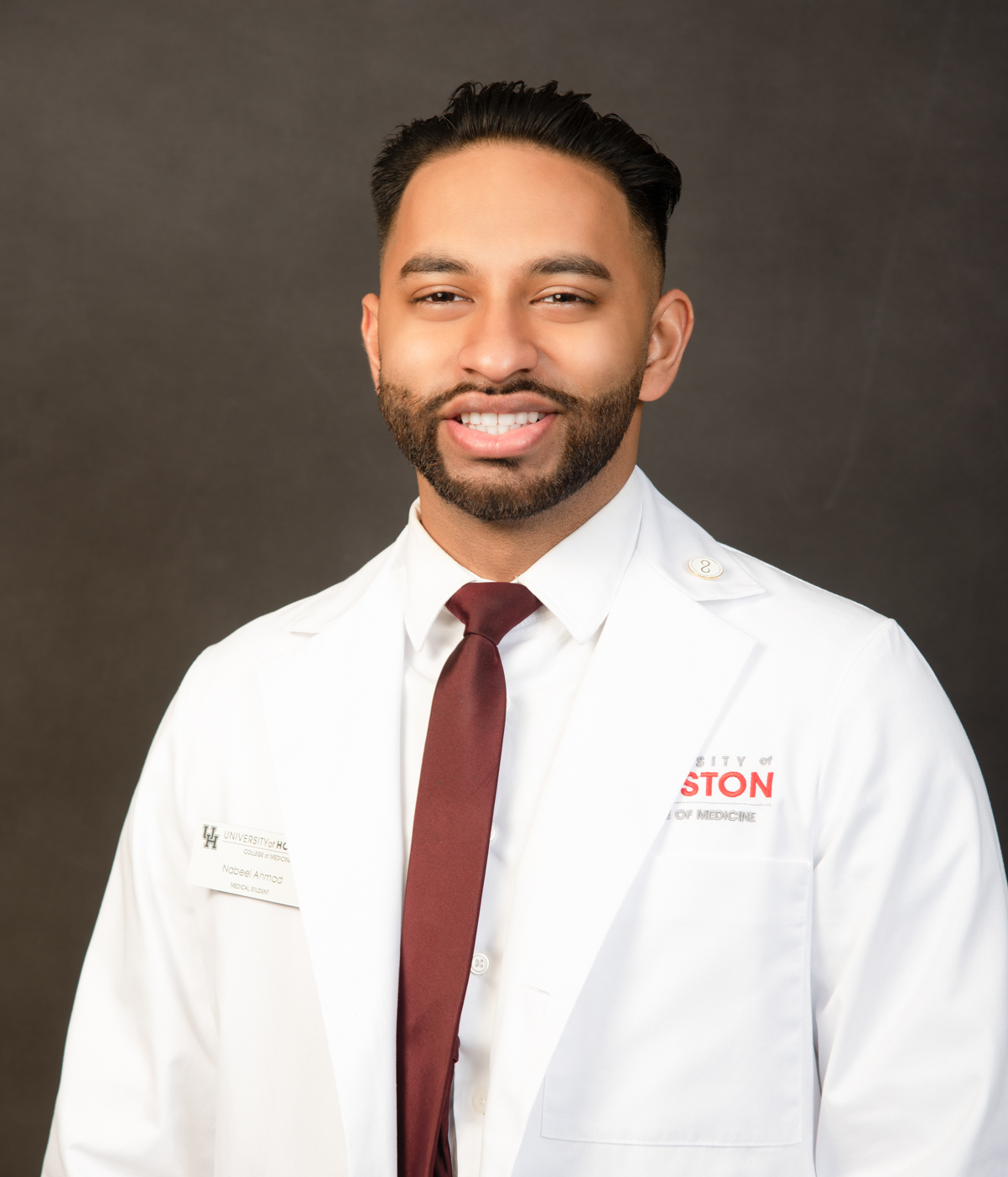 Nabeel Ahmad, also a member of the Class of 2024, won a scholarship to attend the 2022 AAN Annual Meeting from the American Academy of Neurology. The award includes airfare, lodging, meeting registration, mentorship and more. 
Ahmad, a former high school science teacher pursuing a medical career to address the many health issues he saw in his inner-city classroom, is looking forward to the meeting next April.
"I am ecstatic about this opportunity to learn about neurology, particularly pediatric brain pathologies such as epilepsy and childhood brain tumors," Ahmad said. "Attending this conference will be a valuable experience for me to meet with leading neurologists and learn about the latest in the field."
The agenda includes educational activities, scientific presentations from leaders in the field, and networking opportunities.