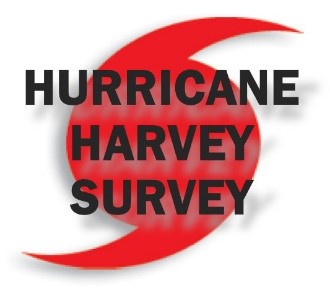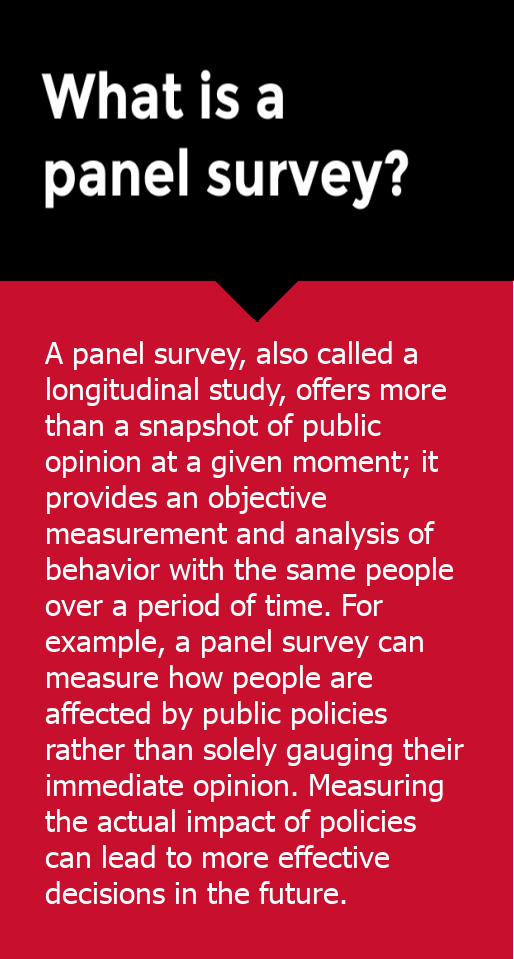 After the onslaught of Hurricane Harvey in August 2017, the Hobby School of Public Affairs at the University of Houston initiated a multi-year panel survey to understand the long term experiences of people impacted by the storm. Funded in part by the National Science Foundation, the 2020 survey is the third in a series providing a quantitative look at the region's recovery from a hurricane that dropped more than 50 inches of rain in some sections of the Houston area, resulting in $125 billion in damage and directly or indirectly in more than 100 deaths.
The third wave of the panel survey was conducted between May 20 and June 23, 2020 and involved a representative sample of 1,065 residents in Brazoria, Fort Bend, Harris and Montgomery counties. They responded to questions about their experience during Hurricane Harvey, the extent of their recovery, support for policies aimed at mitigating the future impact of severe weather events in the region, environmental concerns, and confidence in elected officials' abilities to prevent future flooding in the Houston area.
Key Findings of the 2020 Hurricane Harvey Survey
Close to 20% of the respondents who were displaced by the storm are still in temporary housing.
Among the two-fifths of those whose residence was damaged by Hurricane Harvey, two-thirds (67.7%) needed to rebuild or modify part or all of their property.
More than 90% of the respondents support mitigation projects including elevating homes in flood-prone areas, widening bayous and banning construction in floodplains.
The creation of a new reservoir drew support from 93%, which is about eight percentage points higher than found in a survey completed shortly after the storm in 2017.
More than three-quarters (78%) of the respondents support a home buyback program for those affected by Hurricane Harvey.
One-fifth (20.7%) of the respondents whose properties suffered damages because of Harvey Hurricane received and accepted a buyout offer from the government, 10.2% received an offer but did not take it, while 69.2% of them did not receive a buyout offer.
A majority (52.5%) of the respondents said they were somewhat or very confident city and county officials know how to prevent the negative impact of future flooding.
Two-thirds (67.2%) of the respondents were notably worried about global warming, with 29.7% very worried and 37.5% somewhat worried, respectively. In contrast, only about a third (32.8%) were either not very worried (17.3%) or not at all worried (15.5%).
Three-fifths (58.4%) believe that global warming is caused mostly by human activities while two-fifths (38.3%) believe global warming is caused mostly by natural changes in the environment.
Read the 2020 report.
Hurricane Harvey 2020 Figures and Tables
Hurricane Harvey 2020 Technical File
Hurricane Harvey Survey 2018 
Hurricane Harvey Survey 2018 Highlights 
Hurricane Harvey Survey 2018 Figures and Tables 
Hurricane Harvey Survey 2018 Methodology
Hurricane Harvey Survey 2018 Media Release 
Harris County Bond Election Survey
Bond Election 2018 Survey Highlights
Bond Election 2018 Survey Cross Tabulations
Bond Election 2018 Survey Frequencies
Bond Election 2018 Survey Figures and Tables
Bond Election 2018 Survey Methodology
Bond Election 2018 Media Release
Hurricane Harvey Survey 2017
Survey Figures and Tables 2017
Principal Investigators
Kirk Watson, Dean, Hobby School of Public Affairs
Jim Granato, Associate Dean & Professor, Hobby School of Public Affairs
Mark P. Jones, James A. Baker III Institute for Public Policy's Fellow in Political Science, Rice University
Pablo M. Pinto, Director, Center for Public Policy & Associate Professor, Hobby School of Public Affairs
Sunny M.C. Wong, Professor, Hobby School of Public Affairs
Robert Stein, Lena Gohlman Fox Professor of Political Science, Rice University
Richard Murray, Lanier Chair in Urban Public Policy, University of Houston
Renée Cross, Senior Director & Researcher, Hobby School of Public Affairs
Researchers
Yewande O. Olapade, Post-Doctoral Fellow, Hobby School of Public Affairs
Savannah Sipole, Research Associate, Hobby School of Public Affairs
Agustín Vallejo, Post-Doctoral Fellow, Hobby School of Public Affairs
Additional Resources
Harris County Flood Control District
Houston Public Media's Houston After Harvey