Graduation Spotlight: Shontoria Walker Leads the Way in Literacy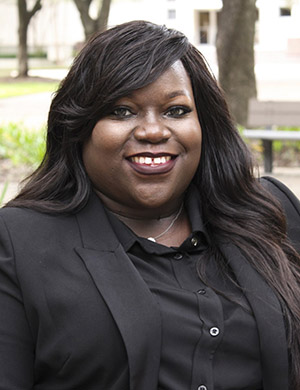 Posted Dec. 11, 2019 — Doctoral student Shontoria Walker said she let out tears of joy when she learned she would get extra recognition at the University of Houston College of Education's fall commencement. In honor of her high academic standing, she will lead the graduation processional — and sit on stage — as a banner bearer for the Department of Educational Leadership & Policy Studies.
"I never thought that was an honor I could receive," she said. "I'm hoping I don't cry while I'm sitting on stage."
For those who know her, it shouldn't come as a surprise. Walker has not taken a break from academic studies since high school and is now set to graduate with an Ed.D. in professional leadership with a specialization in literacy.
Learn more about her journey to become "Dr. Walker" in the Q&A below.
What was your most rewarding experience at UH?
Being given the International Literacy Association's 30 Under 30 Award and having the University sponsor me to go speak at both ILA conferences this year.
What were some challenges you faced throughout your academic career?
I worked and went to school full time. It was that work-life balance I was trying to figure out.
What motivated you to keep going, even when things got tough?
As the oldest of three siblings, being an example to them has really pushed me through. My mother and father have also been there for me all the way through. My late grandmother's dream was to live to see me become "Dr. Walker" because I had been saying that since I was 9 years old. They knew what my ultimate goals were and it's a dream come true for them.
What do you like to do when you're on campus and have down time?
I like to get my reading done by the water fountain and the cougar statues in front of Farish Hall. It's so refreshing. To me, it's a hidden gem because if you're on the outside of UH, you don't know it's there until you see it.
What was an important piece of advice you've received?
Never let your circumstances determine your outcomes. A lot of the messages I saw growing up said I wasn't going to make it because of where I came from. I was determined to flip the status quo.
How are you feeling about graduation?
I'm very excited and a little overwhelmed. I'm still processing it because I can't believe I made it this far.
What's next?
My hope is to have a book based on my research, which focuses on literacy in African American boys, within the next year. I want to continue traveling and going to conferences to speak about my work since it's new and evolving. My biggest goal in the next 10 years is to have my own literacy center.
Any parting words?
I would advise students to find that support system they need to help them make it through. The journey is tough but it's rewarding once you get to the end.
Read the rest of the Graduation Spotlight series to learn more about the fall 2019 banner bearers for the College and departments of Curriculum & Instruction and Psychological, Health, & Learning Sciences.
—  By Alberto Huichapa
—  Photo courtesy of Shontoria Walker