Graduation Spotlight: Health Major Margarita Castro to Fulfill Family's Dream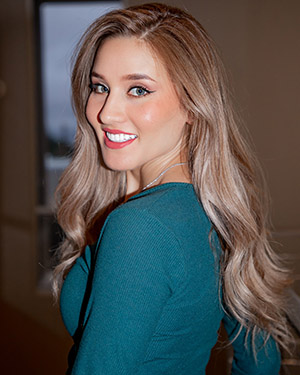 Posted Dec. 11, 2019 — A Colombian native, Margarita Castro immigrated to the United States at the age of three with her family. Growing up, she said, her family pushed the importance of education to gain access to opportunities they never had.
This Saturday, Castro will make them proud. She's not only graduating from the University of Houston College of Education with a Bachelor of Science in health but she gets to lead the processional and sit on stage as a banner bearer for the College due to her high academic standing.
"I feel really honored," said Castro, who's graduating with a 4.0 GPA.
Read the following Q&A to learn more about Castro's college experience and her plans after graduation.
Why did you choose to major in health?
I want to be a physician's assistant so I can help people while also having flexible hours. To get accepted into PA school, I needed to major in a health-related field.
Was there any particular course or professor you valued?
The class I enjoyed the most was my fieldwork course. I had the opportunity to intern as a research assistant for the Psychology of Addiction Collaborative based within the Department of Psychological, Health, & Learning Sciences. I was able to incorporate all the knowledge I acquired throughout my undergrad courses. I am also grateful for the friends I made during my internship and Dr. Marcel de Dios for making my last semester at UH a memorable one. 
Where did you draw inspiration to keep going?
My parents for sure. I had taken it upon myself to make everything better for them. I'm also very motivated to get there for myself. I'm focused on my goals and not letting anything stop me.
What do you like to do on campus?
I like to be in the library and study, especially on the higher floors because of the view. I also like walking around the fountains and trees in front of Farish Hall because it's a very nice and peaceful environment.
Are you excited for graduation?
Yes! I feel like it's been a long time coming and I've worked toward this for so long and it's finally here. The fact that I'm graduating with honors and being the banner bearer came up so suddenly. It makes me feel like everything I struggled through was all worth it.
What's next?
I'm moving to Florida and applying to PA school, which will take two years to complete.
Any advice you'd give to fellow students?
If you put your mind to anything, you're capable of doing anything. Don't let anyone try to stop you.
Read the rest of the Graduation Spotlight series to learn more about the fall 2019 banner bearers for the departments of Curriculum & Instruction, Educational Leadership & Policy Studies and Psychological, Health, & Learning Sciences.
— By Alberto Huichapa
— Photo courtesy of Margarita Castro