Psychology Advising Appointments
Drop-In Advising will not be available in May, June, and July. 
Appointment Options
The Department of Psychology advisors will have appointments available via Navigate in two formats: In-Person and Virtual Meetings. In-person appointments will take place in room 124 of the Heyne Building. A virtual meeting will be between the student and advisor in Mircosoft Teams. When you select your appointment time please read the note that appears while making your appointment and be sure to use your UH email address. Non-UH email addresses, especially Yahoo, may bounce or end up in your SPAM folder. 
New appointments open DAILY by 9AM, Monday-Friday, for three weeks out. Remember, if you do not see an appointment open with a certain advisor it means they are not available. 
If your appointment is set as in-person format and you need to meet virtually, please contact the advisor you made the appointment with and ask to have the appointment via Teams rather than in-person. Notify your advisor early and not two minutes before your appointment starts.
Drop-In Advising Options (NOT AVAILABLE FOR MAY, JUNE, and JULY)
Psychology advisors will also offer drop-in advising in a virtual format or in-person format. For drop-in availability please check the Navigate App.
Who are the Psychology Advisors?
The psychology advisors are listed below along with their contact emails
. We do not assign advisors in the Department of Psychology so you may meet with any available advisor.  
Valerie Villegas
vvillegas@uh.edu
Kathryn Delgado
kvdelgado@uh.edu
Olivia Macias
ocruz3@uh.edu

What is Navigate?
The UH Guide app is now Navigate, and along with the new name comes a great new feature for your convenience. Beginning in January 2019, you will schedule all advising appointments right from your phone through the Navigate app.
If you have already downloaded Guide, the update to Navigate will be automatic. Still need to download? Search for "Navigate Student" in the Apple Store or on Google Play, and login with your CougarNet ID and password.
Questions? Email navigate@uh.edu
Below is an example of what scheduling an advising appointment will look like: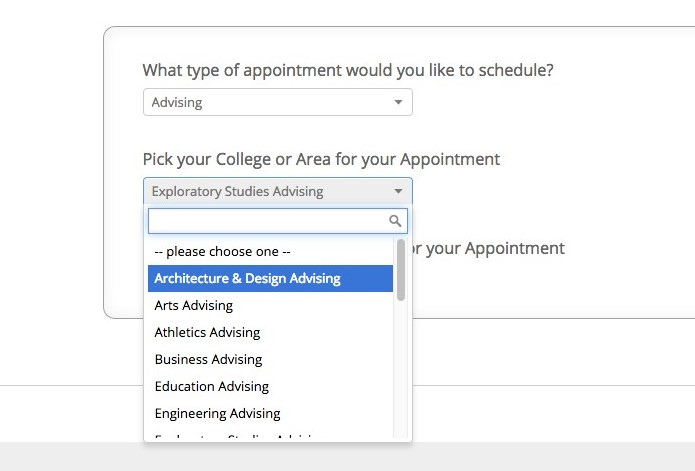 I have a hold on my account and all the appointments are booked. What do I do?
It is recommended that you come in during drop-in advising to have your hold taken care of. It is your responsibility to take care of your hold in a timely manner. Waiting to meet with an advisor when registration for next semester opens will result in you having to register late.
Psychology is not my intended major. Can you just remove my hold?
No. If you do not intend to major in Psychology, but have not changed your major, you will be required to meet with your intended major advisor and then have that advisor contact the Psychology Department to let us know that you have been advised. Then we can have your hold removed. This is one reason why it is important to change your major as soon as possible if you have no interest in pursuing a degree in Psychology.
What if I am late for my appointment?
If you are late by 10 minutes or more, for a 30-minute appointment or late five minutes or more for a 20-minute appointment you will be asked to reschedule. It is your responsibility to make sure you arrive to your appointment on time. You need to plan ahead for traffic, weather, parking, etc. Students that harass the advising assistant, advisors, or staff when told to reschedule will be escorted from the premises by UHPD.
Appointments for students on academic suspension (not probation)
Students who have been placed on academic suspension will not be able to make an appointment through their myUH account. These students are no longer active and will need to apply for readmission to UH. The student must wait until they are contacted by the College of Liberal Arts & Social Sciences (CLASS) with instructions on HOW and WHEN to schedule their readmission appointment. If the student needs to meet with an advisor before the readmission process to discuss possible courses that may be completed outside of UH while on suspension they should email an advisor for assistance.
Appointments for newly admitted students
Congratulations on being admitted to the Department of Psychology! All newly admitted students must register for an orientation. Information regarding the available orientation dates and times will be provided by the Office of Admissions. At orientation new students will have their first advising session with an advisor and will receive a list of recommended courses to enroll in. Unfortunately, advisors cannot meet with newly admitted students until they have completed the orientation process. After the orientation students will be able to register for courses and may schedule an appointment via the Navigate app for a follow-up appointment with an advisor in the department.
Appointments for former students
Students who have not been enrolled at UH for more than 13 months will not be able to make an appointment through their myUH account as they are no longer active. The student must apply to UH as a former student and wait for their application status to be updated to "Admitted". A status of "Complete" is not the same as being admitted. Once the student's application status has changed to "Admitted" the student will be able to schedule an appointment via the Navigate app or attend drop-in advising.