Paths in Psychology
Past Events
Stepping into Graduate School and Careers in Psychology, April 1, 2021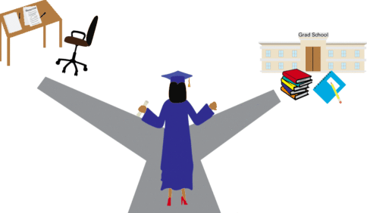 Hosted by the University of Houston Psychology Department, this free annual event aimed to educate students from all backgrounds about careers and grad school options in psychology. 
Download recordings and presentation slides from the event!
Helpful Resources 
Getting into a Clinical Psychology PhD Program - Advice from Dr. Rheeda Walker
Research Opportunities
Getting Involved with Undergraduate Research
Getting Involved with Undergraduate Research at the University of Houston
Social Science Research Labs at UH
Are you planning to enter the workforce after graduation?
Your bachelor's degree in Psychology will provide you with a diverse and broadly applicable liberal arts education. You will enter the workforce armed with skills such as problem-solving, effective communication and teamwork. Psychology is a STEM discipline (science, technology, engineering and mathematics), so you will also have a background in statistical analysis techniques and critical thinking. These are important skills that prepare you for a broad range of careers. And, importantly for today's fast-moving world, they are always valuable, regardless of technology advances.
Career Resources
University Career Services
Prepare for your future career while you are still working on your degree – the earlier the better. If you are a freshman, its not too early to start exploring options! One of the best ways to learn about potential careers is to visit the University Career Services 
http://www.uh.edu/student-life/career-services/
where you can find career counselors, take FREE tests to help you determine the best career for you, browse a database of job ads and get help preparing your resume. 
---
The Council of University Directors of Clinical Psychology-CUDCP
For undergraduate psychology students who are thinking about getting into Clinical Psychology graduate school, The Council of University Directors of Clinical Psychology-CUDCP has created a website with clear advice, data, and links for students interested in careers as a clinical psychologist.  The link below also includes a directory of post-baccalaureate research assistant (RA) jobs.
---
Purdue Résumé Workshop
This website provides detailed explanations, as well step-by-step processes, for creating an effective résumé.
---
Department of Labor sponsored O*NET OnLine
O*NET OnLine has detailed descriptions of the characteristics of various work for use by job seekers, workforce development and HR professionals, students, researchers, etc. You can type in psychologist in the Occupation Search and learn about a whole spectrum of the occupations for psychologists.
---
American Psychological Association
APA Careers: APA's online career center with useful resources for job seekers as well as employers.
---
Texas Medical Center
---
Are you considering going to graduate school in Psychology?
Below are the answers to questions that are often asked by PSYC majors about the process of applying to graduate school.
Graduate Applications FAQ