James Schafer
Associate Professor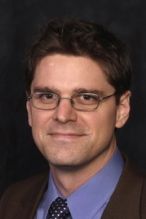 James Schafer earned his B.S. in Cellular and Molecular Biology from the University of Michigan in 1996. After working as a laboratory technician for two years, he matriculated to Johns Hopkins University, where he earned his Ph.D. in the History of Medicine in 2007. Before joining the University of Houston History Department, Schafer was a Visiting Faculty Fellow in the Great Works Symposium at Drexel University from 2007 to 2008. His research has been supported by fellowships from the American Philosophical Society, the College of Physicians of Philadelphia, the Historical Society of Pennsylvania, and the Drexel University College of Medicine Archives and Special Collections.
Teaching
Professor Schafer's teaching interests include the second half of the U.S. history survey (HIST 1378/1379) and the survey of the history of American medicine (HIST 3303).  He also teaches upper-level courses on epidemics in world history (HIST 3319), on race and racism in American medicine and science (HIST 3316), and on American health care and social welfare policy (HIST 3318).  In addition, Schafer teaches graduate level seminars on the history of American science, medicine, and technology.
Research Interests
Professor Schafer's research examines the social, political, and economic history of American medicine and health care.  His first book, The Business of Private Medical Practice, explains the market forces that influenced the office locations and career paths of doctors in early twentieth century American cities, using Philadelphia, Pennsylvania as a case study.  Without financial incentives to locate private practices in poor neighborhoods, Philadelphia doctors instead clustered in central business districts and wealthy suburbs.  In order to differentiate their services in a competitive medical marketplace, doctors began to limit their practices to particular specialties, thereby further restricting access to primary care in the city.  These trends worsened during the early twentieth century, and demonstrate the role of economic self-interest in shaping the geography of private medical practice and the growth of medical specialization in the United States.
Professor Schafer's next book project examines the practice of medicine during the First World War, both on the home front and overseas in American base hospitals from 1917-1918.  Over one fifth of American doctors were mobilized for the war, creating significant doctor shortages and public health problems domestically, especially as the Spanish Influenza pandemic hit American cities in 1918.  The central questions of this project concern the effects of modern military mobilization on the medical marketplace, on professional ethics, and on the cost and distribution of health care in wartime.
In addition to his book and article projects, Professor Schafer has given many conference papers and invited lectures including, most recently, at the University of Kansas School of Medicine (2013), the University of Houston Law School (2013), Drexel University (2012), and Rice University (2011).
Selected Publications