Gerald Horne
Moores Professor of History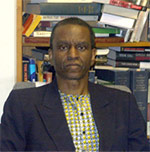 Dr. Horne holds the Moores Professorship of History and African American Studies. His research has addressed issues of racism in a variety of relations involving labor, politics, civil rights, international relations and war. He has also written extensively about the film industry. Dr. Horne received his Ph.D. in history from Columbia University and his J.D. from the University of California, Berkeley and his B.A. from Princeton University.
Teaching
Dr. Horne's undergraduate courses include the Civil Rights Movement and U.S. History through Film. He also teaches graduate courses in Diplomatic History, Labor History and 20th Century African American History. Dr. Horne uses a variety of teaching techniques that enrich his classes and motivate students to participate.
Research Interests
Dr. Horne is the author of more than thirty books and one hundred scholarly articles and reviews. His current research includes an examination of U.S.-Southern African relations since the so-called "Anglo-Boer War" at the end of the 19th century and an analysis of the Political Economy of the music called "Jazz" from the late 19th century to the present.    

Selected Publications
The Apocalypse of Settler Colonialism:  The Roots of Slavery, White Supremacy and Capitalism in Seventeenth Century North America and the Caribbean, (2018)    

Facing the Rising Sun:  African Americans, Japan the Rise of Afro-Asian Solidarity, (2018).

 Storming the Heavens:  African Americans and the Early Struggle for the Right to Fly, (2017).

The Rise and Fall of the Associated Negro Press: Claude Barnett's Pan-African News and the Jim Crow Paradox, (2017).

Paul Robeson:  The Artist as Revolutionary, (2016).

Confronting Black Jacobins:  The U.S., the Haitian Revolution and the Origins of the Dominican Republic (2015)

Race to Revolution:  The U.S. and Cuba During Slavery and Jim Crow, (2014).

The Counter-Revolution of 1776:  Slave Resistance and the Origins of the United States of America, 2014.

Black Revolutionary:  William Patterson and the Globalization of the African-American Freedom Struggle, 2014.

Negro Comrades of the Crown:  African-Americans and the British Empire Fight the U.S. Before Emancipation, 2012.

Fighting in Paradise:  Labor Unions, Racism and Communists in the Making of Modern Hawaii, 2011.

W.E.B. Du Bois: A Biography, 2010.

Mau Mau in Harlem: The U.S. and the Liberation of Kenya, 2009. 

The End of Empires: African-Americans and India, 2008.

The Deepest South: The U.S., Brazil and the African Slave Trade, 2007.

The White Pacific: U.S. Imperialism and Black Slavery in the South Seas After the Civil War, 2006.

The Final Victim of the Blacklist:  John Howard Lawson, Dean of the Hollywood Ten, 2005.

Black and Brown:  African-Americans and the Mexican Revolution, 1910-1920, 2004.

Race War!  White Supremacy and the Japanese Attack on the British Empire, 2003.

Race Woman:  The Lives of Shirley Graham Du Bois, 2002.

From the Barrel of a Gun:  The U.S. and the War Against Zimbabwe, 2001.