2/19, The Experience of Laudianism in the Archdeaconry of Nottingham by Quentin Adams (UH)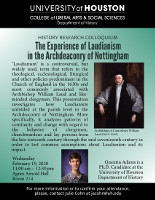 'Laudianism' is a controversial, but widely used, term that refers to the theological, ecclesiological, liturgical and other policies predominant in the Church of England in the 1630s and most commonly associated with Archbishop William Laud and like-minded clergymen. This presentation investigates how Laudianism unfolded at the parish level in the Archdeaconry of Nottingham. More specifically, it analyzes patterns of continuity and change with regard to the behavior of clergymen, churchwardens and lay persons from the late sixteenth century through the mid seventeenth century in order to test common assumptions about Laudianism and its impact.
Time and location: 11 am, AH 214.

Quentin Adams is a Ph.D. Candidate at the University of Houston Department of History.
3/4, The Red Army's Encounter with the Holocaust by Dr. Vojin Majstorović (University of North Texas)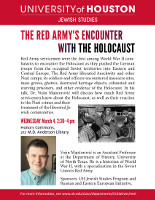 Red Army servicemen were the first among World War II combatants to encounter the Holocaust as they pushed the German troops from the occupied Soviet territories into Eastern and Central Europe. The Red Army liberated Auschwitz and other Nazi camps; its soldiers and officers encountered massacre sites, mass graves, ghettos, destroyed heritage objects, exhausted and starving prisoners, and other evidence of the Holocaust. In his talk, Dr. Vojin Majstorović will discuss how much Red Army servicemen knew about the Holocaust, as well as their reaction to the Nazi crimes and their treatment of the liberated Jewish communities.

Time and location: 2:30 pm, Honors Commons, 212 M.D. Anderson Library.

Vojin Majstorović is an Assistant Professor at the Department of History, University of North Texas. He is a historian of World War II, with a specialization in the Soviet Union's Red Army.
3/18, Soviet Cultural Policy after Stalin by Rebecca Jonhston (UT Austin)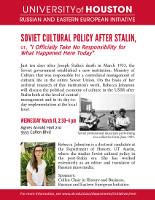 Just ten days after Joseph Stalin's death in March 1953, the Soviet government established a new institution: Ministry of Culture that was responsible for a centralized management of cultural life in the entire Soviet Union. On the basis of her archival research of this institution's work, Rebecca Johnston will discuss the political economy of culture in the USSR after Stalin both at the level of central management and in its day-today implementation at the local level.

Time and location: Agnes Arnold Hall 210, 3553 Cullen Blvd.

Rebecca Johnston is a doctoral candidate at the Department of History, UT Austin, where she studies Soviet cultural policy in the post-Stalin era. She has worked extensively as an editor and translator of Russian mass media. 
New Book by Cullen Professor Emeritus of History Martin Melosi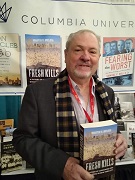 Congratulations to Professor Martin Melosi, The Hugh Roy and Lillie Cranz Cullen University Professor of History, for the publication of his most recent monograph, Frish Kills, with Columbia University Press! From the publisher's description: "Fresh Kills—a monumental 2,200-acre site on Staten Island—was once the world's largest landfill. From 1948 to 2001, it was the main receptacle for New York City's refuse. After the 9/11 attacks, it reopened briefly to receive human remains and rubble from the destroyed Twin Towers, turning a notorious disposal site into a cemetery. Martin V. Melosi provides a comprehensive chronicle of Fresh Kills that offers new insights into the growth and development of New York City and the relationship among consumption, waste, and disposal."
For more information about the book, visit the website of Columbia University Press.
Bob Buzzanco Teaching in Italy during Spring 2020 Term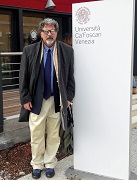 We are pleased to announce that one of our faculty members, Dr. Bob Buzzanco, will spend the Spring 2020 Term as a Visiting Professor in the Department of Philosophy and Cultural Heritage at Ca' Foscari University of Venice, teaching courses in International Relations. This is his second visiting faculty appointment at Ca' Foscari University; he had previously taught there in spring 2018.
Dr. Buzzanco is one of the nation's leading authorities on the Vietnam War and the dynamics that encompassed this time period.
The 2019 Department Newsletter
Make sure to check out our 2019 newsletter! Read the chair's welcome address, meet our new faculty and learn about our new publications, as well as graduate student and alumni news.
Click here to download the newsletter.
See our Archive of Past Events.