Todd Romero
Associate Professor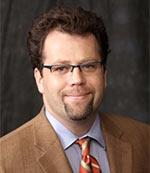 Todd Romero received his BA from the University of Colorado at Boulder and his MA and Ph.D. from Boston College. He has presented his work at numerous conferences and his research has been supported by fellowships from the Newberry Library, the John Nicholas Brown Center for American Civilization, the Huntington Library, and the Massachusetts Historical Society as well as a research grant from the Phillips Fund for Native American Research at the American Philosophical Society.
Teaching
Professor Romero teaches the first half of the American history survey as well as undergraduate and graduate courses on colonial American, Native American, Atlantic world, and public history. He was a 2011-2012 recipient of a University of Houston Teaching Excellence Award for his work on undergraduate Core Curriculum courses.
Research Interests
Romero is the author of Making War and Minting Christians: Masculinity, Religion, and Colonialism in Early New England (University of Massachusetts Press, 2011). He is currently working on two other book projects. The first work is a biographical study of the important Indian leader Metacom or King Philip, tentatively titled "King Philip's New England" (under contract, Oxford University Press). The second work focuses on Indian children from New England to the Chesapeake and is provisionally titled "Colonizing Childhood: Native American Children in British North America." All of these projects reflect Romero's interest in religion, colonialism, gender, childhood, violence, labor, and race in early America.
Romero is also an active participant in the Center for Public History, where he is collaborating with Dr. Monica Perales on a number of projects as part of the "Gulf Coast Food Project: History, Culture, and Economy," including a speaker's series, "Food for Thought," and an oral history project, titled "La Louisiane en Tejas: Gulf Coast Foodways in Southeast Texas."
Selected Publications
Book
Articles